The European Police Chiefs Convention began on 29 June and ended on 1 July 2011 at the Europol headquarters in The Hague. The convention was attended by the Deputy Director General of the Police, Tatjana Bobnar, and the Assistant Head of the National Investigation Bureau, Robert Črepinko.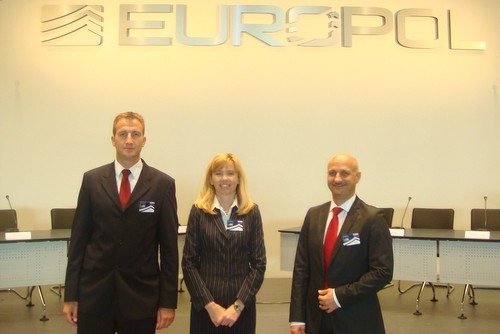 Photo: Deputy Director General of the Police Tatjana Bobnar, Assistant Head of the National Investigation Bureau Robert Črepinko, Adviser to the Director General of the Police Robert Furman

The main purpose of the Conference was to encourage a debate on the future challenges faced by law enforcement in combating organised crime and terrorism. Geopolitical and demographic shifts, the further development of technologies, and the social disparity caused by financial instability will generate new security concerns. Criminal and terrorist groups and extremists will respond to these changes and identify opportunities to pursue their criminal activities.
These developments require changes to be made to law enforcement operations. After intensive debate, the experts and police chiefs agreed on a set of key activities necessary to successfully combat these threats.
The police chiefs stressed the urgent need to pass legislation that will keep pace with, and enable law enforcement and other actors to, suppress the threats to internal security and facilitate cooperation between the states. They also spoke of the need to constantly monitor and detect organised crime and terrorism trends. Law enforcement responses must be planned in a strategic manner. All social resources must be applied to improve the threat response capacity, particularly through interdepartmental and inter-agency cooperation, public-private partnerships, educators and universities, community policing and local communities.
Police organisations must have flexible structures so they can adapt quickly and are able to work with limited financial and personnel resources.
One successful tool for suppressing organised crime is the taking advantage of the full potential of the legislation in place governing the freezing and confiscation of criminal proceeds. Innovative ways to de-radicalise and prevent radicalisation in society need to be developed, not least because the Internet, social networks, and other high technology phenomena are rapidly growing.
The conclusions of the debate will be submitted to the European Commission and other actors.
At the margins of the meeting, the Hungarian Presidency of the EU and Europol's director unveiled a memorial commemorating all those law enforcement officers who have given their lives in the line of duty. The unveiling was followed by one minute of silence.
Today, 1 July, also marks the opening of the new Europol headquarters in The Hague, which will serve to further empower the organisation in its fight against organised crime and terrorism. The ceremony was attended by 1 500 distinguished guests. The official inauguration will be performed by Her Majesty Beatrix of the Netherlands.
The convention was attended by police chiefs and representatives from EU member states, the General Secretariat of the Council, the European Commission, EU agencies responsible for internal security, international organisations involved in police cooperation, and academic criminologists dealing with security.