Since mid-September 2015, Slovenia, the Slovenian police and citizens have faced a migrant crisis, the vast extent of which was not anticipated. In its current state, the Slovenian police were able to manage the first wave of migrants in September independently, while the second wave exhausted the available reserves of personnel and we were forced to ask for assistance in resolving the issue, which greatly exceeded territorial borders of our country.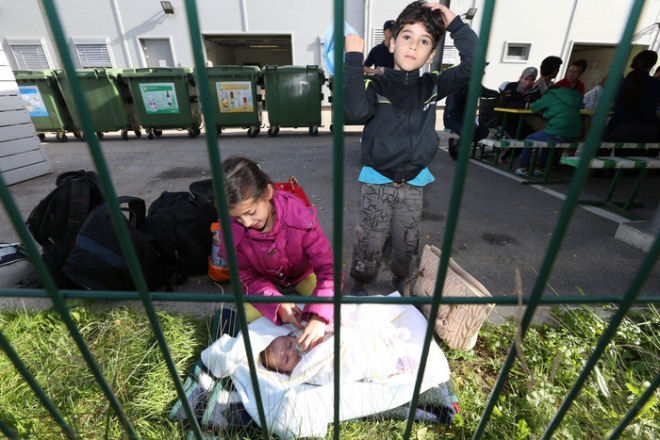 Police Activities in Connection with Current Migration Flows

Other police directorates within the Slovenian police provided some assistance to Novo Mesto Police Directorate, and individual EU member states also provided help by posting their police officers to Slovenia. In accordance with European legislation and international treaties, namely Council Decision 2008/616/JHA on the implementation of Decision 2008/615/JHA both of 23 June 2008 on the stepping up of cross-border cooperation, particularly in combating terrorism and cross-border crime, and as per the Prüm Convention, the Republic of Slovenia concluded a uniform agreement on joint cooperation with each EU member state that posted their police officers to work in our country. The basic purpose of cooperation is to assist the Slovenian police in managing the increased inflow of migrants.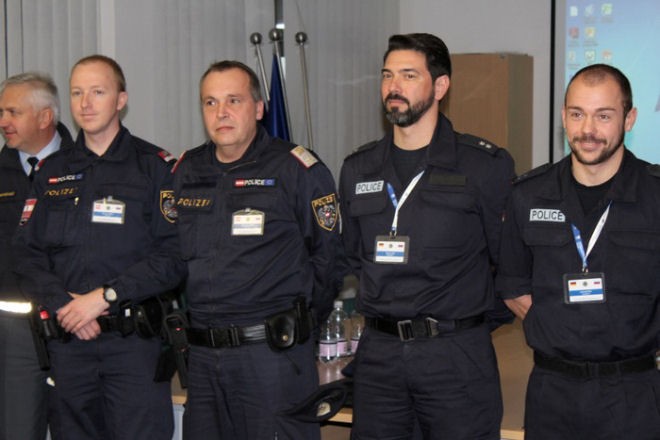 For their work, members of foreign security authorities use their own service vehicles, uniforms, equipment, personal weapons and ammunition. Prior to their posting, the officers are familiarised with the legislation on performing police duties in Slovenia, and they do the same work and tasks as Slovenian police officers within the Migrant 2015 action, with the exception of actually entering data in the procedure of registering migrants due to their lack of knowledge of the Slovenian language. They thus conduct security checks and accompany persons; participate in the setting up of corridors for directing migrants; accompany migrants being transported by bus and/or train; participate in mixed patrols with Slovenian police officers to supervise the green border and conduct other tasks related to managing the increased inflow of migrants. A section of foreign police officers with suitable training and equipment also cooperates with special police units of the Slovenian police if necessary.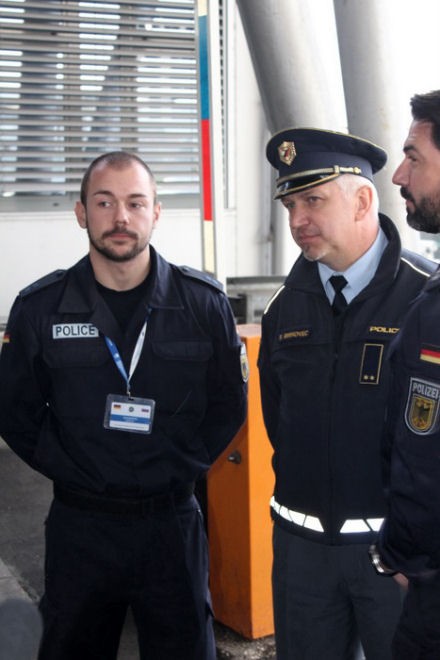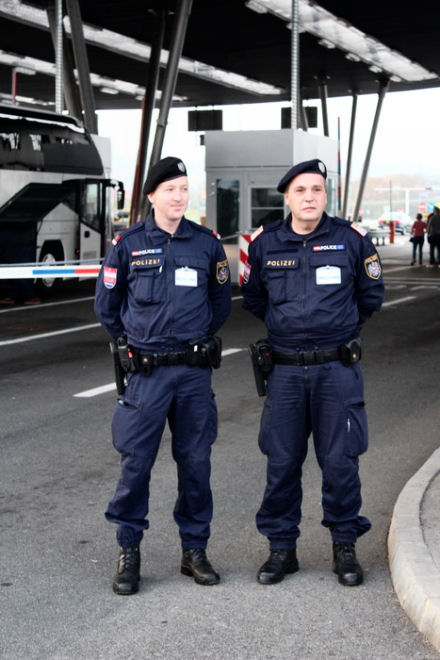 As per the first paragraph of Article 17 of Decision 2008/615/JHA, foreign police officers may, as part of common measures, also implement authorisations held by Slovenian police officers under the leadership of Slovenian police officers and in their presence, whereby the Slovenian police are responsible for the actions of foreign officers. During joint action, foreign officers working in the Republic of Slovenia may use their service equipment, instruments of constraint and mechanical constraints, batons, night-observation surveillance equipment, tear-gas dispensers and bulletproof jackets. Foreign police officers may use their weapons only for self-defence, when defending another person or if in danger. Relating to the justifiability of the use of weapons, the concepts as determined by the Slovenian legislation apply.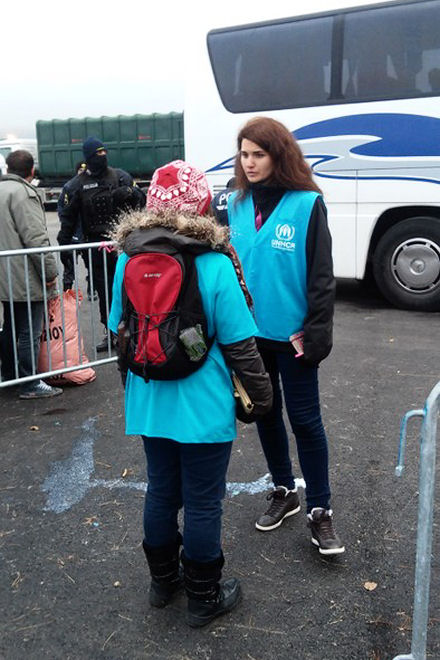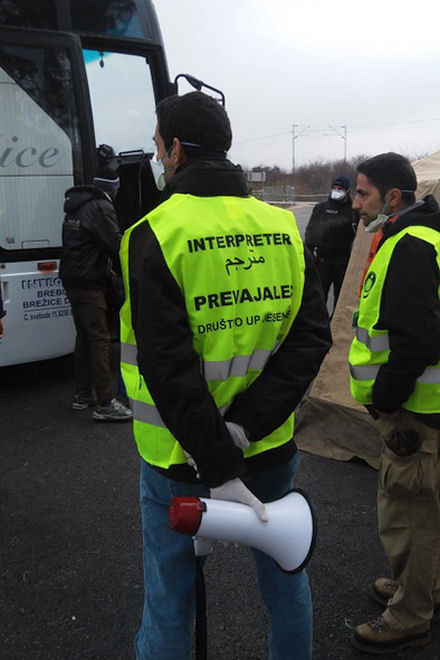 On the basis of agreements on mutual cooperation, the Slovenian police must ensure that foreign police officers are trained accordingly and that information on Slovenian legislation relating to examples of justifiable measures in the case of self-defence and threats, and the use of coercive measures and conditions for their use is explained in clear and understandable language and in written form. Prior to their first posting, introductory training (briefing) is organised for each team of members of foreign security authorities, which is implemented by lecturers of the Police Academy of the General Police Directorate and coordinators of Novo Mesto Police Directorate. During the training, foreign police officers become acquainted with the legislation on police work and current conditions in the area of Novo Mesto Police Directorate.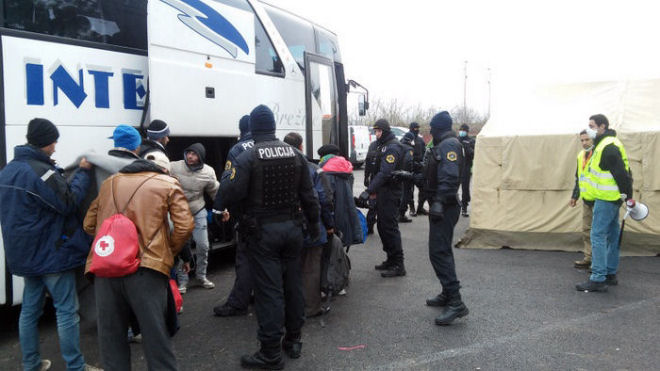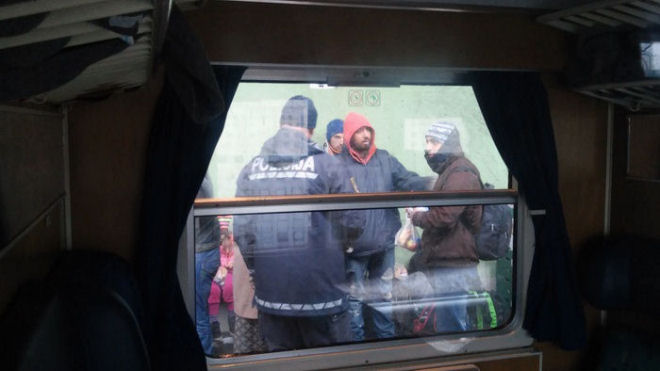 So far, members of police units from Germany, Lithuania, Estonia, the Czech Republic, Poland, Hungary, Romania and Austria have been working in the area covered by Novo Mesto Police Directorate. Following the expiry of their posting period, 296 police officers had already left Slovenia. Currently, 49 police officers from the Czech Republic, Germany, Austria and Lithuania are working with us. Foreign police officers work according to the schedule which applies to Slovenian police officers and are working 12-hour shifts (day and night shift, every day of the week). They are accommodated at Terme Čatež, and work closely with the coordinators. The Slovenian police ensure that foreign police officers working in the Republic of Slovenia within the framework of common measures have the same protection and assistance as is intended for all participating Slovenian police officers. They provide them with accommodation, food, emergency medical assistance and in most cases also fuel for service vehicles.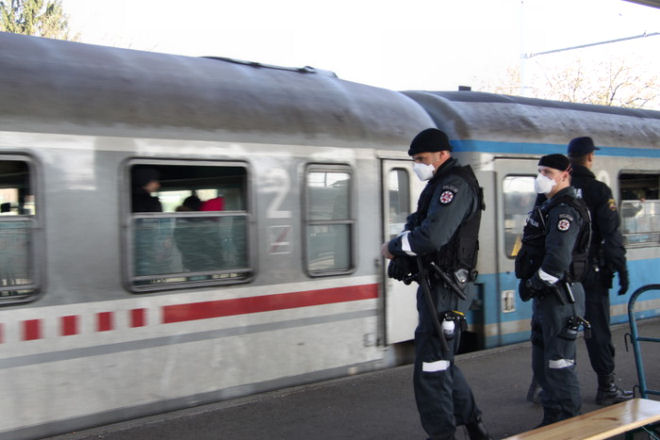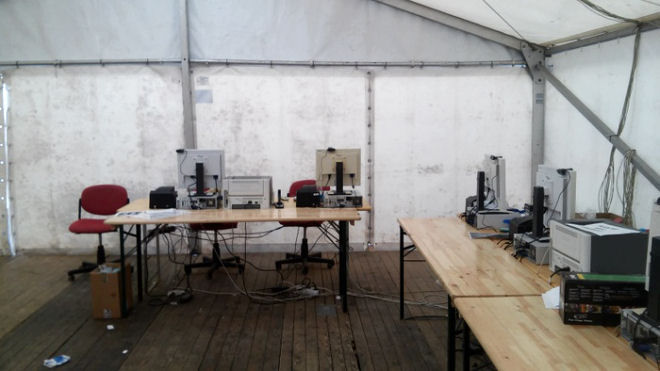 In the initial period, Novo Mesto Police Directorate appointed two coordinators for cooperation with foreign security authorities. Since the beginning of 2016, the coordination has been managed by three Slovenian police officers. The coordinators denote the first contact point in the communication of all foreign police officers with the Slovenian police, and their main task is to ensure smooth and effective cooperation with foreign police officers when working at the "Stara Livarna" reception centre in Dobova. In this regard, the coordinators perform many various tasks, including introductory training and the preparation of work schedules, posting foreign security authorities to work at the change of each shift, and recording hours worked and fuel consumption. On a daily basis, the coordinators strive for the optimum distribution of foreign police officers for different tasks and their maximum effectiveness when performing them. The coordinators also participate in organising mixed patrols for surveillance on the green border and are in constant contact with the operational headquarters of Novo Mesto Police Directorate, the manager of the "Stara Livarna" reception centre and the coordinator of Slovenian police officers.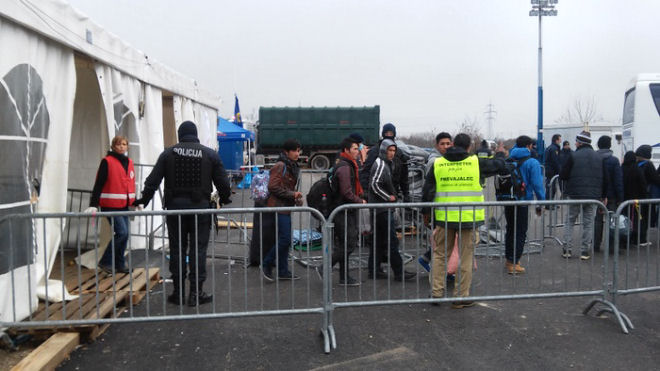 The coordinators cooperate regularly with the heads of contingents of foreign police officers. They inform them about current novelties and familiarise themselves with their findings, initiatives and proposals, which they later present to their superiors. Upon the completion of each posting, the coordinators also participate in the closing meetings (debriefing) with foreign police officers, who have made many observations and suggestions at the meetings conducted in the last four months, which were observed in the reorganisation of the "Stara Livarna" reception centre in Dobova, and they thus contributed to more efficient work with migrants. Among other things, foreign police officers noted that the Slovenian police in the given situation perform duties in conditions that are exceptionally burdensome and do everything reasonably possible to accurately identify migrants and reject those who do not meet the agreed conditions. They have also noticed the difficult situation which occurred due to the lack of cooperation from the Croatian side of the border. They have commended the work of the Slovenian police and stated that, so far, they had not seen such humane treatment of migrants by police officers. Since "the mission" in Slovenia had to be developed anew, they assessed that great work had been done and that the quality of work and working conditions had significantly improved in a very short time. They emphasised the fact that all problems were resolved promptly, and also commended the work of coordinators and thanked them for their excellent cooperation and good experience.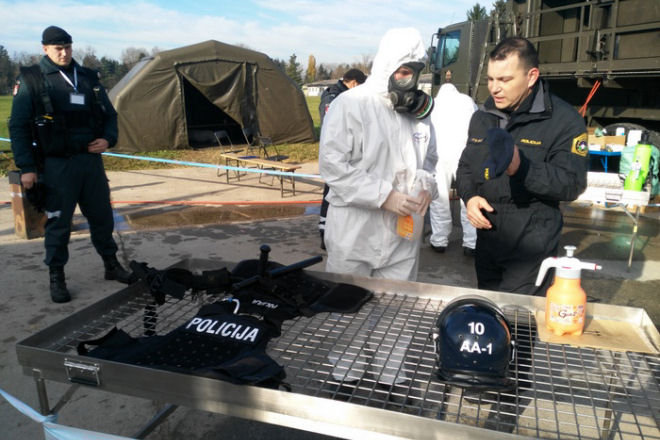 They also commended the exceptionally fast response of the Slovenian police and their remarkable ability to adjust to conditions in the field. They said they had received a warm welcome from the civilian population and had excellent experience with their Slovenian colleagues. They were surprised at the knowledge of foreign languages of Slovenian police officers, since almost every one speaks at least one foreign language. They have not experienced this in other countries where they have been posted before.
Suzana Zevnik, Novo Mesto Police Directorate
***
Coordination and work with international teams
Upon the takeover of works and tasks of a coordinator for cooperation with foreign police officers at the onset of the migrant crisis, I did not have any particular expectations, because I have been conducting coordination tasks since 2004 within the framework of cooperation with the Frontex agency at the Obrežje border crossing (Focal Point Office in Joint Operation). I expected work similar to what I had done before. However, the coordination of cooperation with foreign security authorities during the migrant crisis in Slovenia opened an entirely new chapter, and every aspect of work required a new approach. A lot of work had to be done initially, since we had to prepare everything for the arrival of foreign police officers, then receive the arriving teams, accommodate them and equip them with all necessary information to enable them to take up duties in a foreign country.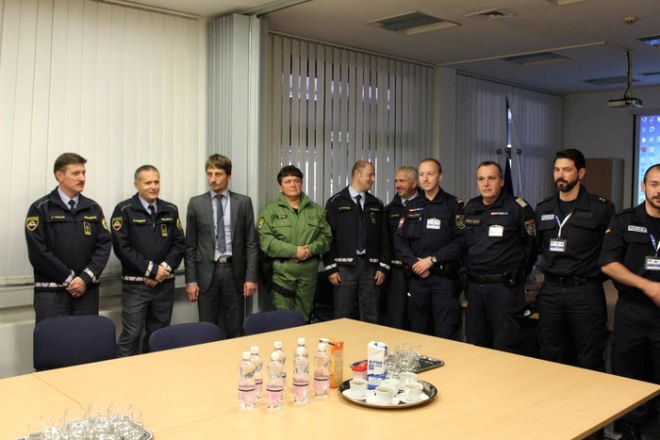 We prepared presentations on conditions in the field and held introductory meetings with each team and also reviewed operational conditions. The work system had to be established first and was later complemented with the instructions required for uninterrupted work, i.e. why were they here, what could they do and in what way, the chain of command, the system of working with migrants and many other things. The work is diverse and remains dynamic, since all foreign officers have to be familiarised with the work they will be doing on the second day of their arrival and they must be informed of their duties.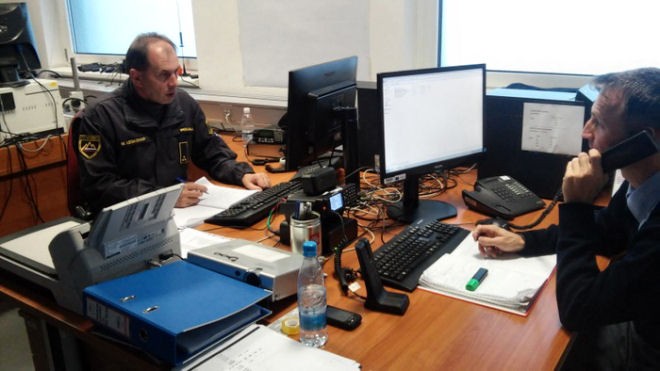 The coordinators provide the same introduction for each newly arrived team of foreign officers. In compliance with agreements on mutual cooperation, the teams are posted to Slovenia for three to six weeks (only Austrian officers are posted for longer periods). With each rotation of a team, new officers have to be instructed on everything they need to know in order to start regular work on the following day. In addition to basic training, the coordinators also cooperate with the operational headquarters of Novo Mesto Police Directorate and foreign police officers upon every shift rotation. We are also present at the start of each shift in order to assign them their posts and distribute the tasks in accordance with the instructions. Foreign police officers or members of foreign security authorities most frequently perform security checks, accompany buses/trains and implement screening. Until mid-February, they also participated daily in mixed patrols with Slovenian police officers on the green border covered by Brežice and Krško police stations.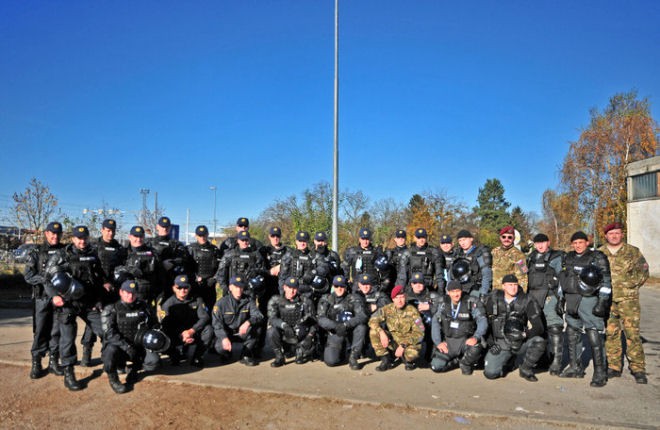 Many efforts were also invested in informing Slovenian police officers, who now accept their foreign colleagues as equally trained and equipped officers who came to help them. At first, they were somewhat wary and sceptical because they were not used to working with foreign colleagues in their homeland. The coordinators had to, and continue to, explain and present to the participating officers the role, positive aspects and importance of cooperation with members of foreign security authorities. Foreign police officers themselves contribute greatly to this, since their dedicated work, diligence, professionalism and communicativeness create a positive attitude to mutual cooperation. Certain communication issues arise occasionally, since some foreign and Slovenian officers do not speak English (although English is the official language of the joint operation, in accordance with the agreement) but we manage to overcome such obstacles as well, since where there is a will there is a way. If all else fails, gestures work.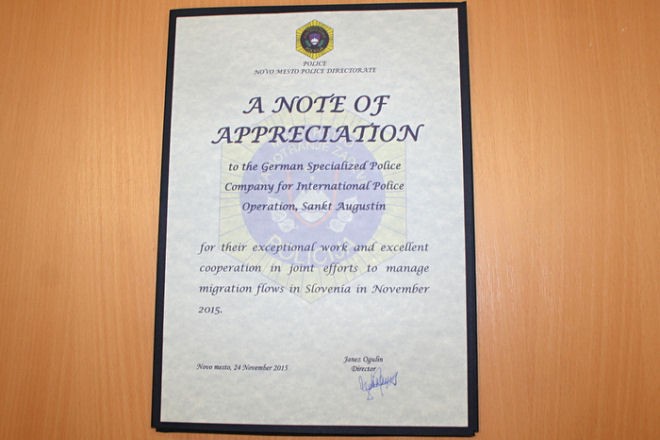 At the completion of each team's posting, the coordinators and a representative of Novo Mesto Police Directorate hold a closing meeting (debriefing) which is intended for discussion and peer opinion exchange. We frequently receive suggestions which have proved to be good and effective relating to adjusting work with migrants. A bright spot in the extensive new work is that we coordinators work well together, and our cooperation has been smooth since the very beginning.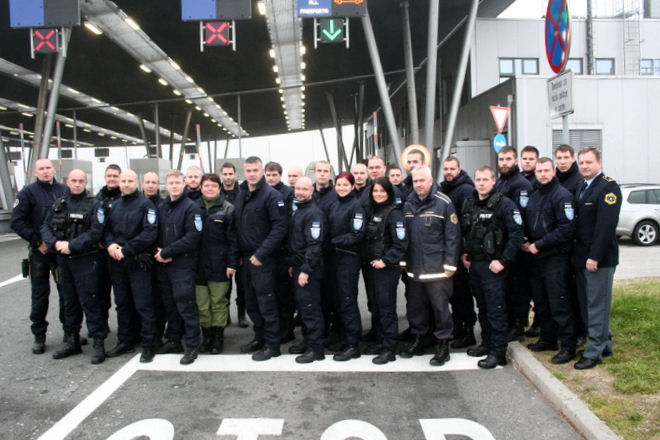 The work of a coordinator is diverse, demanding and dynamic, and does not end at the end of the shift, but continues also in free time. The coordinator, the first point of contact with foreign security authorities, must be available to foreign police officers to solve any problems at all times during their posting. During this mission in Slovenia, friendships were forged too, which gives joint operations even greater significance. These friendships mean that where ever you find yourself in Europe, there will always be someone you can call and ask for help or simply meet for a drink - and that is priceless in today's world of haste and hurry.
Boris Brinovec, coordinator