Although this year has been unprecedentedly affected by the coronavirus pandemic, workers' health has never stopped being at risk for disorders such as cardiovascular, musculoskeletal and chronic respiratory diseases.
We give special attention to this health issue during this year's European Week for Safety and Health that starts on 19 October 2020. This is a pan-European campaign coordinated by the European Agency for Safety and Health at Work (EU-OSHA).
Slovenia's police are joining the event with their premiere of a promotional video "Healthy Workplaces for All Ages".
Supported by the Ministry of Labour, Family, Social Affairs and Equal Opportunities, the 10-minute video was produced by the Murska Sobota Police Administration at the end of 2019 with the purpose to raise awareness of the importance of health and safety at work and in private settings.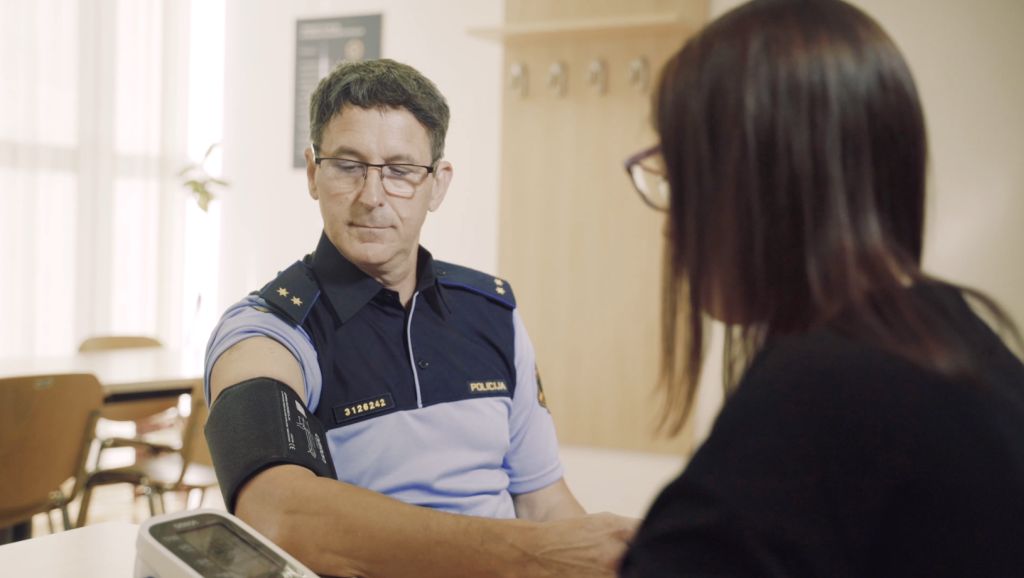 Promo video (with English subtitles): Healthy Workplaces for All Ages
The film is only part of a wider project for health promotion in the workplace, which has been carried out by Murska Sobota Police Administration since 2015. The project focuses on maintaining physical and mental fitness and well-being of employees throughout their careers while paying special attention to senior workers. The project won the national competition for the recognition of "Good Practice in Safety and Health at Work 2016-2017" organised by the Ministry of Labour, Family, Social Affairs and Equal Opportunities. Moreover, the Murska Sobota police project was recognised and commended by EU-OSHA.
The police management emphasizes the importance of constant care for physical and mental health, especially in the context of the ever changing and challenging demands of career and private life. If we care for ourselves, then we are better prepared for the challenges and burdens of our daily lives.

Europe-wide campaign Lighten the Load
This year's EU-OSHA campaign entitled Lighten the Load for healthy workplaces focuses on work-related musculoskeletal disorders. These diseases, which include spinal problems and neck pain, are the most common ailments among workers in Europe.
More information
Health and Safety at Work (web portal of the Ministry for Labour, Family, Social Affairs and Equal Opportunities)