The Slovenian police force wishes you a pleasant and safe stay in Slovenia.

If, however, some unexpected accident should occur, we are here to make sure that you don't feel helpless, so we think it right that we introduce ourselves to you and offer a word of advice for your safety and for the security of your personal belongings.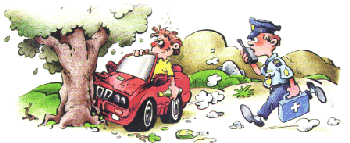 Regardless of the type of unpleasant situation you may find yourself in, we will come to your rescue immediately and provide you with appropriate assistance. Thanks to our well developed communication and organization system, you can be connected to whole police force by dialing 113. Make a note of this number because it will enable you to call for immediate assistance whether you are involved in an accident of any kind, a car break-in, theft or any other serious crime.
When calling the police emergency telephone number 113 please state:
WHAT has happened (traffic accident, criminal offence, fight, etc.),
WHERE the incident happened (place, type of road, for example motorway, direction of driving, or the vicinity of distinguishable objects),
WHEN it happened (Did you encounter the incident by chance or were you involved in it?)
Whether there is anybody injured, the number of persons and vehicles involved, and
Other information that could contribute to your safety and the safety of other people.

If there are any difficulties in communicating due to lack of understanding of language, try to tell the basic data such as place and street, or find someone in your vicinity who understands your language and who will explain the incident at the police emergency telephone number 113.
We operate through police stations throughout Slovenia, border police stations, traffic police stations, an airport police station, a maritime police station, mounted police stations, service dog handler stations and police stations for compensatory measures. So you'll be able to find us anywhere and ask us about anything you wish to know concerning your trip, your safety or our work, because everyone in the police can get by in at least one foreign language.
Our vehicles, uniforms and symbols are easily recognizable. Uniformed police and criminal police are in charge of detecting and investigating crimes. It is the uniformed police who rush to the scene as soon as any crime is detected or suspected, and they deal with minor cases, while criminal police officers handle major cases where more demanding investigation and technical procedures are required.
The activities of the Slovenian police related to tourism are carefully planned and are integrated with all other factors with the aim of implementing Slovenia's national tourism strategy. The work is planned and carried out on the basis of government decisions and activities of the Tourist Association of Slovenia. It includes preventive work, functiones connected to traffic safety, protection of the state borders, criminal investigation, public order and even promotional activities.

In the event of a traffic accident call the police on
113