The Slovenian police constantly strive to establish a good relationship with citizens and the local community, in particular when it comes to issues related to security, as police work can be effective only when we are present in the community, when we detect problems together with people and eliminate their causes. One form of our work is community-oriented policing, in which partner cooperation between citizens and the police, joint identification of security problems and their solving is specifically at the forefront.

Police work in the community is built on trust
It is based on establishing trust with residents, and it not only includes operational activities for detecting perpetrators, but also preventive activities that have a more long-term effect. These include open days in police stations, informing residents about the security situation in the local environment and raising awareness and counselling regarding self-protective conduct with which certain security issues could be prevented even before they occur. This way, and also with our presence and visibility in the local community, we want to increase the feeling of security among people.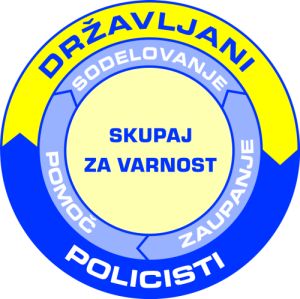 We thus cannot imagine our work without the assistance and cooperation of citizens, as security is our common good and responsibility for it cannot be left only to the police. For this reason, residents and local communities are encouraged to establish their own advisory bodies, so-called security panels, in which they themselves can significantly contribute to decisions that are made regarding security issues and help create favourable security conditions in their environment, while being assisted by police officers within the scope of their legal powers. Almost two hundred advisory bodies of this kind have been established in Slovenia.

Neighbourhood police chiefs
Although community-oriented policing is performed by all police officers, there are police officers in police stations who are called neighbourhood police chiefs. They are responsible for preventive work in the local community. Among other things, they detect problematic areas from the aspect of security, inform residents about the forms of criminal acts and minor offences that occur there, advise them on prevention of criminal acts and minor offences, visit affected persons and victims of criminal acts, return found and seized items, gain information with interviews and lecture in schools and kindergartens.
The neighbourhood police chief is the police officer in your town who, in addition to professional and life experience, has a special feel for work with people, as they directly cooperate with residents in their area, which they know well, on a daily basis. You can turn to them if you need personal advice and talk or assistance from the police. You can also call them if you want to send us information about a criminal act or report a criminal act, accident or threat, if you have interesting security information or if you want to propose any measures for improving safety in your environment, including problems that may seem small but are actually very inconvenient for you.
The "more pleasant" tasks
Preventive work with which we intend to prevent negative security events in society has played an important role in police work for a long time. The role of the police is not only to perform repressive tasks, but also to raise awareness and encourage people to act in a self-protective manner themselves. Activities in this field include, for example, numerous projects for schools, kindergartens and nursing homes, and participation in preventive and other events in which we advise residents how they can take care of their own safety and the safety of their property.
Related content