On 27 March 2023, the Slovenian police and Croatian police carried out roadside checks on vehicles. The main focus was on checking passenger and load control. The checks took place simultaneously on the Dolenjska motorway network, both on the Slovenian and Croatian sides.
The police diverted all vehicles to a checkpoint at a rest area. The main focus was on coaches and lorries to ensure that they did not violate any rules and regulations. The police used specialist policing skills and equipment to detect and prevent offences related to tachographs, roadworthiness, proper securing of loads, operation of emission control systems, overloading and documentation required for certain types of transport. The officers also used helicopter observation and special vehicles with video surveillance systems. They checked speed and safety distances from overhead bridges and used special police sniffer dogs (to detect drugs and weapons).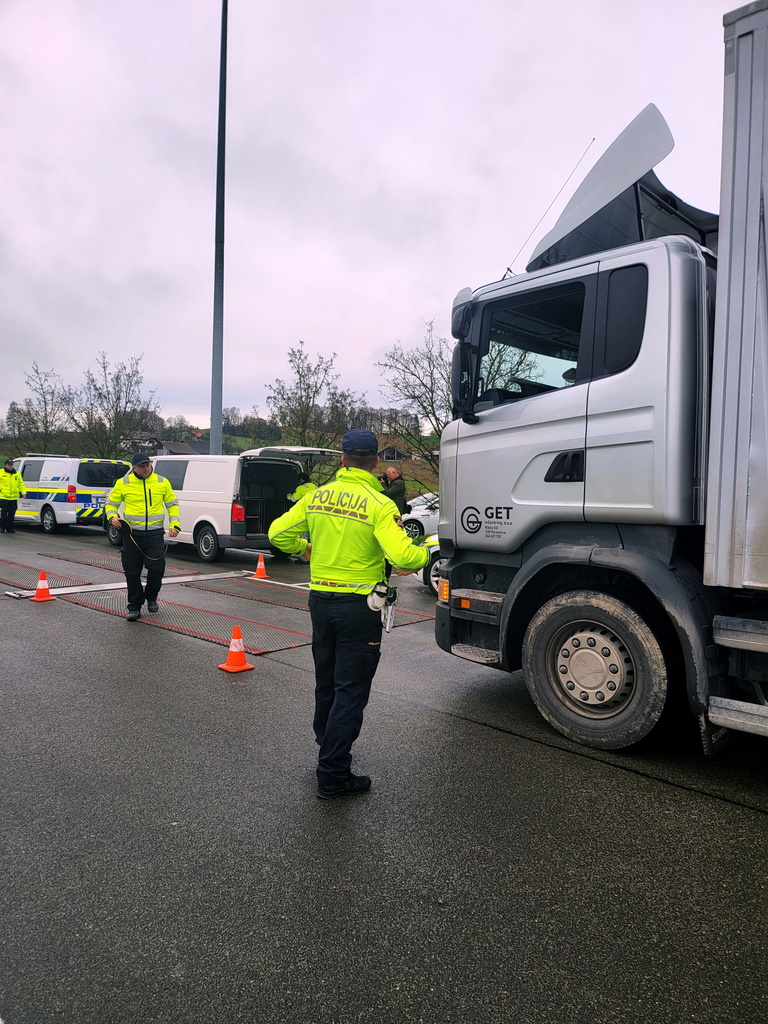 A total of 42 lorries and 6 coaches were inspected in detail. Two violations of dangerous overtaking of lorries and one violation of keeping a safe distance from the vehicle in front were reported. The highest speed recorded was 180 km/h for a car driver, while three lorry drivers were found to be using a mobile phone while driving. There were also two cases of improperly loaded cargo and one lorry was found to have tyres of improper dimensions. Six violations were related to overloading while two violations were related to the operation of emission management systems (one haulage company was fined EUR 9,000 and the driver EUR 1,320). There were several violations concerning the use of the tachograph, including the manipulation of data on the driver card (fines of EUR 3,000 and EUR 2,000 were imposed on the company and the driver, respectively), and nine drivers were found to be driving above the speed limit according to their tachograph logs. Toll enforcement officers detected 11 infringements related to the use of vignettes. Some drivers' plates were temporarily withdrawn due to serious infringements.
A Croatian taxi driver was stopped and fined EUR 1,800 for transporting 4 Russian nationals who had entered Slovenia illegally. Seven Russian nationals, who had also entered Slovenia illegally, were found in a coach with foreign number plates. A citizen of Kosovo was also stopped while carrying Kosovo nationals who had entered Slovenia illegally. The driver was driving with a forged driver's licence and his vehicle was seized.