Slovenia's entry into the Schengen area is also being commemorated with the issue of a commemorative "Schengen" stamp, which symbolically denotes the abolition of border controls. Post of Slovenia designed the stamp upon the initiative of the Ministry of the Interior and the Police and will commence its issue on Friday, 23 November 2007.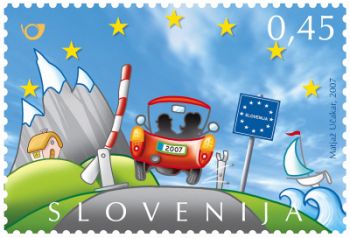 The Minister of the Interior Dragutin Mate accompanied the stamp's issue saying that with joining the Schengen area Slovenia is assuming a very responsible task, namely to protect the common external border in line with Schengen standards on behalf of all Member States.
The "great" Schengen Agreement of 1985 was signed by five EU Member States (Belgium, Netherlands, Luxembourg, Germany and France) in the small village of Schengen in Luxembourg. The signatories desired to strengthen cooperation among their police and customs authorities and particularly ensure an accelerated flow of goods and persons and abolish long waiting periods at border crossings. Ten years later, these five signatories, together with Portugal and Spain established the so-called Schengen area without border controls at internal borders of the Member State signatories. They were later joined by other European nations: Austria, Greece and Italy in 1997 and Denmark, Finland and Sweden in 2001. Two other nations joined "Schengen" together with the latter three which were not EU Member States, namely Iceland and Norway.
The fundamental idea of the Schengen area is to guarantee the right to the free crossing of internal borders. The abolition of controls at internal borders is counterbalanced through increased border surveillance at external Schengen borders, primarily to stop illegal migration, illicit drug trafficking, trafficking in human beings and other illicit activities. In fighting terrorism and organized crime and in ensuring safety in the entire Schengen area, other measures are also very important, for example cross-border police cooperation, common visa policy and exchange of information in the central Schengen Information System.
Slovenia is one of the new Member States of the European Union entering the Schengen area in 2007 (which till now comprised 15 countries). The process of expanding the Schengen area to include nine new Member States is now concluded - the formal decision on Slovenia's entry into the area of free movement of persons was adopted by the Council of the European Union. This marks the abolition of border controls at the borders with Austria, Italy and Hungary and reinforced surveillance at the border with Croatia, which is not an EU Member State.