TOURISTS ARE A CRIMINAL'S FAVOURITE TARGET

Slovenia is one of the safest countries in Europe, all crimes are thoroughly investigated. Crime in Slovenia is more targeted towards property than it is towards physical assault, shown by the fact that 90% of all criminal activities involve property. This fact alone should warn you of the need to take care of your personal belongings while on holiday. Be sure to keep your car locked at all times, keep the windows closed, park in a protected, well-lit car park at night and do not leave any documents, wallets, video cameras, photo cameras or other valuables visible.
Your tent, bungalow, camper van or hotel room are not as safe as your home. You would be well advised to put your valuables in safe at your campsite or hotel.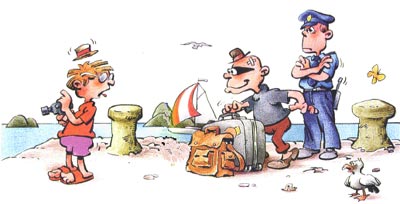 Carry only as much cash as you really need for each day and do not display large sums of money in public places. You must be especially careful on the beach, in shops, at the bank, in restaurants, at train and bus station and while taking a walk. Your luggage, handbag and wallet are easy pray for thieves and pickpockets. Remember that the safety of your personal belongings is first and foremost in your own hands. Never leave them unattended.
Avoid all situations where you might become the victim of physical assault. Do not protect your personal belongings at risk to your physical safety. The best you can do is try to remember the scene of the crime, a description of the assailant's personal appearance, cloths, the direction of escape, vehicle registration number and report the incident immediately to the police.