On 12 June the Deputy Director General of the Police, Karol Turk, received a police officer before her departure for a year of service in the EULEX mission in Kosovo.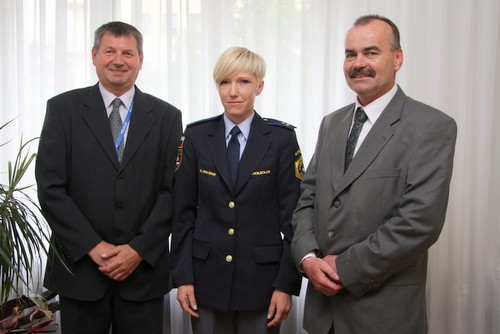 From the left: Vladimir Pocek, Head of the International Police Operations Division (Service of the Director General of the Police), police officer Mojca Vrh Žgur, and Karol Turk, Deputy Director General of the Police
Mojca Vrh Žgur from Postojna Police Station (Koper Police Directorate) is going on her first civil mission. She completed her basic mission training in Sweden. She will be involved in organised crime policing.
In this way the Slovenian police are following the principles of equal representation of gender in international civil missions as specified in the Republic of Slovenia's Action Plan on the Implementation of the Resolutions of the Security Council of the Organisation of the United Nations nos 1325 and 1820 on women, peace and security in the 2010?2015 period.
Slovenia has been contributing to the EULEX mission operations in Kosovo since April 21, 2008, with 14 police officers performing their tasks within the executive and police integrity strengthening departments.