On 15 January 2013 Director General of the Police Stanislav Veniger received a police officer before his departure for Kosovo to serve the EULEX mission.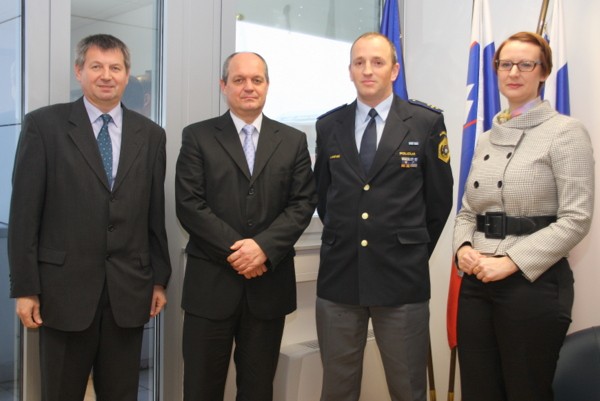 From the left: Vladimir Pocek, Head of the International Police Operations (Service of the Director General of the Police), Stanislav Veniger, Director General of the Police, Niko Avguštinčič, Suzana Ivanović, Chair of the Ministry of the Interior's Police Personnel Selection Commission and Head of the European Affairs and International Cooperation Service.

Niko Avguštinčič from Trebnje Police Station, Novo mesto Police Directorate, completed an introductory mission course in 2005. He has UNMIK mission experience from the 2007?2009 period.
Slovenia has been contributing to the EULEX mission operations in Kosovo since April 21, 2008. There are currently 12 police officers performing their duties within the executive and police integrity strengthening departments. The mission service includes: work in the operational and communications centre, border protection assignments, engagement in a special unit for close protection of persons and that for criminal intelligence operations, analytical tasks, investigation of organised crime and war crimes.