On 17 September, Deputy Director General of the Police Tatjana Bobnar received police officers who are joining the EULEX Kosovo mission for a year.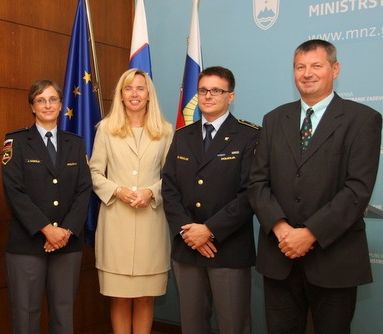 From left: Jelka Kozole, Tatjana Bobnar, Deputy Director General of the Police, Matjaž Mravljak and Vladimir Pocek, Head of International Police Operations Division within Service of the Director General of the Police

The Slovenian Police have been participating in EULEX Kosovo since 21 April 2008, currently with fourteen police officers, who perform tasks in the executive and police integrity strengthening departments of the Mission. They work in the information-communication centre, border surveillance, special unit, unit for the protection of persons, criminal-intelligence unit, analytical service, investigation of organised crime and war crimes.