The European Commissioner for Home Affairs, Ylva Johansson, held a meeting with the Chairman of the Frontex Management Board, Marko Gašperlin, on the sidelines of the meeting with the Minister of the Interior, Aleš Hojs.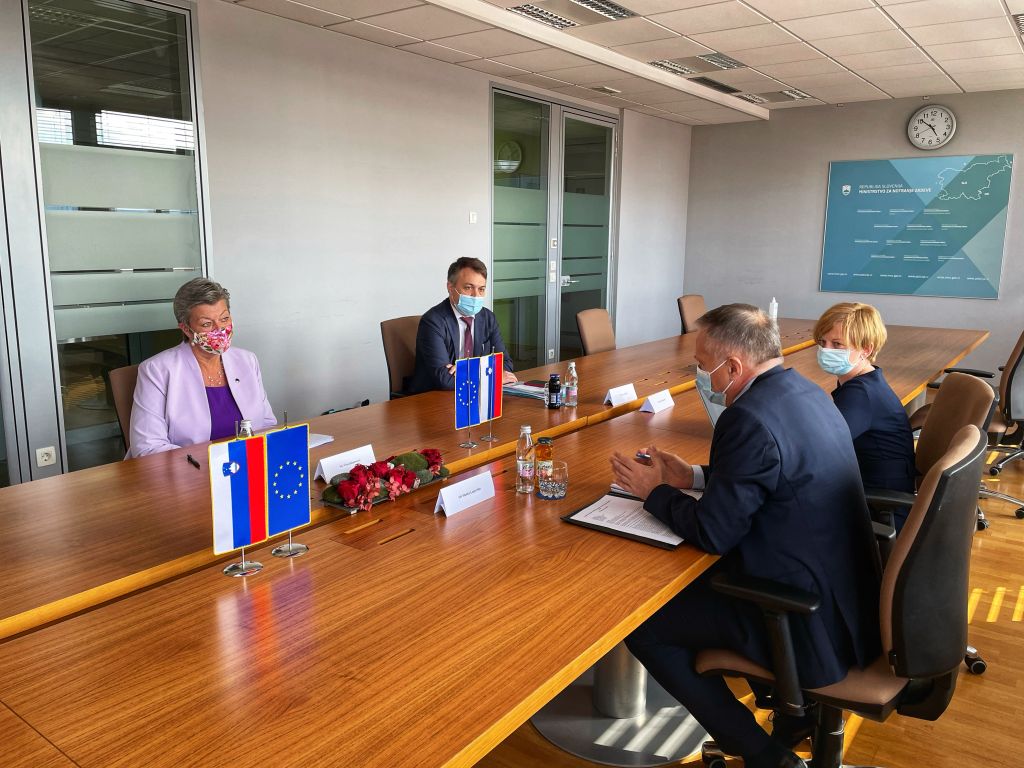 The meeting was held at the initiative of the Commissioner. Marko Gašperlin and Commissioner Johansson had already discussed the role of the Agency via a video conference. Such exchanges of views between the Commissioner who holds competence over the Frontex Agency and the Chairman of the Management Board are a regular practice.
The Agency is currently in the process of implementing the Border and Coast Guard Regulation adopted in 2019, bringing in considerable expansion of the Agency in terms of staff, tasks and powers. This year also marks the first year of operation of the Standing Corps composed of Frontex and EU Member States' officers, substantially changing the approach to the implementation of shared responsibility between Member States and the EU in external border control.
The preparations for these changes, which are already under time constraints, coupled with the first year of operation under the new organisational model are taking place in extremely difficult circumstances due to the Covid-19 pandemic, which has further complicated the challenge of successful realization. Therefore, cooperation between the main actors, as the Agency's Management Board and the Commission are undoubtedly, is crucial in implementing the provisions of the Regulation and the Agency's work as smoothly as possible despite the constraints and difficulties.
The Management Board, which consists of Commission's representatives and representatives of Members States, holds a number of powers stemming from the Regulation while the Commission has additional powers and roles to ensure the conditions for the Agency's work and compliance with the EU acquis.
Commissioner Johansson and Chairman Gašperlin assessed the Agency's work concerning the implementation of the Regulation, highlighting in particular the demanding situation, the oncoming challenges, the appropriateness of response to increased complexity of the situation at the external borders and in the field of return and readmission, and the growing expectations of Member States. The meeting also focused on the respect for human rights in operations coordinated by Frontex. This aspect has intensively been dealt with by the Management Board over the past year. A large part of the meeting was devoted to an exchange of views on how to use the enhanced mandate and the capacity of the Agency to their fullest potential to ensure improved control of the EU's external borders.