Police note that the number of counterfeit 100 EUR banknotes used as actual currency has increased in recent period while there have also been reports of movie prop money being passed as real money. The largest number of cases has been recorded in the areas of Maribor and Celje, with a smaller number of cases detected in Ljubljana and other parts of Slovenia.
Counterfeit banknotes have most often been used in restaurants, shops, newsagents, petrol stations, food delivery payments and online sales of mobile phones and other consumer electronics.
As more counterfeit banknotes may be circulating, citizens are urged to be vigilant when dealing in cash.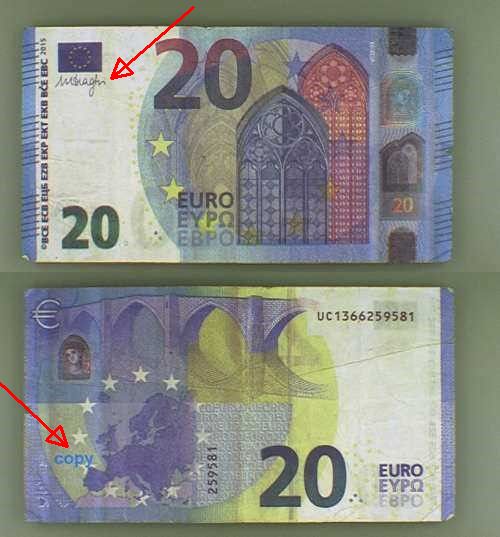 Example of movie prop money (a fake with "copy" printed on it)
How to recognise counterfeit money?
In most cases, it is enough to look at the banknote, feel it and turn it towards a light source, as counterfeit security features are more visible this way.
Counterfeit banknotes can also be identified by touch, by the embossing, which is often missing.
When a genuine banknote is held up to the light, the portrait watermark and security thread are visible, while the portrait window is visible in larger denominations.
When the banknote is tilted, the silvery stripe reveals a portrait of Europa in a transparent window and the emerald number displays an effect of the light that moves up and down.
Details on the security features of euro banknotes can be found on the European Central Bank's website and on the Bank of Slovenia's website .
It is a criminal offence to put counterfeit banknotes and coins into circulation
Counterfeit banknotes are worthless and cannot be exchanged for other banknotes. Please note that putting counterfeit banknotes and coins into circulation is a criminal offence punishable by a prison sentence of between six months and eight years.
What to do if you receive a counterfeit banknote?
Police officers advise:
if you think the banknotes look suspicious, immediately inform the police by calling the nearest police station or 113;
If you suspect that a banknote you have or have received is counterfeit, try to remember as much information as possible, especially when, where and from whom you received it.
This information can be very useful in identifying the perpetrators of the offence of counterfeiting money under Article 243 of the Criminal Code or other criminal offences that are prosecuted ex officio.
In addition to counterfeits, movie prop money is also circulating
Police are also warning about movie prop money that is being passed as real money.
It is fake money printed on plain paper, which looks very similar to the real thing. These banknotes usually have no security features as they are made by way of colour copying of banknotes and they only have a small wording (e.g. "copy", "movie money") printed on both sides of the note, which is usually difficult to see at a cursory glance.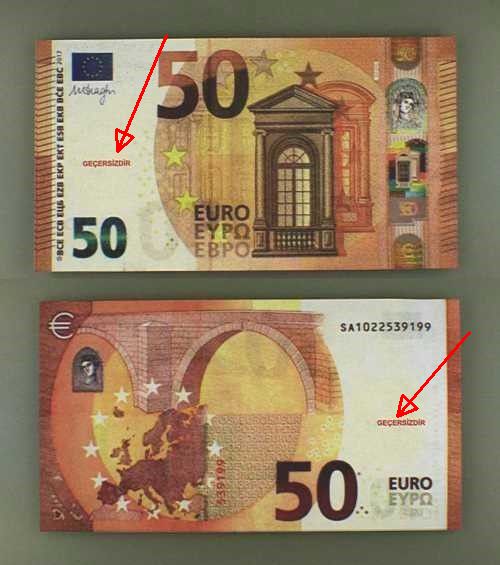 Example of movie/prop money (a fake with Turkish wording printed on it)