To mark the fourteenth anniversary of one of the worst accidents to have occurred in the history of Slovenian mountain rescue, a memorial hike to Mt Okrešelj took place on 10 June 2011. It was organised jointly by the Mountain Rescue Association of Slovenia and the Police to commemorate a tragic accident that happened at the foot of the Savinja Alps.
On 10 June 1997, the Mountain Rescue Service held a rock face rescue exercise in the area of Okrešelj; a police helicopter also participated. Tragically, the exercise ended in disaster. While two rescuers were being lifted to the helicopter with a winch, a connection remained between the helicopter and the anchor. All five rescuers were pulled from the anchor and fell to their deaths.
The five casualties were Mitja Brajnik, Luka Karničar, Dr Jani Kokalj, Rado Markič and Boris Mlekuž. Between them, they shared a great deal of knowledge, experience and courage but unfortunately on that day this was not enough. The rock face claimed the lives of five husbands, fathers, diligent workers and good men.
The memory of the accident at the foot of Turska gora and the loss of police officer Mitja Brajnik has stayed with the Slovenian police ever since. That same year the expert service of the director of the Police Directorate decided that the site of the accident should be visited every year and a wreath placed there in memory of the deceased mountain rescuers, among whom was the Head of the Police Inspectorate at Kranj Police Directorate, Mitja Brajnik.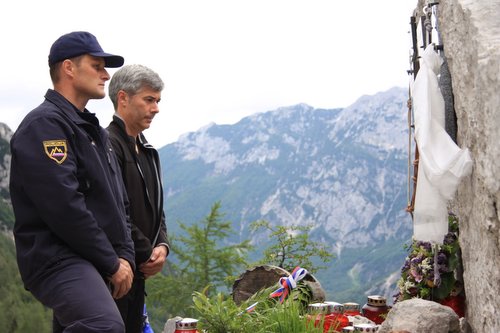 The wreath was placed at the memorial by Janko Goršek, Director General of the Police, and Robert Kralj, Police Aviation Unit representative and Head of the Mountain Police Unit.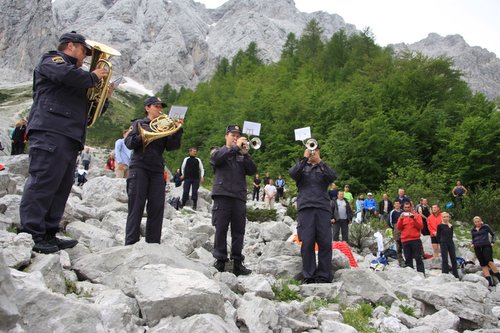 The Police Orchestra brass quartet played two laments.
"This accident left a deep scar on the hearts of all those who were involved in mountain rescue, professionals and volunteers alike. It serves as a reminder and an obligation to keep making use of knowledge, experience and adequate equipment to help people when their lives are in danger. And to do that, the courage and personal characteristics displayed by people such as Brajnik, Karničar, Kokalj, Markič and Mlekuž are needed," said Janez Ogulin,Head of the General Police Division of the General Police Directorate.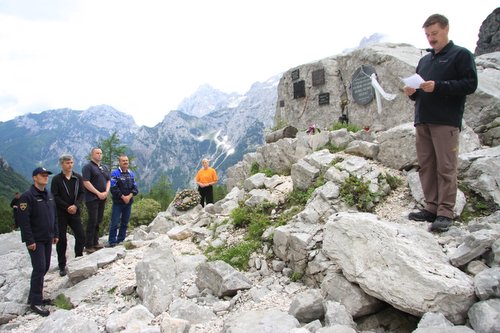 Mountain rescue is one of the most dangerous forms of rescue, and is usually performed in very inclement weather conditions where the rescuers are exposed to danger. Owing to extreme conditions, which require excellent equipment and skills, it is vital that all those involved are well qualified for the responsibilities that this line of work entails. The exercise at the foot of Turska gora was organised for this very reason. Unfortunately, it ended in tragedy.