At the end of 2007 Slovenia abolished borders with the neighbouring countries Italy, Austria and Hungary, thus becoming part of the common Schengen area - free movement of persons, goods and services. In the first half of 2008 the external border at airports was abolished, which means that we are celebrating the fifth anniversary of membership in the Schengen area.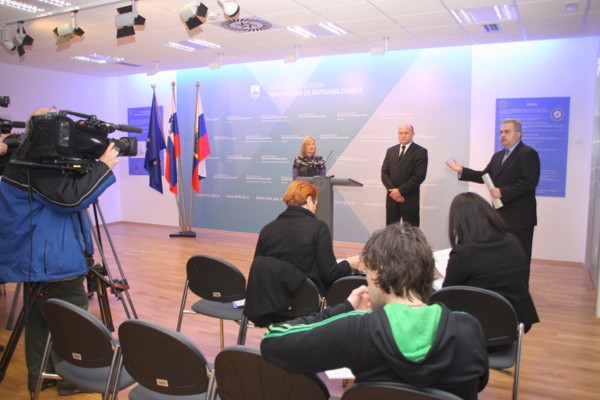 Full membership entails a series of comprehensive evaluations a country has to successfully undergo to be able to join the Schengen area. The areas subject to evaluation are: borders (land, sea, air borders), police cooperation, visas, personal data protection, and SIS-SIRENE.
As the evaluation mechanism is a continuous process, Slovenia was evaluated again last year in the first four areas. This year we will undergo an evaluation of land borders and SIS-SIRENE, which will be especially demanding because of the implementation of the second-generation Schengen information system (SIS II).
When external borders with the aforementioned countries were abolished, a certain security deficit appeared, which Slovenia made up with the so-called compensatory measures, such as joint police cooperation centres, mixed patrols, cross-border surveillance, hot-pursuit, use of a common checking system - Schengen Information System. Particularly the Schengen Information System represents the most complex and extensive compensatory and control mechanism, enabling the Member States using this system to access the data it contains.
Currently SIS contains the following categories of data or alerts:
On persons sought on the basis of a European Arrest Warrant or international arrest warrant.
On persons who are banned from entering the Schengen area.
On missing persons.
On persons to be located for judicial purposes.
On persons or vehicles subject to discreet surveillance or specific checks and stolen, missing or lost objects (vehicles, documents, licence plates, weapons and banknotes).
There are about 50 million alerts in the SIS, of which over 80% refer to stolen documents. The significance and added value of SIS lie in the fact that Slovenia is up to date on all sought persons and stolen objects in the area of the European Union and vice versa, all EU member states are informed of all wanted and missing persons and stolen objects sought in Slovenia.
Just in the last year Slovenia arrested 221 persons and found 319 stolen vehicles sought by other EU countries. It also banned 3,883 persons from entering the Schengen area.

As SIS was developed, the needs for expanding individual data categories appeared as well as the possibility of new functionalities. At the moment the finishing touches are being made to include countries into the second-generation SIS, which differs from SIS I in that more new countries can be included in the system and that new categories of data have been included, referring to vessels, aircrafts, containers and industrial equipment.
In addition to new categories of data, SIS II will also enable new system functionalities such as linking alerts (e.g. in case of an alert for a person suspected of kidnapping the system will automatically link this alert with an alert for a missing - kidnapped child and potentially, a stolen vehicle used), entry of biometric data and attaching photographs, fingerprints and European arrest warrants to some alert categories. When these alerts are entered into SIS II, it will contain about 100 million alerts.
Each country must establish a central authority through which countries communicate with the SIS and through which the entire communication is conducted after a SIS hit. A hit is when a police officer or a representative of another law enforcement authority with the right to access SIS is processing a person or an object which is in SIS. These central authorities are called S.I.R.E.N.E. - Supplementary Information Request at National Entry.
In Slovenia SIRENE belongs to the central authority for international police cooperation ? International Police Cooperation Division at the Criminal Police Directorate of the General Police Directorate, together with the national Interpol bureau and national Europol unit.
In Slovenia, SIRENE is responsible for all searches for persons and objects at the national level, in the framework of SIS, in the framework of Interpol and for targeted person searches.

Hits on persons and objects in SIS
Sought person or object
No of hits in Slovenia on the basis of alerts from other countries
No of hits in other countries on the basis of alerts in Slovenia
2011
2012
2011
2012
Persons wanted for arrest for extradition purposes
303
221
24
32
Aliens for whom an alert has been issued for the purposes of refusing entry
4,050
3,883
3
8
Adult persons who are missing or need temporarily to be placed under police protection
79
79
5
12
Minor persons who are missing or need temporarily to be placed under police protection
57
42
0
1
Witnesses, persons summoned to appear before the judicial authorities in connection with criminal proceedings in order to account for acts for which they are being prosecuted, or persons who are to be served with a criminal judgment or a summons to report in order to serve a penalty involving deprivation of liberty
1,247
1,211
163
197
Persons whose data is entered the purposes of discreet surveillance
560
784
16
44
Vehicles whose data is entered the purposes of discreet surveillance
59
65
0
0
Persons whose data is entered the purposes of specific checks
39
>41
0
0
Vehicles whose data is entered the purposes of specific checks
15
>29
0
0
Discreet surveillance for reasons of national security
33
39
0
0
Licence plates (lost, stolen, misappropriated)
55
44
27
>8
Vehicles sought for the purposes of use as evidence in criminal proceedings
46
38
0
0
Lost, stolen or misappropriated vehicles
416
281
44
75
Documents sought for the purposes of seizure or use as evidence in criminal proceedings
391
396
51
62
Banknotes sought for the purposes of seizure or use as evidence in criminal proceedings
5
3
0
1
Weapons sought for the purposes of seizure or use as evidence in criminal proceedings
0
4
0
0
Total
7,355
7,160
333
440