Today's press conference presented the successful work of Slovenian criminal investigators and police officers in the detection and apprehension of smugglers of illegal migrants, together with some of the most prominent cases dealt with recently. The press conference took place at Koper Police Directorate, which is one of the busiest in the country due to illegal border crossings.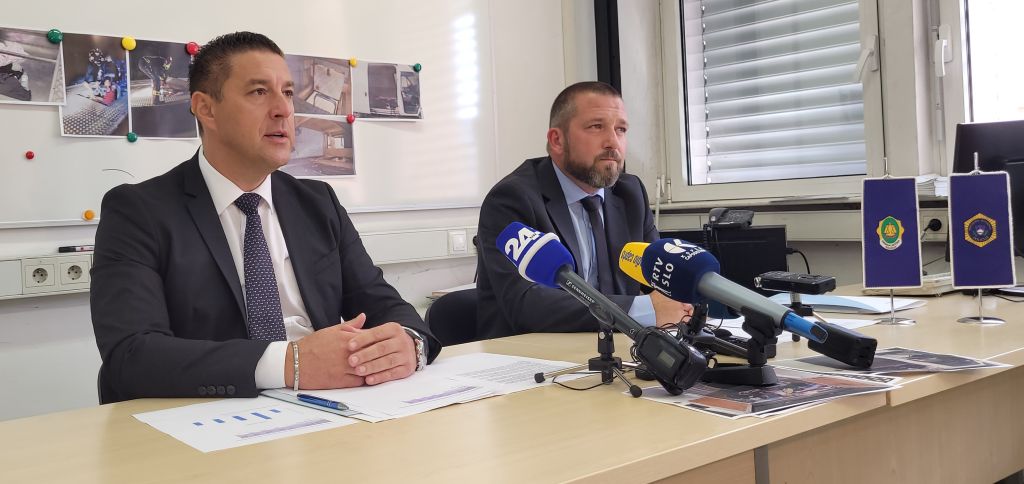 The joint press conference held by General Police Directorate and Koper Police Directorate was attended by Damjan Apollonio, Head of the Organised Crime Division of the Criminal Police Directorate (General Police Directorate), and Primož Ogrinc, Head of the Criminal Police Division of Koper Police Directorate
Proactive policing to detect and investigate smuggling of illegal migrants
The Slovenian police take all legitimate measures to prevent, detect and investigate the smuggling of illegal migrants, including investigations into organised crime groups involved in smuggling.
The issue of irregular migration has been one of the priorities of the Slovenian police, with great emphasis on proactive policing and close international cooperation with Europol and foreign police forces.
Slovenia is still mainly a transit country for migrants
Slovenia remains a transit country for illegal migrants, with the smuggling route following the so-called Western Balkan route through Slovenia to Italy or sometimes to Austria. The smuggling of illegal migrants through Slovenia is organised in various ways, either on foot through forests or in trains, vans, trucks and their hidden compartments.
By 12 September this year, the police had already arrested 171 people smugglers and detected 1,212 illegal migrants
By 12 September 2022, the police had dealt with 183 criminal offences, in which 171 people (152 foreigners and 19 Slovenian citizens) smuggling 1,212 illegal migrants had been apprehended. Criminal charges were brought against all suspects and 137 smugglers were remanded in custody by the courts.
Nationality of the arrested smugglers: Serbia 31, Slovenia 19, BiH 16, Croatia 13, Turkey 11, Kosovo 10, Italy 8, Romania 7, Albania 5, Ukraine 10, India 4, Germany 4, Bulgaria 3, Macedonia 3, Pakistan 4, Syria 3, Afghanistan 2, Moldova 2, Russia 2, Lithuania 2, Austria 1, Belarus 1, France 1, Georgia 1, Iraq 1, Iraq 1, Iran 1, China 1, Latvia 1, Poland 1, Switzerland 1, Turkmenistan 1, and the U.S. 1.
Extremely large groups of illegal migrants detected thanks to thorough policing
Groups of illegal migrants led by smugglers on foot or in vehicles are usually between 2 and 25 persons, but there are also cases of extremely large groups in vans and lorries.
In July, Novo Mesto Police Directorate apprehended a Slovenian citizen who was smuggling 39 illegal migrants in the cargo section of a van, and a Serbian citizen who was also smuggling 31 illegal migrants in a van. Both smugglers were brought before an investigating judge and remanded in custody.
In August, Murska Sobota Police Directorate apprehended a driver and a passenger of a lorry who were trying to smuggle 62 illegal migrants into Slovenia. Both smugglers were brought before an investigating judge and remanded in custody.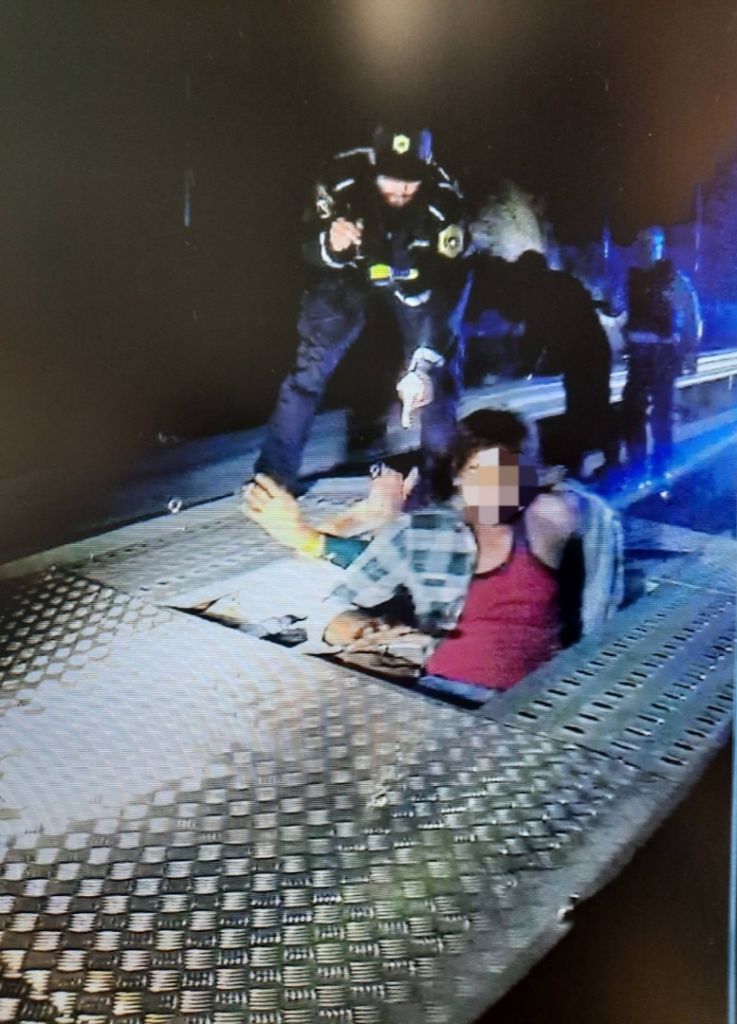 On 13 September 2022, Nova Gorica police rescued four migrants from an extremely narrow compartment in the undercarriage of a car transporter
On 13 September, at night, Nova Gorica police officers stopped a vehicle with a car trailer with BiH licence plates driven by a BiH national. Having heard a noise in the trailer, they discovered four Indian nationals in the undercarriage. As the compartment was fully enclosed and only 20 high, the officers were assisted by firefighters to open it. The migrants were given emergency medical assistance. In order to smuggle the migrants to Italy, the smuggler drove them trapped in the tiny undercarriage compartment from BiH to Slovenia. A very small oxygen inlet was, given the distance travelled, inadequate and critical for the life and health of the migrants. The suspect will be brought to the District Court in Nova Gorica today for questioning. The migrants were discovered and rescued thanks to the thorough and professional work done by the police officers.
At the end of June 2022, criminal investigators and police officers from Ljubljana Police Directorate completed a major international investigation into an organised crime group smuggling illegal migrants along the Balkan route. In the area of Ljubljana and Nova Gorica, four suspects were apprehended and house searches were ordered by the court; 6 persons (3 foreigners and 3 Slovenian citizens) were charged with at least 12 offences (under Article 308 of the Criminal Code). The four suspects were remanded in custody after being brought to court on criminal charges. During the months-long criminal investigation carried out in cooperation with the Italian law enforcement authorities, it was established that the group was a well-organised criminal organisation operating in the territory of Slovenia and that the smuggling of illegal migrants was organised along the Balkan route from Turkey, Greece, Serbia, Bosnia and Herzegovina and Croatia via Slovenia to Italy (Trieste and Gorizia).
The more successful the police are in catching smugglers, the higher the smuggling prices
The prices charged by organised criminal groups for the transport illegal migrants depend on the mode of smuggling (whether on foot, in private vehicles, in vans or in trucks), on the length of the journey, the method of payment, the difficulty and risks of crossing national borders, and also on the number of organisers or intermediaries. The amounts paid to smugglers for an illegal migrant range from a minimum of €300 (from Croatia to Slovenia) to a maximum of €14,000 (from Africa, Afghanistan, etc. to Italy).
Organised criminal groups have increased the prices of smuggling people through Slovenia in recent months, mainly due to the increasing number of successful apprehensions carried out by the Slovenian police.
Vehicles used to smuggle migrants often have specially adapted compartments
The two photos below show illegal migrants smuggled in hidden compartments of a cargo vehicle (Novo Mesto Police Directorate, 29/07/2022, 11 Bangladeshi nationals were hidden in a modified compartment of a cargo vehicle, the smugglers were BIH nationals).
The photos below show illegal migrants smuggled in the cargo section of a multi-purpose vehicle (Nova Gorica Police Directorate, 9/09/2022, 25 Bangladeshi and Pakistani migrants, the smugglers were Lithuanian nationals).
People smugglers apprehended in Slovenia in the last five years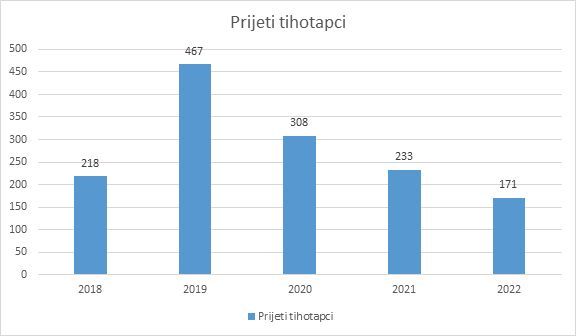 Apprehended smugglers of illegal migrants in the period between 2018 and 2022 in the entire territory of Slovenia. The 2022 figure relates to the period from 1 January 2022 to 12 September 2022.
The criminal offence of illegal crossing of the state border or territory under Article 308 of the Criminal Code of Slovenia is punishable by imprisonment for a term of three to ten years and a fine, and an aggravated offence by imprisonment for a term of three to fifteen years and a fine.
Koper Police Directorate has dealt with 91 criminal offences related to human smuggling this year
By 11 September 2022, Koper Police Directorate had tackled 91 (86) criminal offences of illegal crossing of the state border or territory (under Article 308 of the Criminal Code), with 86 (82) suspects. 62 suspects were brought to the investigating judge for questioning and 60 persons were remanded in custody. The vast majority of the suspects are foreign nationals, most of them from Serbia, Albania, Croatia, Pakistan, Afghanistan, Iraq, Bosnia and Herzegovina and, more recently, Ukraine. The suspects were most often seen as drivers of vehicles carrying illegal migrants, or as foot guides and organisers of illegal border crossings.
Each year, Koper criminal investigators successfully complete investigations into criminal groups where they also use undercover investigative measures. Such international criminal groups involved in human smuggling included nationals of Albania, Ukraine, Serbia and Croatia.
Perpetrators are increasingly transporting migrants in camper vans
Recently, a new way of transporting illegal migrants has been recorded in the area of Koper Police Directorate: camper vans with foreign licence plates.
In September, Koper police stopped two camper vans with Czech licence plates. In one of them, an Ukrainian driver and his passenger transported 24 Iraqi nationals who had crossed the border illegally; in the other one, a Ukrainian national and his passenger transported 21 Iranian nationals (15) and 6 Turkish nationals (6). The migrants had paid the perpetrators €6,500 per person for the journey from their country of origin to their EU country of destination.
Two other cases of human smuggling have been detected in the area of Koper Police Directorate this month
On 9 September 2022, at 0.34 a.m. in Ilirska Bistrica, police officers stopped a French-registered car driven by a 34-year-old national of Kosovo legally residing in France. He was transporting two other Kosovan nationals who had entered Slovenia illegally and who were found to be his parents. The foreigners were fined and the two illegal migrants were returned to Croatia.
On 10 September 2022, a 50-year-old Italian national was stopped in Rakitovec while transporting eight illegal migrants in his vehicle. The migrants reported the cost of the journey was €3,500 per family, which means that the Italian smuggler and other, as yet unidentified, perpetrators involved would obtain illegal proceeds amounting to at least €10,500.