The leadership of the Slovenian Police and Interior Minister Dragutin Mate paid their respects today at the Presidential Palace to the former president of the Republic of Slovenia Dr Janez Drnovšek, who died on Saturday.
On the day of mourning the condolence book was signed by Jože Romšek, Director General of the Police, Matjaž Šinkovec, Deputy Director General of the Police, Danijel Žibret, Director of the Uniformed Police Directorate, and Robert Črepinko, Assistant Director of the Criminal Police Directorate.
The condolence book was also signed by representatives of the Ministry of the Interior: Zvonko Zinrajh, State Secretary, Srečko Jarc, Director General of the Police and Security Directorate, Bojan Trnovšek, Director General of Administrative Internal Affairs Directorate, Mateja Rokvič, Chief Inspector of the Inspectorate of the Interior, Elda Gregorič Rogelj, Secretary General at the Ministry, and Darja Hrast, Head of the Minister's Office.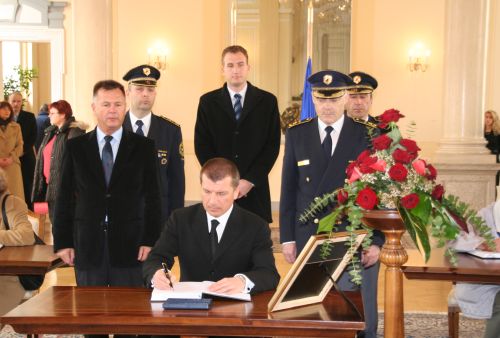 Interior minister Dragutin Mate and Director General Jože Romšek voiced their condolences for the death of former president of Slovenia Dr Janez Drnovšek: "He will be remembered with deep respect, as he was a great politician who marked the political history of Slovenia, and an advocate of peaceful coexistence."