During the May Day holidays, we advise drivers to remain tolerant and not to try to avoid traffic jams by violating traffic regulations.
Be careful and tolerant on the roads!
In order that the holidays shall remain pleasant and safe, we give the following advice to all traffic participants:
Adjust the speed and manner of driving to the regulations and traffic conditions!
Pleasant driving conditions shouldn't mislead you! Namely, in beautiful weather the majority of drivers have a false feeling of safety; as a result they overestimate their capabilities and drive faster and with less care.
Consider the regulations of defensive driving. Start out your journey well-rested and with a properly equipped vehicle. Drive carefully, responsibly and concentrated.
Drive at a sufficient safety distance!
Due to beautiful weather, the roads will be full of cyclists, drivers of mopeds and motorcycles; also pay attention to them!
Drivers of mopeds and motorcycles should adjust their speed and manner of driving to their own capabilities and road features. When driving the use of helmets and other protection equipment must be strictly observed.
Passenger in vehicles must use safety belts!
Drivers should not use their mobile phones when driving or neither occupy themselves with their passengers, radio equipment or other activities which could influence the safety of driving.
Pedestrians are becoming more frequent in traffic; therefore, drivers should also pay attention to them. We would also like to warn pedestrians to be careful, strictly follow road traffic regulations and not provoke any dangerous situations.
Police officers will ensure higher safety and flow of traffic as well as consistently act against any violators, especially those who drive under the influence of alcohol and endanger themselves and others by speeding.
Periodic traffic jams are possible on border crossings
During the holiday week and also during the summer tourist season we are expecting increased traffic at border crossings with Croatia and also longer lines and waiting periods for the crossing of state borders. Periodic traffic jams are also possible those on roads leading to border crossings. The majority of passengers and vehicles during the May Day holidays are expected in both directions at the following border crossings for international transport: Gruškovje, Obrežje, Metlika, Petrina, Jelšane, Starod, Sočerga, Dragonja and border crossing - control post Sečovlje. Therefore, we advise travellers to use less busy border crossings.
In addition, the crossing of the external Schengen border is permitted only on main border crossings and at a certain working times.
List of border crossings in Slovenia (data on border crossings, their working times, etc).
To reduce waiting periods and lines at border crossings and roads, the police will guarantee a sufficient number of police officers. The police shall promptly provide information on possible traffic jams and waiting periods through operation and communication centres and by notifications on its website www.policija.si.
Caution with pyrotechnics, using mortars or carbide and creating bonfires!
The celebration of 1 May will be punctuated by numerous public events and also non-organised gatherings. More details on public assemblies or public events, the application procedure and permission for a public meeting or event is shown on the website of E-administration:
Organisers of bonfires and individuals must be aware of fire hazards in natural environment, which are common on such occasions. It is necessary to obtain permission from the relevant administration unit for bonfires; an application for permission has to be filed at least 7 days prior to the event.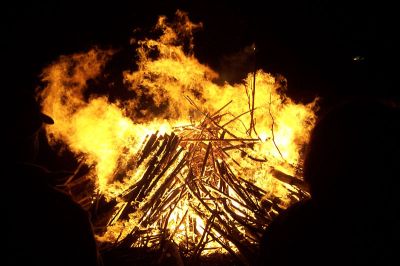 In case of fireworks within the context of an event, it is also necessary to obtain permission from the relevant administration unit, while the organiser must take care of all safety measures in accordance with the regulations.
During the May Day holidays there is also an increased use of pyrotechnic products. Therefore, we would like to advise caution when using them. Thoughtless and careless use of pyrotechnic products frequently causes personal injuries (burns, lacerations, eye injuries, etc.) and also disturbs animals and pollutes the environment. The most frequent causes of accidents are incompetent handling or lack of supervision by a person of legal age over adolescents and children.
In addition, there is a new Explosive Substances and Pyrotechnic Products Act (Official Gazette RS 35/2008) in force. The most important new feature in this area refers to the prohibition on sale, possession and use of fireworks of category 2 and 3, the main effect of which is detonation (the most frequent are firecrackers of different shapes and power). The use of pyrotechnic products of category 1, the main effect of which is detonation, is permitted only from 26 December to 2 January!
We would especially like to warn against the use of different types of mortar, which are instruments for creating explosions with black gunpowder according to the Firearms Act. They are used on cultural as well as other events. Persons who use mortars must have a certificate or attestation of training with firing with a mortar. When using mortars and acetylene, participants and organizers must take care of safety measures. The Protection of Public Order Act allows the use of carbide and other gas mixtures for explosions during certain holidays, where such explosions are already a tradition. It has to be considered that night time peace and the rest of citizens must be guaranteed between 10 PM and 6 AM.
Secure yourself against burglaries - burglars are not on vacation!
Police officers and criminal police officers advise the following to owners of apartments and houses who are going on vacation:
When leaving, be sure that all doors and windows are closed and locked. Don't forget to shut gas and water as well as switch off electricity, especially all electric apparatus.
Valuable objects should be kept in a safe place.
During your leave, ask your acquaintances or neighbours to keep an eye to your apartment and to daily empty out your mailbox, etc.
Be sure that your home does not show any signs that you are gone: don't leave any visible messages that you went away, no messages on the answering machine, don't leave your keys in your mailbox or under the doormat, don't remove flowers from windowsills, don't curtain your windows and don't shut them down with shutters or blinds.
Due to holidays, many business premises, offices and companies will probably be empty. We advise the owners of companies to properly secure their belongings in order to prevent a possible burglary.
Even the smallest self-protection acts (strong fence, safety locks, locked premises, closed windows and doors, proper lighting, locked offices, temporary presence, alarm equipment, etc) can divert a possible burglar from burglary or prevent other damage.
If you will stay home, lock your doors and don't open doors to strangers! Your safety chain should always remain in place, especially if you are alone. Use audio and video door phones and peep-holes.
In the event of a burglary at your apartment, immediately call 113 or the nearest police station. Do not enter, as the perpetrator may still be in the building. Do not alter the crime scene and do not destroy any tracks that might be important for further investigation of the criminal offence (don't touch things, don't walk around...).
If you establish that there was a burglary at your neighbours when they weren't home, immediately notify the police!
Your parked vehicle shouldn't become a target of thieves and burglars! We would like to warn you not to leave any purses, briefcases, wallets and other valuables in visible parts of your vehicles! Properly secure your vehicles. Close all windows, doors, lock your vehicle and trunk and turn on your alarm equipment. Avoid parking in dark streets or parking areas.
During holidays when monetary institutions are not open, more attention should be devoted to cash withdrawals on automated teller machines. When withdrawing cash, be careful that someone is not observing you, don't count and show money on streets, also avoid dark and lonely places!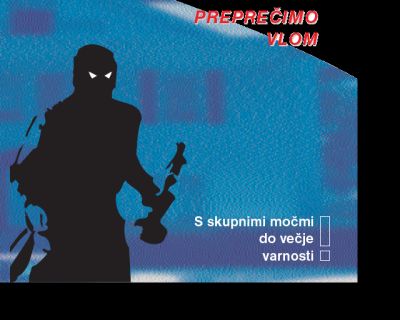 In case of an unfortunate incident that demands police attention or in the case of violation of law and order or even in case of a criminal offence, we advise you find help at the nearest police station or report the event to the police intervention number 113. Police officers shall verify the report details and act in accordance with their jurisdictions and legislative regulations considering their conclusions.
We wish you pleasant and safe holidays!