In the first half of 2008, during the Presidency of the UE Council, Slovenia will host several important events at international level. Therefore, the police have prepared the plan of activities to ensure safety of the participants of these events.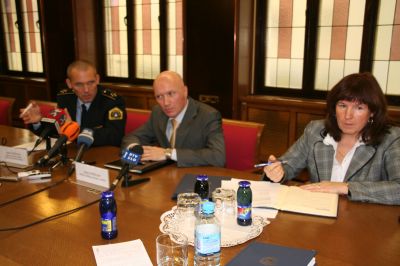 The activities of the police as well as some advice for the road traffic participants on how to react when encountering a motorcade were presented at today's press conference of the Ministry of the Interior by the Director of Security and Protection Office, Sašo Korenjak, and by the Senior Police Superintendent from Traffic Police Section/Uniformed Police Directorate/General Police Directorate, Srečko Deželak.
According to Sašo Korenjak, the police will concurrently coordinate their measures and security plans as well as the number of police officers on duty, all adjusting to security conditions and individual events. He said that the current security conditions are good, but it cannot be excluded that endangerment will arise during individual events. Police officers are well prepared for the activities during the Presidency of the EU Council. They have been additionally trained on protection of persons and objects, bomb disposal, and motorcade escort. Moreover, they took part in similar events abroad while preparing for the activities associated with the Presidency.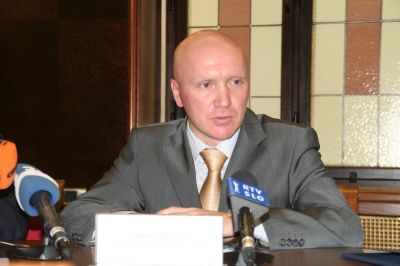 Some security measures will be taken in the area of the Brdo Congress Centre and Brnik Airport, for both locations will be most burdened during the Presidency. Entering the Brdo Congress Centre will be possible only by going through security check and by having accreditation or a badge. Brnik Airport will be under stricter police control, too, especially the area of the main terminal and general aviation. Individual security measures will also be taken in the locations where participants are staying or individual events are to be organised, and in Brussels (at Slovenia's permanent representation in the premises of the EU Council during its sessions).
As to traffic control, Korenjak said that traffic is expected to increase in the area of Brnik Airport and the Brdo Congress Centre, and, at certain events, also in the area of Bled. Traffic will definitely build up on the Celovska Street as one of the main roads to Ljubljana city centre, and around Ljubljana's hotels where the number of police-escorted motorcades, which have the right-of-way, is expected to increase.
Srečko Deželak from Traffic Police Section said that traffic jams due to escorted motorcades could occur on the roads with high traffic density. He pointed out that police officers will regulate traffic in relation to a given situation, enabling protected persons to transit as smooth as possible, and ensuring a normal flow for the rest of traffic participants. All activities regarding traffic control are provided for in such a way as to avoid, as much as possible, the interference in the existing traffic regulation.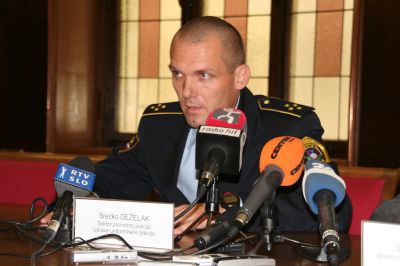 Traffic regulation in Ljubljana will not be changed essentially. Since the above mentioned activities will not take place continually for six months, the changes in traffic regulation will take effect only on certain days. The public will be informed regularly of road blocks at individual events on our web page.
Deželak emphasized that on encountering police vehicles with flashing red and bleu lights escorting a motorcade, drivers must stop and give way to all vehicles in the motorcade. They can continue with driving as soon as the last police vehicle with green and blue lights has passed by.
How should drivers act when encountering police-escorted motorcades?
When driving, motorcades are protected by marked police cars. Protected motorcades can be composed of cars and buses. In front and behind, they are accompanied by distinctively marked escort vehicles.
Escort vehicles are fitted with visual and audible warnings.
The lead escort vehicle is equipped with flashing red and blue lights. And behind the protected motorcade, there is an escort vehicle with flashing green and blue lights.
A protected motorcade can be accompanied by police officers in cars or on motorcycles. As a rule, these vehicles use sirens and lights.
If drivers meet an escort vehicle, or if they are overtaken by such a vehicle, they must stop at the edge of or outside the roadway and give way to the protected motorcade.
They may continue with driving after all vehicles in the motorcade have passed by, including the vehicle with flashing green and blue lights indicating that the protected motorcade is over and that all bans and restrictions are lifted.
It is prohibited to join or to overtake the escort vehicles. Drivers who do not stop their cars or do not give way to the protected motorcade, or who join or overtake the protected motorcade are fined EUR 250.38.