Today, on 18 July 2008, fifteen new white and blue police vehicles of the make Skoda Octavia RS 2.0 TFSI were ceremoniously handed over to the traffic police by director general of the police Jože Romšek and his closest cooperators.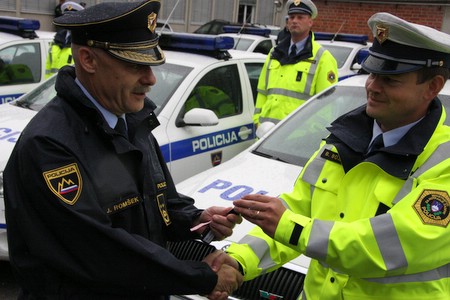 After the handover of 35 new motor vehicles of the make HONDA NT 700 VA DEAUVILLE (ABS) last November, 10 new vehicles of the make Skoda Superb Comfort 2,8 V6 with video surveillance systems for traffic control last December, 25 new off-road vehicles of the make VW Touareg 2,5TDI and 40 new emergency vehicles of the make Renault Master Furgon L1H1P2 Y6 in January, and 14 new motorcycles of the make Yamaha FJR 1300 AP in March, this has been the fifth handover in less than a year.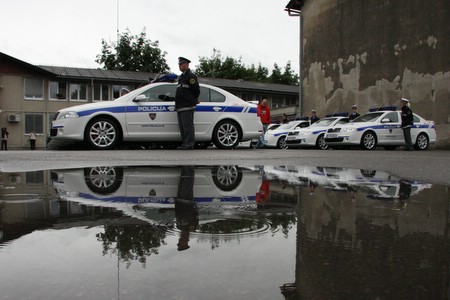 As many times before, the director general of the police Jože Romšek seized the opportunity to express his satisfaction with the acquired vehicles. He added that any technical acquisitions enabling smooth, easier and thus even better work are more than welcome.
Patrol vehicles with video surveillance system have proven successful, so the police decided to purchase some new ones in addition to those acquired last year. Until now, the Slovenian police controlling traffic on state roads and motorways used eleven white and blue and eight civil vehicles equipped with the video surveillance system for traffic control. The newest 15 vehicles have the option for the installation of video surveillance device.
The vehicles will be used by patrols throughout Slovenia, especially on motorways and roads where most violations of road transport laws are recorded. The aim of the greatest possible presence of the white and blue patrol vehicles on the roads is to influence the traffic calming and reduce the speed, which is one of the principal reasons for the most severe road accidents.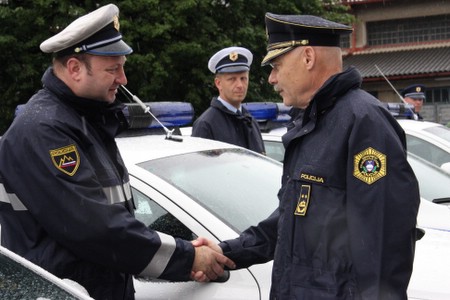 Director General of the Police Jože Romšek handed over the keys to traffic police officers, wishing them good and safe driving and much success in their work.

The new vehicles Skoda Octavia RS 2.0 TFSI are white and blue, with police equipment and the devices producing sound and light signals. They have petrol engines with four cylinders with the capacity of 1.984 ccm and the maximum power of 147 kW (200HP) /5.100 - 6.000 1/min. Their technical characteristics, capacities and driving characteristics make these vehicles equivalent to the vehicles Skoda Superb, which are not on the market any more. The total value of the purchase (including VAT) was 442.494 euro. The vehicles were budget-funded.