On Friday 4 April, in Bosnia and Herzegovina at the Police Hall in Sarajevo, the EUPM (European Union Police Mission) officially granted medals to police officers participating in the mission.
Among the medal winners were Slovenian police officers Bernard Vesenjak and Boris Železnik, in the mission since 21 January of this year.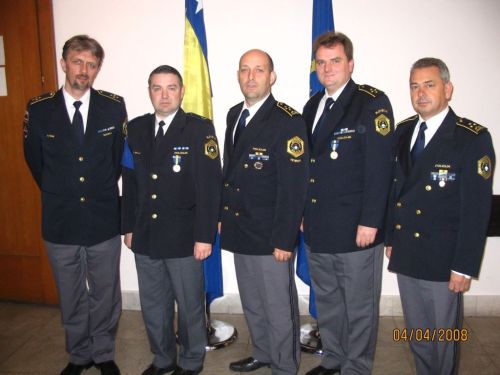 From left to right: Marko Rode, Bernard Vesenjak, Danijel Žibret, Boris Železnik and Jože Mencin

The ceremony was attended by high political representatives of Bosnia and Herzegovina and distinguished police representatives of the countries participating in the mission. From Slovenia, Head of the Uniformed Police Directorate at the General Police Directorate Danijel Žibret, Director of the Kranj Police Directorate Jože Mencin and Head of the Peacekeeping Missions Section at the Uniformed Police Directorate Marko Rode attended the ceremony.
The Slovenian Police are participating in the mission with four police officers assigned different police tasks in the Bosnian Federation and in the Republic of Serbia as well.
In the EUPM III mission, which is a continuation of the EUPM mission, Robert Urek is participating, along with Železnik and Vesenjak. Ivo Usar, whose mandate expired at the end of March, is expected to be replaced by Branislav Kanduti.

Reception for police officers going on the EUPM peacekeeping mission in Bosnia and Herzegovina