On Friday 3 June, in Sarajevo, Bosnia and Herzegovina's EUPM leadership officially presented medals to the police officers participating in the mission, including two Slovenians.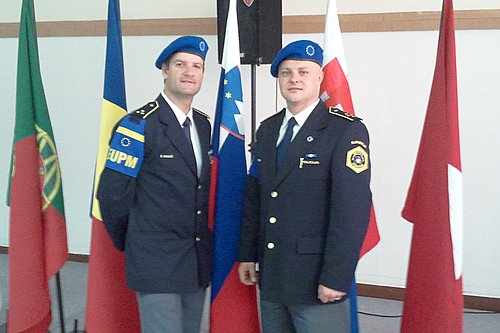 The ESDP (European Security and Defence Policy) medals were awarded by Head of EUPM Stefan Feller to mission members Ernest Salkić and Grega Novak, who have been serving since January this year, in recognition of their dedication to their work.

CPCC (Civilian Planning and Conduct Capability) representative Cristina Stepanescu, once a mission member herself, delivered an address on behalf of the Commander of Civilian Planning and Conduct Capability (CPCC), Hansjörg Haber.
The official ceremony was attended by Bosnia and Herzegovina's politicians, representatives of the international community and distinguished representatives from the police organisations of the mission-participating states. Slovenia was represented by Branko Celar, a member of the Ministry of the Interior's Police Staff Selection Commission, and Vladimir Pocek, Head of International Police Operations (General Police Directorate). They met with Deputy Head of Mission Domenico Paterno to discuss the EUPM's plans for the future.
The Slovenian police are participating with four police officers who have various police assignments, both in the Bosnian Federation and the Republic of Serbia.