Police Duties and Powers Act defines 29 police powers, which include the newly defined prohibition of attending sporting events (Article 62) and interruption of travel to a sporting event (Article 63).
These new powers aim to ensure safety and order and to prevent violence at sporting events. They enable the police to deny violent groups access to a sporting event and ban those fans who have a record for violations during matches from attending a sporting event temporarily (for one year).
"When drafting new police legislation we also looked at practices in some other countries when deciding how to tackle the problem of fan hooliganism in Slovenia. Two measures were adopted, which are not directed against fans but against hooligans who repeatedly cause riots at sporting events," said Dr Miroslav Žaberl, Director of the Police and Security Directorate at the Ministry of the Interior and Public Administration.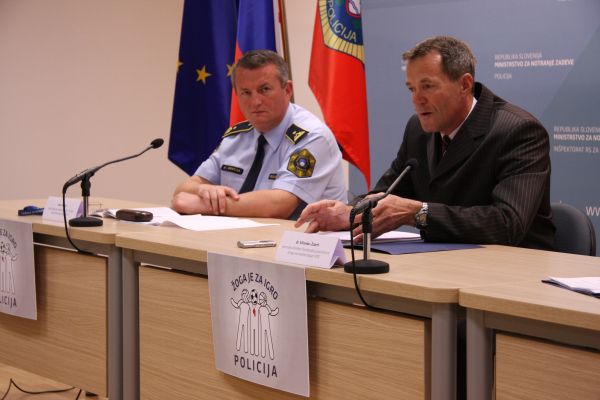 Alojz Senčar, Head of General Policing Division of the Uniformed Police Directorate within the General Police Directorate added: "The measures are aimed at those individuals who cannot seem to grasp that sporting events are not intended for venting their frustrations and violence."
As part of their preventive efforts the Slovenian police prepared a project Žoga je za igro (The ball is for playing), which is aimed at reducing violence at sporting events. With this project we would like to encourage other bodies and organisations in the country to invest more efforts in dealing with the issue of violence and intolerance at sporting events, and implement a zero tolerance policy.