The Chief of the Croatian Uniformed Police, Dubravko Teur, visited Slovenia today, 17 May 2011. He met with his Slovenian counterpart, Danijel Žibret.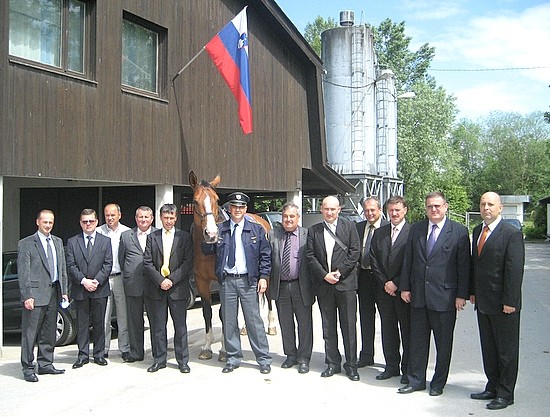 At the working meeting the Chief of the Croatian Uniformed Police, Dubravko Teur, and the Director of the Uniformed Police Directorate at the General Police Directorate, Danijel Žibret, discussed the co-operation of Croatian and Slovenian Police during the policing of sports events. They also talked about the exchange of data between both Police forces and about the travel of sport fans to sports events and participants of major public gatherings between both countries.
On this occasion and at the wish of the Croatian Chief of the Uniformed Police they also visited the Ljubljana Station of the Mounted Police. The Station Commander, Cveto Možina, made a presentation of the organisation, work and duties of the Slovenian Mounted Police. Then they went to see the regular exercise of police officers of a special police unit which took place in the Police Training Centre in Gotenica.
Žibret and Teur agreed that the cooperation between Slovenian and Croatian police officers is good and they expressed their wish to enhance their common operational work in the future.