Between 3 and 13 March, a preventive campaign will be taking place in Slovenia under the slogan Stop! Life Comes First, aimed at increasing road traffic safety at level crossings.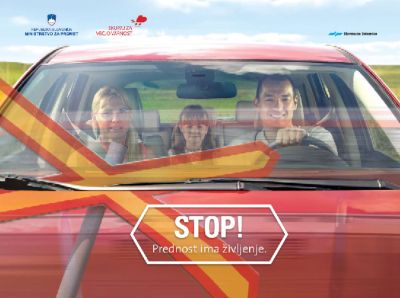 The main instigator of the campaign is the Ministry of Transport which, together with other institutions and ministries wishes to influence the conduct of drivers and other road users, thus indirectly reducing the number of accidents and their consequences at level crossings.
According to information supplied by the Ministry of Transport, during the last fourteen years there were 589 accidents on level crossings in Slovenia, in which 130 people died (on average 9 a year). Last year, 4 people died in accidents on level crossings, which is 1.9% of fatalities in traffic accidents. Most traffic accidents at level crossings happen on local roads, where the number of such crossings is the greatest.
Police officers will also take part in this campaign by monitoring the traffic on level crossings.
The police advises:
Traffic regulations state that a driver approaching a level crossing must drive especially carefully and with a speed that allows him or her to stop in time. A train or other transport vehicle moving along the railway tracks has the right of way in relation to road users.
Unprotected level crossings are marked with a crossbuck (St. Andrew's cross). Drivers must stop their vehicle before such a crossing and make sure that they can cross the railway line safely.
All road users must be aware that it is they who can do most for their own safety. Thus they must consistently take due account of the traffic signs and traffic regulations relating to level crossings.