At the beginning of the new school year, the Minister of the Interior Katarina Kresal and the Director General of the Police Janko Goršek visited the Rihard Jakopič Primary School in Ljubljana.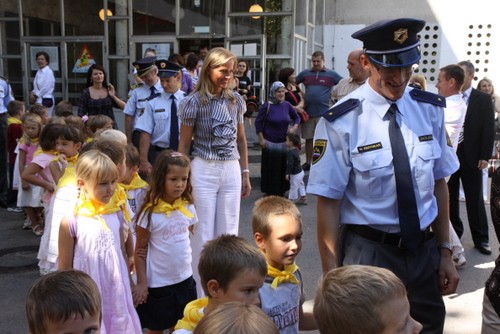 They escorted children along their safe route to school, accompanied by Mitja Petkovšek and Matic Osovnikar, top athletes employed with the Slovenian Police, Bojan Horvat, the deputy commander of the Ljubljana Šiška Police Station, and Andrej Lampret, the head of the respective police precinct.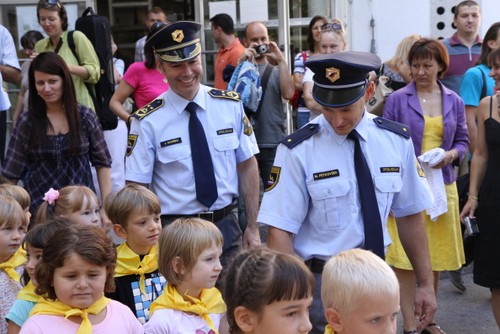 On the first school day all eyes are fixed on the children entering school. It is on all of us, but particularly on parents, to provide for their appropriate development within the society by setting an example and acting in a correct manner. Participating in traffic, children will take on various roles on a daily basis - as pedestrians, cyclists or passengers in motor vehicles.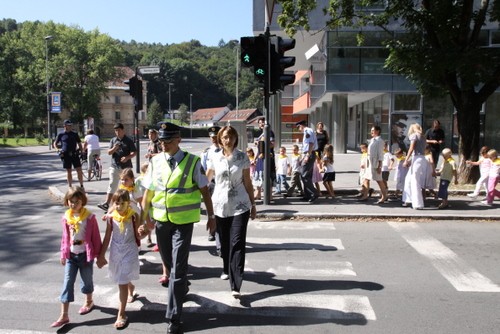 We must start teaching our children very early to be careful, tolerant and rule-conscious when in traffic, which we can do by acting correctly and setting good examples. Only in this way they will become safe, prudent and tolerant traffic participants. Every road user must therefore be cautious and attentive because children are often playful and distracted. Thus we will be able to avoid tragic and soul-stirring events. We must teach our children how to behave in traffic and increase their knowledge about it.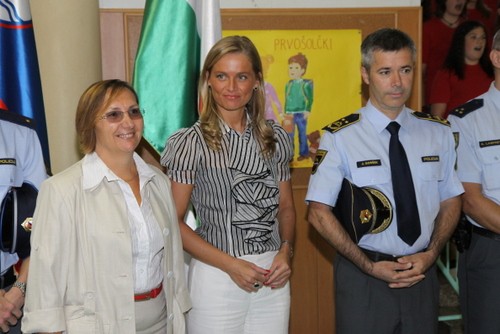 The Director General of the Police Janko Goršek stressed the importance of road traffic safety to children and parents: "Children, I wish every step on your route to school and back home be safe. At the same time, I would like to invite parents to set a good example and convey a clear message to their children that safety is one of the most important segments on their way to school and back home. I also wish this feeling of our children's safety to continue throughout the year".
The Minister of the Interior Katarina Kresal wished them to study as hard as possible: "Knowledge is the basis of every success in our lives. Therefore I would like to advise all school-going children to make good use of their school days".