Director General of the Police Janko Goršek attended the conference of police chiefs for the Danube region's police forces, which took place in Munich on 23 and 24 January 2012.
The conference was part of activities of the EU Strategy for the Danube Region aimed at intensifying the cooperation between the countries and other players in the Danube region (Germany, Austria, Czech Republic, Slovakia, Hungary, Slovenia, Romania, Bulgaria, Croatia, Serbia, Bosnia-Herzegovina, Montenegro, Moldova and Ukraine) in order to support the sustainable development and competitiveness of this part of Europe. The strategy foresees closer cooperation in eleven priority areas, including cooperation to ensure security and prevent organised crime and serious criminal offences.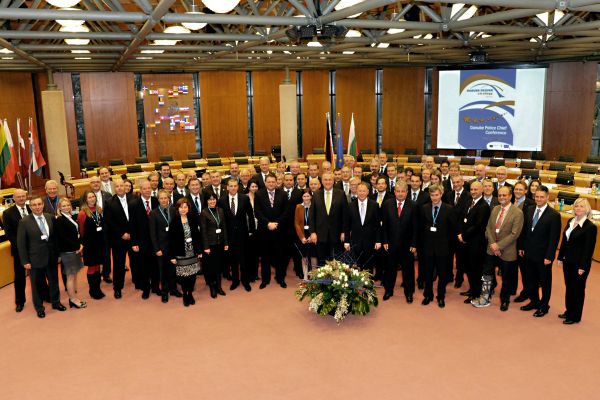 The conference of police chiefs from the Danube region was devoted to an overview of the crime situation in the Danube region and a presentation of projects and proposals within the eleventh priority area, in which Slovenia has been participating and will continue to do so in future. One of the projects presented at the conference was the EACT (European Anti-Corruption Training), in which Slovenia (the National Bureau of Investigation and the Commission for the Prevention of Corruption), together with Austria (the Federal Bureau of Anti-Corruption with the Ministry of the Interior) and Slovakia (the Office for the Fight against Corruption of the Ministry of the Interior), participates as a partner. EUROPOL also attended the conference and presented a threat assessment of organised crime for the Danube region.
Director General of the Slovenian Police Janko Goršek met with President of the Bavarian State Police Waldemar Kindler on the margins of the conference.