Days are getting longer, spring is coming. The periods of nice weather with higher temperatures will become longer and the driving conditions more favourable with every new day. Sadly, this is the time that is most critical in road traffic safety.
According to Robert Sušanj, the head of the Traffic Police Division within the Uniformed Police Directorate, lengthy experience shows that drivers get a false sense of security, begin to drive faster, less carefully and more aggressively. As winter turns to spring, the number of traffic accidents increases each year.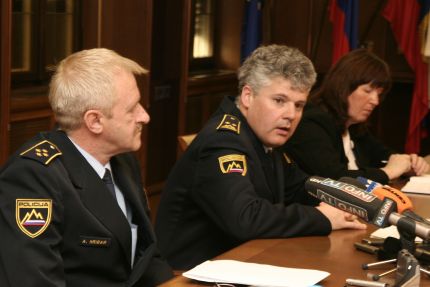 From left to right: Anton Hribar, Robert Susanj and Nuška Tavcar, Police Public Relations Officer

Last year, 214 persons died in traffic accidents, which is 79 fewer than in 2007, when the toll was 293. In 2008, there were also fewer traffic accidents and injuries than the year before. In addition, the number of deaths in traffic accidents has fallen even further this year. By 23 February 2009, 19 people had died in traffic accidents, which is 8 fewer than last year, when 27 people died within the same period.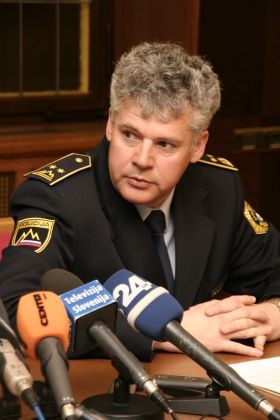 Robert Susanj believes that this decrease in the number of deaths was partly due to the long winter, which was accompanied by what were mostly unfavourable driving conditions that made drivers more cautious. "Soon the weather will improve, temperatures will rise, the spells of good weather will become longer, whilst the driving conditions will become more favourable with every day. Experience tells us that these are the most critical periods with regard to road traffic safety. During bad weather, drivers are especially cautious due to snow, low temperatures and icy roads. As the weather improves and the roads become dry, they regain a false sense of security, a feeling that they are at no risk whatsoever. As a rule, they start driving faster and become more reckless and aggressive. This is another reason why the police during the transition from winter to spring every year have to deal with a greater number of traffic accidents and their consequences," says Robert Sušanj, adding that with better weather motorcyclists, cyclists and pedestrians reappear on the roads, which can further reduce road traffic safety.
"In order to prevent the expected worsening of road traffic safety during this transitional period, the police advises all road users to drive carefully and responsibly," said the head of the traffic police.
In addition, Sušanj assures us that police officers will try to influence the behaviour of drivers by their extra presence on roads and by carrying out traffic checks, whereby they will use all the available technical resources to the greatest possible extent.
To all drivers
In spite of seemingly good driving conditions, do not drive too fast. Adapt your speed not only to the speed limits, but also to the current driving conditions.
Consistently use all the seat belts in vehicles, whilst the riders of two-wheeled vehicles should wear protective helmets.
If you consume alcoholic beverages, regardless of the quantity, do not drive.
The riders of two-wheeled vehicles must be aware of the fact that the asphalt surface is cold and does not allow the optimum traction of tyres. In addition, due to the severe winter, this year the road surfaces have developed a particularly large number of potholes and there is a great deal of gravel left from gritting. This is why your ability to control you motorcycle is most likely still not at the same level as last year.
The pleasant spring temperatures can make you sleepy, so be careful and at the very first sign of tiredness stop driving.
When on the road, act responsibly and show respect for other road users.
In the evening and at night in particular pay attention to pedestrians and cyclists.
To all pedestrians and cyclists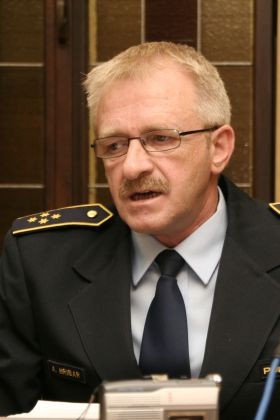 Ensure your visibility in road traffic and when walking or riding use the surfaces intended for you.
Anton Hribar from the Traffic Police Division presented the results of the campaign Seat Belts - Fasten Your Life, within which police officers in February throughout Slovenia carried out stricter control over whether drivers and passengers were wearing a seat belt.
The combined results of the seat belt checks show that during this 15-day campaign Slovenian police officers stopped and checked over 60,000 vehicles and found over 7,000 violations of the regulations pertaining to the use of seat belts. Of these, 90% were related to the front seats and approximately 10% to the back seats (mostly of cars), whilst 2% of violations were by the drivers of cargo vehicles and a few violations were found in taxis and on buses.
Police officers issued the violators with fixed penalty notices or in some cases a warning.
Last year, a total of 30,254 people were involved in car accidents, 74 fatally. Of these fatalities, 39 were wearing a seat belt and 29 were not. In connection with six it was impossible to establish whether they were wearing a seat belt at the time of accident or not.
We wish pleasant and, above all, safe spring driving to all road users!