Waldemar Kindler, President of the Bavarian State Police visited Slovenia on Thursday, 21. 2. 2008, at the invitation of Jože Romšek, Director General of the Police. During his two-day visit he met with the management of the Slovenian Police.
The main topics of discussions were the evaluation of the cooperation so far, Slovenia's entry into the Schengen area, and priorities of the Slovenian Presidency of the European Union. They also talked about the Criminal Records Index System (CRIS) and the Organised Crime Threat Assessment for South-Eastern Europe.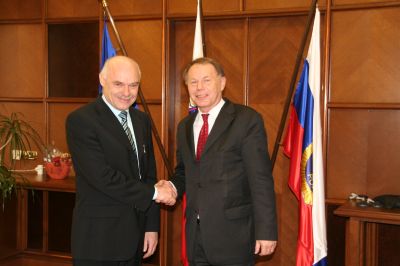 Jože Romšek and Waldemar Kindler

Bavaria is one of the German federal states with which the Slovenian police have very intensive cooperation in different fields of work and at different levels. It represents one of our strategic partners. The cooperation is institutionalised within the framework of the Permanent Mixed Slovenian - Bavarian Commission and has become especially strong after 1995.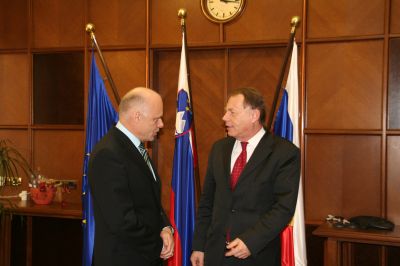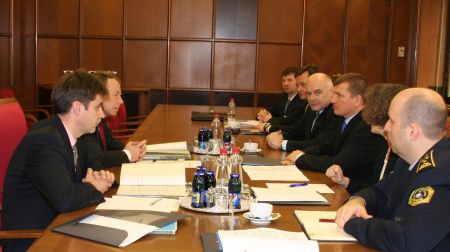 Interior Minister Dragutin Mate welcomes the guest

During the visit, the Bavarian delegation members could see for themselves how Schengen border surveillance is carried out. They visited the new Police Station for Compensatory Measures, which was established when border crossing points with the European Union members were abolished.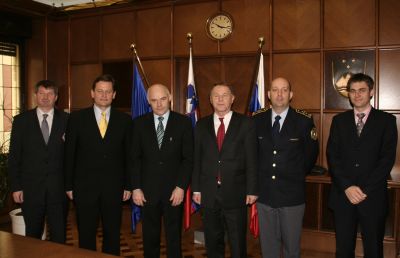 Meetings between the management of the Slovenian and Bavarian police have been taking place regularly 2003. Both sides believe that such cooperation is very successful.