The return of police officers from assignments in international peacekeeping missions is a special occasion for the police management as officers come back richer for new experiences and recognition of their successful work in the mission.
On 2nd June 2005 the officers were received by Roman Rep, Deputy Director General of the Police, who thanked them and congratulated them on their successful work abroad, and Anton Pozvek, Assistant Director of Uniformed Police Directorate, who spent a long time talking to the officers also about their problems during the missions and on their return to the working environment.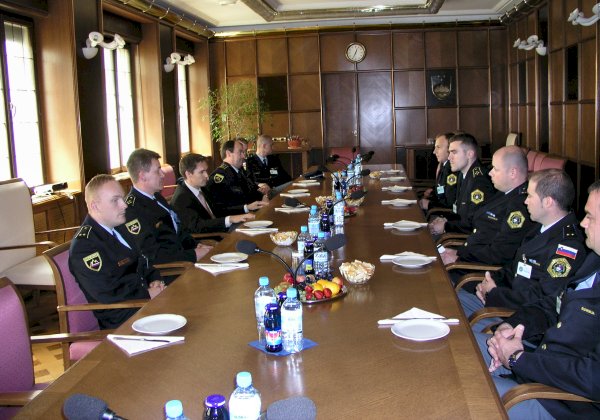 The reception was attended by Ales Kolenc and Tomaz Znidar, Brnik Airport Police Station, Danilo Krajnc, Ljubljana Centre Police Station, Dean Marko Pretnar, Special Unit of the General Police Directorate, Gorazd Dreisiebner, Sentilj Police Station, Marko Skorjanc, Fernetici Border Police Station, Robert Kovacic, Slovenj Gradec Police Station, and Sandi Krusnik, Operation and Communication Centre of the Police Directorate Krsko, who returned from the UNMIK CIVPOL Mission in Kosovo, Dzemal Duric from the Police College of the Police Academy, who participated in the OSCE mission in Macedonia, and Matjaz Saloven from the Smarje pri Jelsah Police Station, who took part in EUPOL PROXIMA in Macedonia. The officers were accompanied by Dusan Klobasa from the Security Planning and Peacekeeping Missions Section of the Uniformed Police Directorate.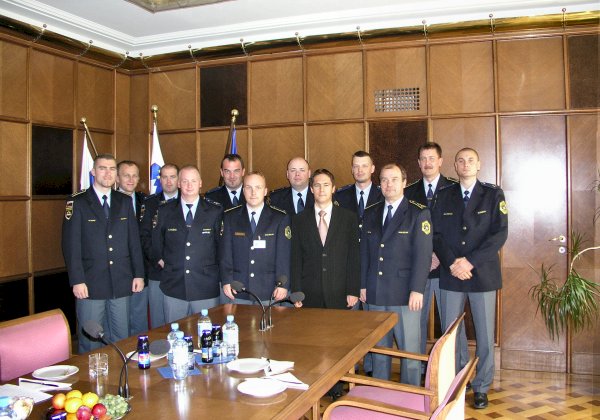 The police officers came to the reception from Debeli rtič holiday facility, where they participated at the reintegration seminar organised for all officers who completed their terms in the mission. The seminar took place between 30th May and 3rd June and comprised of the following activities: working discussions of experiences from the mission, uniforms and other technical equipment necessary for the work in the mission, individual and group sessions with a psychologist, working discussions with representatives of the criminal and uniformed police, operation and communication centre, sporting and cultural activities and a visit to the Maritime Police Station in Koper.