Kosovo is becoming increasingly interesting for investors and businessmen because the situation there is expected to settle and the economy is recovering. Freight and other traffic heading for this part of the Balkans is growing steadily. There are several Slovenian companies established in Kosovo and their number is likely to grow. Due to poor railway infrastructure, traffic towards Kosovo (about 1000 km from Slovenia) flows mainly on roads, which is quite challenging for drivers.
Travel by roads in Kosovo is not very safe: main roads are narrow and mostly have no middle line, traffic signs are scarce. Traffic is very heavy and one could see there anything from lines of KFOR armoured vehicles to homemade motor vehicles, tractors and horse-drawn vehicles.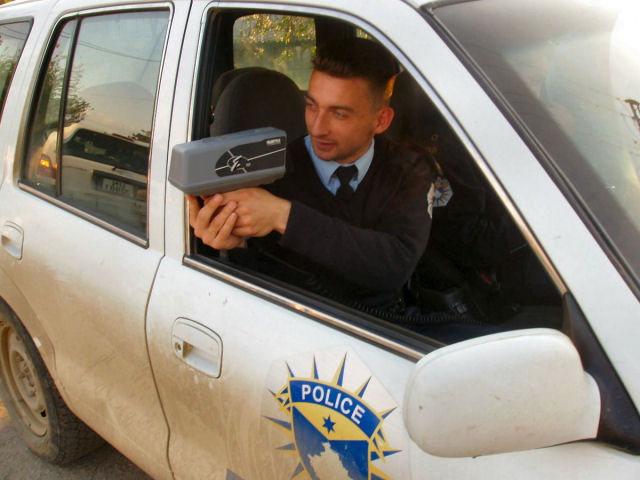 Traffic police patrols constantly patrol the area (at least 2 patrols per region, 5 regions). They measure vehicle speed using a speed laser.

We all hope that the situation in Kosovo will settle down despite minor ethnical clashes in the area. Finally, talks on the future status of Kosovo began in Vienna in February. According to the 1999 UN Security Council resolution, the province of Kosovo (called "Metohija" by Serbs and "Kosovo" by Kosovo's Albanian population) has been a United Nations protectorate and an autonomous province within Serbia and Montenegro. It is not known how long Kosovo will keep the present status because its final status is still in the process of negotiations between the governments of Kosovo and Serbia.
In terms of territory, Kosovo covers an area half the size of Slovenia and has a population of about 1,9 to 2,4 million (different estimations). There are more than 90 % Albanians, and their population is growing. According to some statistics, more than half of Kosovo's Albanian population is under 20 years old. The capital Pristina is believed to have a population of about half a million. The province is still under transitional UN administration. UNMIK (United Nations Interim Administration Mission in Kosovo) aims to maintain peace there, ensure safety and establish civilian institutions. KFOR (the Kosovo Force) is a NATO-led international force responsible for establishing stability and security in the province. Established by CIVPOL (Civilian Police), KPS (the Kosovo Police Service), is assuming gradually more responsibility for security, yet the process of re-establishing civilian government is progressing slowly despite considerable efforts. Kosovo's currency is the euro as well as the Serbian dinar used only in Serbian enclaves.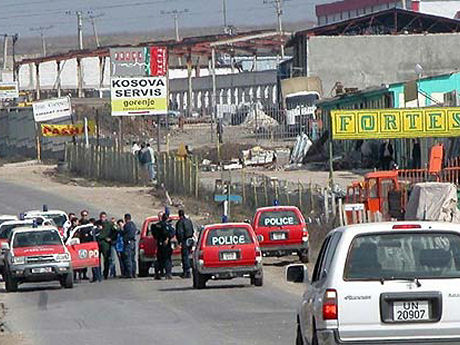 Such police roadblocks made of "Coca-Colas" may be seen in Kosovo when the situation gets worse

Road safety
Most cars are old and not perfect from the technical point of view (defective lighting and signalling devices, worn tyres, etc.), pedestrians walk along main roads by night without any lighting devices, etc. Narrow mountain roads are dangerous especially in winter and in poor driving conditions; there is insufficient traffic signalization and no guard rails. All roads are poorly maintained so that drivers often come across big or small potholes in both main and urban roads. Local drivers avoid such holes and when doing that they often drive a bit to the left or to the right or slow down just before the hole. Therefore, risks of rear-end, side or even head-on collisions are quite high. Heavy trucks, tractors and animal-drawn vehicles cause long lines and dangerous overtaking. Dense freight traffic and overloaded trucks destroy even more the road surface. Lighting in cities is poor and cuts in electricity supply worsen the situation.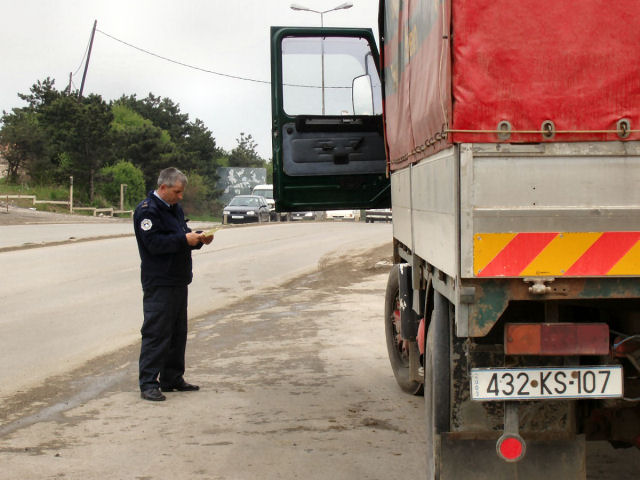 Traffic police pay a lot of attention to freight traffic

Kosovo is one of the countries with a high number of road accidents. The number of motor vehicles is estimated to have increased 6 times since 1999. Traffic is extremely dense regarding the capacity of road network. Most drivers are inexperienced and some even do not have driving licences. The latter drive slowly, too carefully and incorrectly because they are not familiar with traffic signals; sometimes they give the right of way to drivers that do not have it. Indiscipline at intersections including those equipped with traffic lights results in chaos. On the other hand, quite a lot of people drive aggressively and ignore pedestrians or signs by driving as if they were alone on the road. The situation is even worse due to poor condition of roads. The European Agency for Reconstruction (EAR) has been financing the reconstruction programme for Kosovo's roads to meet European standards since 1999. Yet road infrastructure does not seem to have improved. The funds from that programme are allocated for the reconstruction of 220 km of Kosovo's main roads: M2 Pristina-Blače, R116 Doganovič-Globočica (leading to Tetovo) and M9 Pristina-Pec.
Cities have not enough parking lots and pedestrian surfaces. The latter usually walk on the edge of road and are very exposed to dense traffic, whereas pavements are occupied by vehicles. Moreover, most schools are located by roads that have no marked crosswalks or other warning signs denoting proximity of schools. So road accidents involving pedestrians are common. Unlike other countries, Kosovo does not emphasise the importance of providing for road safety because it lacks financial resources. 132 road accidents with 140 death victims occurred in Kosovo last year and 2035 accidents with 3051 people injured. The region of Pristina records a large majority of accidents, it is followed by the regions of Gnjilane, Prizren, Mitrovica and Pec. According to Kosovo's police, reasons for accidents are the following: lack of attention (one third of accidents), speeding, ghost driving, disrespect for the right of way, hazardous overtaking, alcohol, etc. The use of a seat belt is obligatory, maximum permitted blood alcohol content is 0.05 grams alcohol per kilogramme of blood.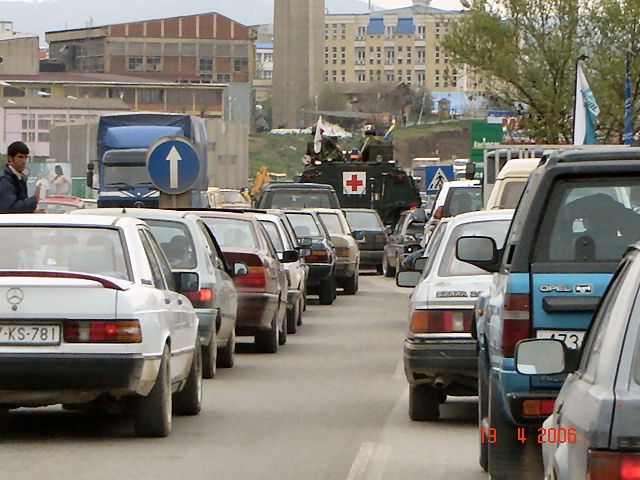 Roads are also sometimes clogged with KFOR conv

Road traffic in Kosovo has several characteristics of its own. Here are some of the most striking ones. There are many filling stations. It is said there are over 1200, so that a traveller can always get petrol if needed. Some filling stations have only one petrol pump and an assistant sitting beside it under a parasol. There are also big and modern filling stations built in line with European standards where you can get refreshment, have a meal or buy something you need. Similarly, there are a lot of manual car wash facilities, especially in Pristina they are located at corners, in garages, on ground floors of blocks of flats, etc. They result from private initiative taken in the service sector. The same trend can be seen in public transport in Pristina. Public-service buses were replaced by a number of vehicles abandoned by Europe - damaged and old Volkswagen Caravels, Westfals, and other minibuses. They stop wherever passengers want and thus cause additional jams on congested roads. Kosovo has become Europe's dumping area for old vehicles: there are lots of vehicle disposal facilities near radial roads leading into city centres.
Robberies, snatching and burglaries
High unemployment and other economic factors encourage crime. Street crime level is quite high and is similar to the least safe districts of biggest cities. Travellers need to be extremely careful when walking in city centres at night. Pickpocketing and snatching of wallets, jewels, cell phones, documents and bags are a serious problem in Kosovo, especially in Pristina. Usually, the victims of such crime are visitors because offenders suppose they have at least several hundred euros on them, valuable things, passports, and similar. Victims are also officers of the UN and other international institutions operating in Kosovo. Crimes they are victims of are usually mugging, snatching and burglaries. Moreover, lost or stolen passport can cause many difficulties because the case needs to be dealt with in Skopje. A difficult economic situation sets good grounds for organized crime that also results in a number of most violent crimes and confrontation of the underground gangs including bomb placing, shooting in pubs and on streets as well as blackmailing and kidnapping. Thefts of four-wheel-drive luxury cars of well-known makes are committed by day and by night.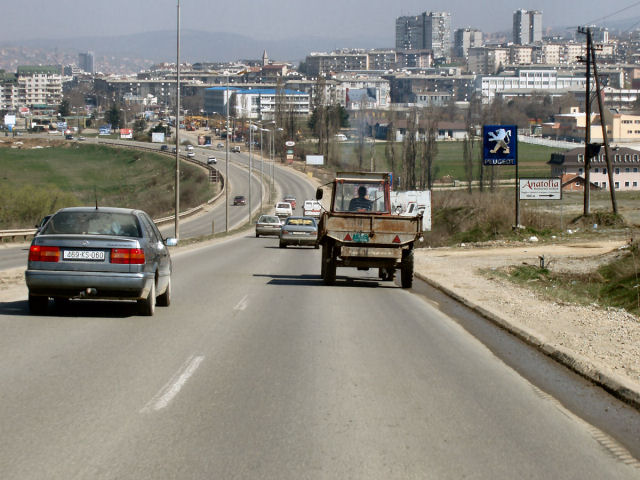 Everyday scene on a 4-lane radial road into Pristina

Despite an effective implementation of demining programmes in particular areas, there are still some unexploded and undetected explosive devices from the war period in many areas. There are a lot of areas where free movement is not recommended. Electricity and water supply as well as smooth operation of telecommunication systems are not secure. So travellers need to take care of their safety themselves, especially in areas with occasional ethnical clashes. Lately, this has happened most often in Mitrovica. Foreigners need to bear in mind that the situation in Kosovo may worsen any time so everyone should take care of their own safety themselves. Such incident happened in March 2004 when ethnical violence broke out in the entire Kosovo and Pristina. Consequently, 20 people were killed, several hundred were wounded and about 4000 were forced to flee their homes. This destabilized the situation again.
Slovenian Police in Kosovo
UNMIK's police known as CIVPOL consists of about 1500 police officers from over 40 countries. The number is decreasing slowly since the UN mission is said to be replaced by an EU mission. When travelling in Kosovo, you may happen to meet some Slovenian police officers responsible for training Kosovo's police and carrying out general police assignments like other international police officers. They wear uniforms of Slovenian Police, blue berets and UN marks. They are required to have a good command of English because every police task involves writing documents such as crime and other reports, and letters. They are helped by local translators and need to have good negotiation skills in addition to their expertise. Slovenian police officers are well-known and respected for their expertise, hard work and assuming responsible assignments in missions.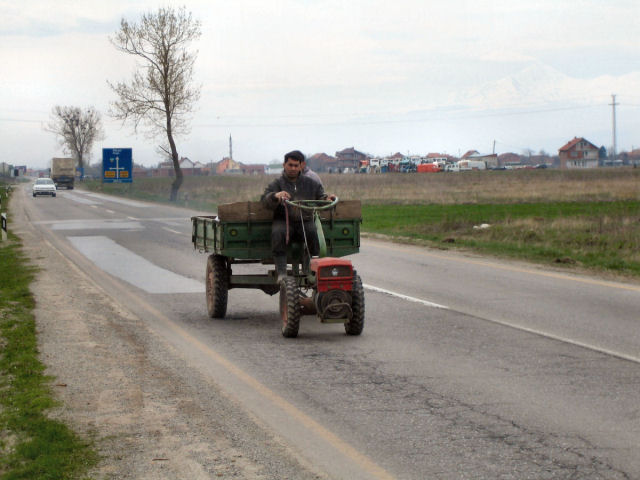 "Harley-Davidson" on a main road

There are 16 Slovenian police officers (2 women) serving in the UNMIK/CIVPOL mission in Kosovo. They carry out varied assignments concerning traffic, border police, police cooperation with neighbouring countries, crime as well as policing aiming at cooperation with local communities. For instance, a Slovenian female police officer has set up Kosovo's first mounted police unit. For the purposes of their job, the police use Toyota 4Runners 3.0 D, known for their typical red and white colour as "Coca-Colas". In its vehicle park, the mission also has the following vehicles available: Toyota Landcruisers and Toyota Prado Landcruisers, Nissan Pickups, Hyundai Minibuses H1002 and many other makes of specialized and armoured vehicles.
When in difficult situation in Kosovo, Slovenian citizens can require help and advice at the UNMIK Slovenian Liason Office based in Pristina at Nena Tereza 20, tel.: (+) 381 38 246 255, fax.: (+) 381 38 246 256. The Head of the office is Jože Hlep. UNMIK Police in Pristina, tel.: 038-500-092; Kosovo Police Service, tel.: 92; Firefighters, tel.: 93; Emergency, tel.: 94. Medical services are limited as well as medicines and other medical devices.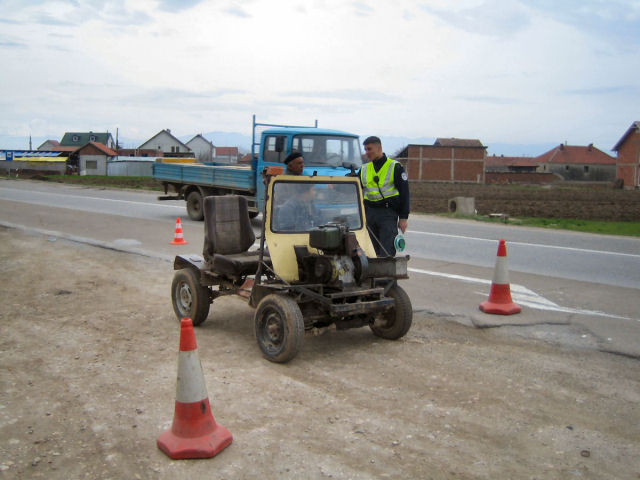 Police also deal with owners of homemade and unregistered motor vehicles
It is impossible to enter Serbia by road from Kosovo without a proof of prior entry into Serbia (Serbian entry stamp in the passport); Serbia does not recognize the UNMIK entry stamp given to the traveller on arrival at the Pristina airport or on entry into Kosovo from Macedonia. For example, if you come to Pristina by plane, you are not allowed to enter Serbia from Kosovo across the administrative border between Kosovo and Serbia; you have to get there via Macedonia instead.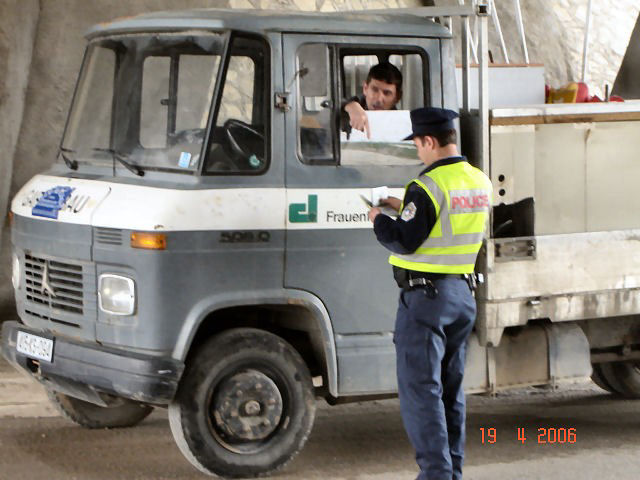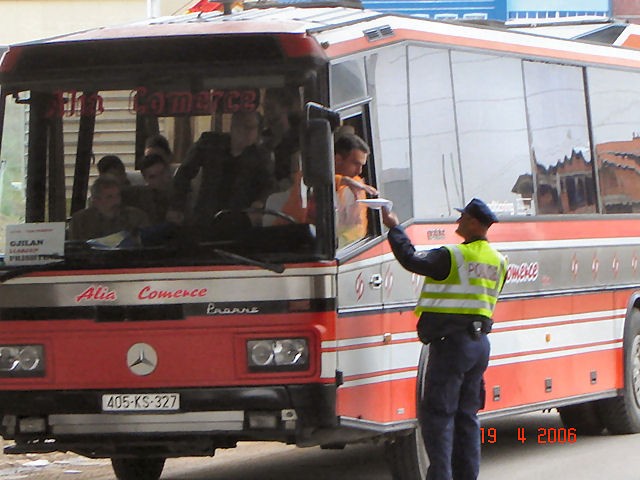 Text and photos by:
Janez Muzic, representative of Slovenian police contingent serving in the international mission in Kosovo (the article has already been published in the magazine Transport)