In addition to traffic control and Schengen border control, the Police Aviation Support Unit carries out emergency medical assistance and mountain rescue tasks with three of its six helicopters.
This is an extremely important humanitarian effort that crews and individuals sometimes undertake in circumstances that are life-threatening and border on the impossible, as stated by the Head of the Unit. They work together with their counterparts in the Helicopter Emergency Medical Service (HNMP) headed by Dr Uroš Lampič.
In the words of Mr Robert Sušanj, Head of the Police Aviation Unit (LPE), they carry out a very wide variety of tasks 24 hours a day at the highest possible level. Throughout the year, an on-duty crew with aircraft is made available for emergency medical assistance service during daylight hours.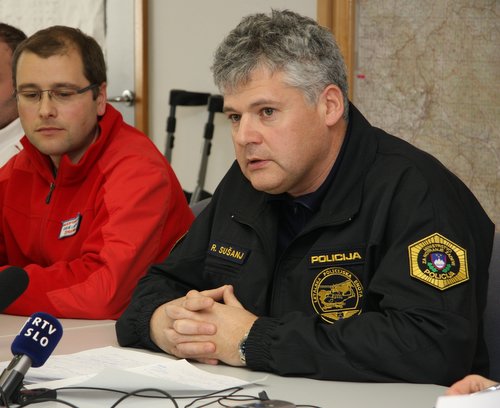 Dr Uroš Lampič, Head of the Helicopter Emergency Medical Service, and Robert Sušanj, Head of the Police Aviation Unit

Lives are being saved every day. Help is brought to places that would otherwise be impossible to reach; in an exceptionally short time, the injured and the sick are transported to places where professional medical assistance is made available to them. Today's presentation at Brnik was also attended by two former victims who had been flown to hospital by helicopter after their accidents.

Mr Tadej Jereb had an accident driving his motorcycle at Črni Kal - Rižana in July: "Helicopter assistance was required because I had a ruptured artery and suffered massive blood loss. It helped me to reach a hospital, and thereby medical assistance, more quickly. Had there been no helicopter and no crew with all this equipment, I probably wouldn't be sitting here with you now. Once again, my heartfelt thanks for their intervention. I think that more attention should be paid to this in the future, since this is truly about saving lives."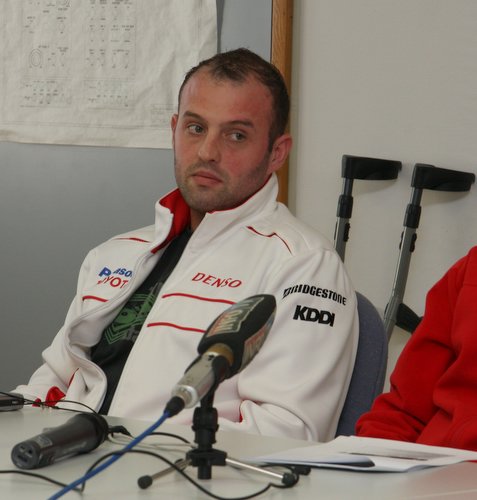 Tadej Jereb
Mr Samo Košir also had a motorcycling accident caused by an oil spill on the road in 2003 in the Kočevsko region, at the Kočevje - Dvor section. This is how he describes his experience: "I hoped for the helicopter to come so that my leg could be reattached and thus saved. Later they were indeed fighting for my life because, owing to massive blood loss, seconds counted. They did this very well and I would like to give them my sincere thanks, as I already have several times in recent years. I think that helicopter assistance is indispensable in such cases, because there are locations in Slovenia that are indeed inaccessible. Let me add that I was waiting at the scene of the accident for one hour for an ambulance to arrive from a not too distant place; the helicopter came almost at the same time. I was taken to that place by the ambulance and flown to the University Medical Centre by the helicopter."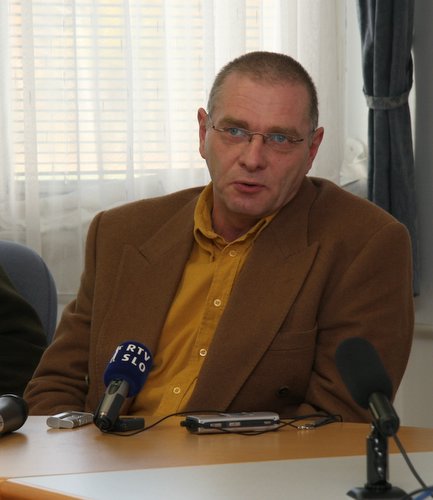 Samo Košir
Samo was flown in by Mr Damjan Bregar, now Chief Pilot at LPE. Today, Samo met Damjan Bregar and his aviation technician for the first time.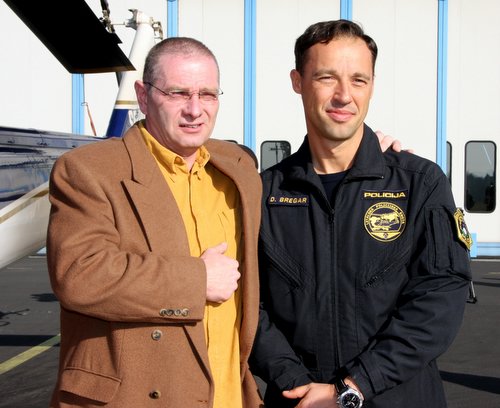 Samo Košir and Damjan Bregar
Mr Robert Sušanj and Dr Lampič are convinced that there will certainly be a discussion of how to improve medical assistance and expand it to cover the entire country, which would improve rescue efficiency.