On Saturday, 30 July 2016, traffic delays are expected in Ljubljana and the Gorenjska region because of the ceremony at the Russian Chapel. People are advised not to make any travel plans in the Gorenjska region and Ljubljana for that day. However, if you do need to travel there, make sure you are prepared for possible delays and adjust your speed to the traffic flow.
This year marks the 100th anniversary of tragedy under the Vršič pass, in memory of which the Russian Chapel was build.

The highest-level security measures are planned due to the attendance of high officials.
The visit will take place in Ljubljana and the Gorenjska region, therefore major traffic disruptions are expected in this area on 30 July. Certain roads on the route travelled by the protected persons will be closed for either long or short periods. It will be possible to drive on parallel or bypass roads, but heavy traffic is expected. In the area, traffic will be restricted for heavy vehicles weighing over 3.5 tonnes. For this purpose, a special Decree on road traffic restrictions in the Republic of Slovenia will be issued.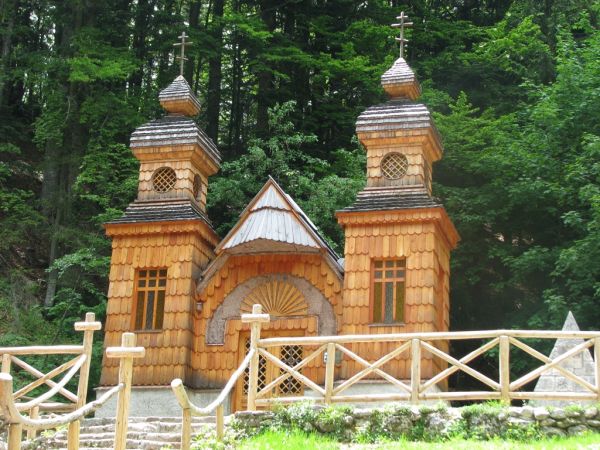 We advise those coming from the Western and Northern Europe who will be travelling towards Croatia to take the road through Italy; those travelling in the opposite direction should take the road through Italy or through Ljubljana and Maribor towards Graz. We recommend to avoid travelling through the Karavanke Tunnel on the A2 motorway between Slovenia and Austria on 30 July because the tunnel will be closed on several occasions during the day.
Those travelling the A10 motorway from Salzburg are recommended to take the road towards Italy (A23 motorway towards Tarvisio-Udine-Palmanova) at the Villach junction and then continue towards Slovenia (we recommend to take the A34 motorway, the Villesse-Gorizia section, and then the H4 highway, the Vrtojba-Razdrto section in Slovenia). Drivers should pay special attention to the changed traffic signs which will be displayed even at the entrance to Salzburg.
Those returning towards the north are recommended to take the mentioned Italian motorway or the Koper-Ljubljana section of the A1 motorway and then head towards Maribor and Graz. Drivers coming from Dalmatia (A3) are recommended to use the Croatian A4, the Hungarian M7 and the Slovenian A5 towards Maribor and then Austria. Alternatively, they can take the A2 motorway in the Dolenjska region (Obrežje-Ljubljana). From Ljubljana, they can continue towards Postojna on the A1 motorway and then drive through Italy towards Austria, or take the Ljubljana eastern bypass (A1) towards Maribor and Graz.
Due to the road closures and increased traffic, access to the Ljubljana Jože Pučnik Airport will be obstructed. Passengers travelling on that day are recommended to leave for the airport earlier than usual.
The Slovenian and foreign public will be regularly informed about the details regarding this event.
Drivers can also find information about road closures at the Traffic Information Centre (PIC) website.