Slovenian police have been in intense preparations of security measures for the Russian Chapel ceremony ever since the confirmation of attendance of high guests at the event.
Police are to provide protection and apply security measures in line with the highest level security standards, in accordance with threat assessment and the current global and national security situation.
Press briefing participants: Robert Sušanj, Head of Working Group to Coordinate Protection, Director of Police Specialities Directorate, General Police Directorate, Boštjan Smolej, Senior Police Inspector of Traffic Police Division, Uniformed Police Directorate, General Police Directorate, Ulrich Zorin, Head of Traffic and Road Safety Management Service, DARS d.d., and Nada Pavšin, Head of International Cooperation at Automobile Association of Slovenia.

Security measures have been thoroughly assessed from the mobility and environmental aspect
In order to guarantee maximum security of protected persons and other persons, we are unable to give details on security measures, but can confirm that security measures will be implemented on a limited regional area for the required duration.
Protection measures include the compulsory accreditation procedure. Access to both ceremony locations, Vršič and Žale, will be exclusively limited to guests who were previously granted accreditation, with other persons unable to be present at either locations.
As home and foreign publics have been informed, the routes persons under protection will be travelling on could potentially face traffic congestions and delays. We have advised international travellers to use alternative routes and those travelling locally to use detour routes in Gorenjska region and Ljubljana. Administration for Civil Protection and Disaster relief will provide supplies for travellers who might potentially get stuck in possible congestions due to urgent road closures.
Due to anticipation of heavy Saturday traffic, longer response time of urgent medical help teams on certain parts of the roads has also been predicted. To avoid any possible complications with urgent medical transports, we worked with Gorenjska health care service and arranged for an extra ambulance and doctor to be available for the area of Kranjska gora, while an extra police helicopter with medical equipment and professional medical team will be stationed at Lesce airport for other parts of the region. Extra urgent transportation has been organized in order for persons in life threatening medical condition to be appropriately transported to medical facilities.
On the day of the visit there will be airspace restriction over certain areas between 7.00 hrs and 23.30 hrs. Due to a large number of airfields in Gorenjska region, please note that prohibition of flying also applies to gliders.
Provision of human resources has also been a challenging aspect of this project. Tasks will be performed by adequate number of police officers from all police directorates in the country. Regular police tasks will not be disturbed during the high visit. Police officers providing protection will be supplied with sufficient food, water and safety means for the duration of their task, according to the location and type of their secondment. They will also be granted appropriate replacement, rest and medical assistance.
Slovenian army is assisting by providing technical support and accommodation.
We are closely following all information on announced protests and have been preparing accordingly, by mobilizing the special police unit.
All measures have been planned in excellent close cooperation with road management services, ministry of transport and other state authorities, the Slovenia-Russia Association and Russian law enforcement.
We are also working closely with police representatives of all neighbouring countries.
As part of the highest-level security measures, road closures will only remain in place for as long as necessary
The police are aware that the coming weekend is going to be the busiest travel weekend and the peak of the tourist season resulting in increased transit on the Slovenian roads. This is why in preparing the security measures we have sought to minimize the disruption of traffic flows and inconvenience to road users. In cooperation with other bodies and services (road operators, automobile associations, tourist organisations, the airport), we have first informed the domestic and foreign public about traffic disruptions on 20 June 2016. The information on traffic restrictions and road closures has been continuously updated.
During the visit traffic disruptions are expected in the Gorenjska region and Ljubljane while at times some road sections will be fully closed for traffic. Road closures will only remain in place for as long as necessary and will be removed as soon as there are no longer any reasons for them. Traffic across Vršič (in both directions) will be partly closed as early as Friday evening.
In addition to the Order on road traffic restrictions in the Republic of Slovenia for individual types of vehicles, which is already in force, additional traffic restrictions have been planned in the Gorenjska region and Ljubljana for heavy vehicles weighing over 3.5 tonnes. This is why a special Order on road traffic restrictions in the Republic of Slovenia has been issued aimed primarily at relieving local traffic on parallel roads. The order will be revoked as soon as the reasons for it cease to exist.
Those travelling to Gorenjska on Saturday, 30 July, are recommended to plan their route in the morning. They should reach their planned - final destination before noon. We expect that their return on the Gorenjska motorway will be possible in late afternoon or early evening.
Everyone is advised to be patient on the road and to postpone or adapt their travel plans according to the information on road closures in place. During the road closures it will be possible to use parallel or bypass roads, but heavy traffic is expected there as well. Drivers should follow road traffic information on the media as well as pay attention to the traffic signs and consult the website of the Traffic Information Centre (PIC). They should also comply with police orders and instructions. We will do our best to ensure that traffic disruptions are minimized and will consequently control traffic from the air as well.
Traffic flows from the north will be redirected in the direction of Styria and Italy, as will the traffic from Croatia. Since in traffic control intensive cooperation is under way with foreign law enforcement authorities, we will be joined by one colleague from Austria and one from Croatia. The Croatian officer will cooperate with his Slovenian counterpart in the Dragomelj control centre of the Motorway Company of the Republic of Slovenia (DARS), while the Austrian officer will cooperate with his Slovenian counterpart in the Hrušica control centre of the Motorway Company of the Republic of Slovenia (Karavanke). They are all expected to ensure timely information exchange and take swift action to minimize traffic disruptions. The representatives of the Italian police have been invited to participate in our efforts as well, but have not yet confirmed their cooperation.
DARS d.d. will actively manage motorway traffic at critical points
The Motorway Company of the Republic of Slovenia, DARS d.d., will actively manage traffic at the most critical points on motorways. Significantly increased traffic is expected on the Primorska motorway as well as at junctions on the Ljubljana motorway bypass (Kozarje, where the southern/ western bypass and the Primorska motorway join, and Malence, where the eastern/southern bypass and the Dolenjska motorway join).
During the past weeks DARS d.d. informed the motorway companies of the neighbouring countries, and in accordance with the International Traffic Flow Management Plan an appropriate traffic management and diversion set-up was agreed; due to the closure of the Karavanke Tunnel, the traffic coming from Villach will be diverted to Italy or towards Graz.
We have used all the available communication channels to also inform national automobile clubs and the public likely to be affected by the events. We have also notified foreign embassies and road transport operators? associations.
For this purpose we have issued an information leaflet with a map showing road blocks and potential traffic diversions. On Saturday, 30 July, police officers will hand out a printed version of the leaflet to travellers entering Slovenia at border crossing points with Croatia. For the Traffic Information Centre?s website www.promet.si we have prepared a special map of road closures on Saturday, 30 July, which will be of great assistance to road users.
AMZS will inform European automobile clubs to enable adequate journey planning
The Automobile Association of Slovenia (AMZS) has informed all the European automobile clubs of the high-profile visit to the Russian Chapel below Vršič and related road closures, and they have passed the information on to their members and the media, along with the advice on which roads and regions in Slovenia to avoid. AMZS sent the first notice as early as end of June and continued with regular updates throughout July.
On Saturday, AMZS will have a reinforced team ready to provide roadside assistance and make sure that broken down vehicles will be removed as quickly as possible for normal traffic flow to be resumed. Some tow vehicles will be ready on the spot, i.e. on the route where road closures will occur, from 5 am to 10 pm, while others will be dispatched if necessary by the AMZS call centre, which will also operate with a larger team of staff taking 1987 calls for roadside assistance. Both members and non-members will be able to call AMZS number 01 5305 300 to get the latest traffic information.
Throughout the year and especially during the summer tourist season AMZS provides information to the public on how best to plan their trip, how to prepare and how to act if stuck in a traffic jam. It also provides traffic updates on its website, via a mobile application and through their call centre. Currently topical information on the high-profile visit is incorporated in the information AMZS provides on all the platforms.
Access to the airport will be obstructed in the early afternoon and again in the evening
Especially in the early afternoon and early evening access to the airport will be heavily obstructed as the road will be closed at times. Passengers and visitors to the airport are advised to leave for the airport earlier than usual. At the arrival and departure of the protected person?s plane, the operation of the airport will be suspended for a short period, which might cause some delays. No major delays or flight cancellations are expected.

Related news:
We would like to remind road users that difficulties in traffic are expected on 30 July 2016 in Ljubljana and the Gorenjska region - information update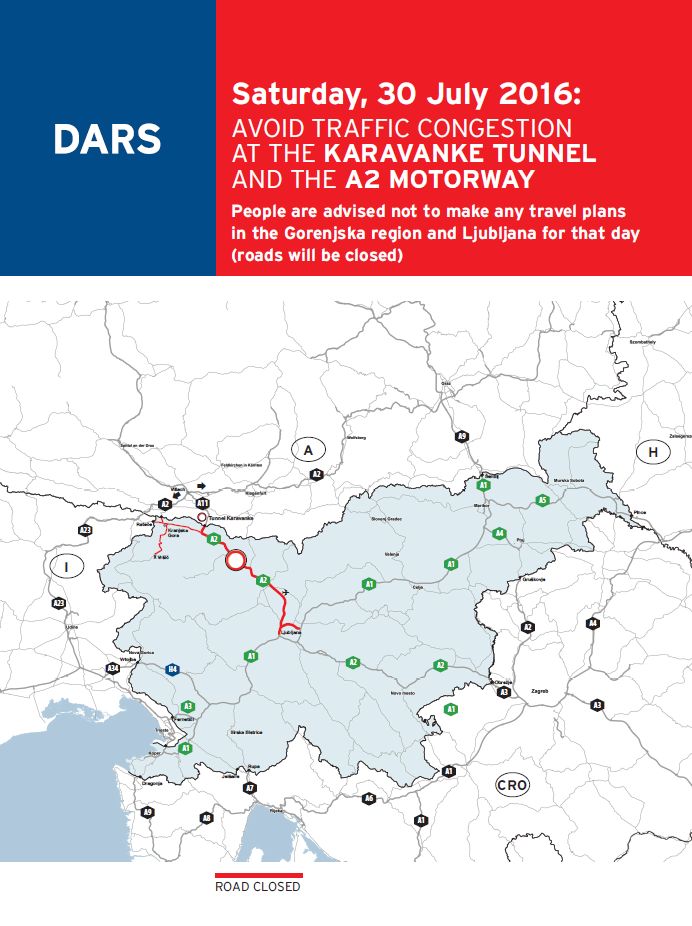 DARS: Avoid traffic congestion at the Karavanke tunnel and the A2 motorway