On 3 January 2023, two Croatian officers will again join the Slovenian police to help provide safety on the snow. Until 16 January, they will work with Slovenian police officers in the ski areas of Rogla, Kope and Kranjska Gora.
The beginning of January coincides with the school holidays in Croatia, which many Croatian tourists spend on Slovenian ski slopes.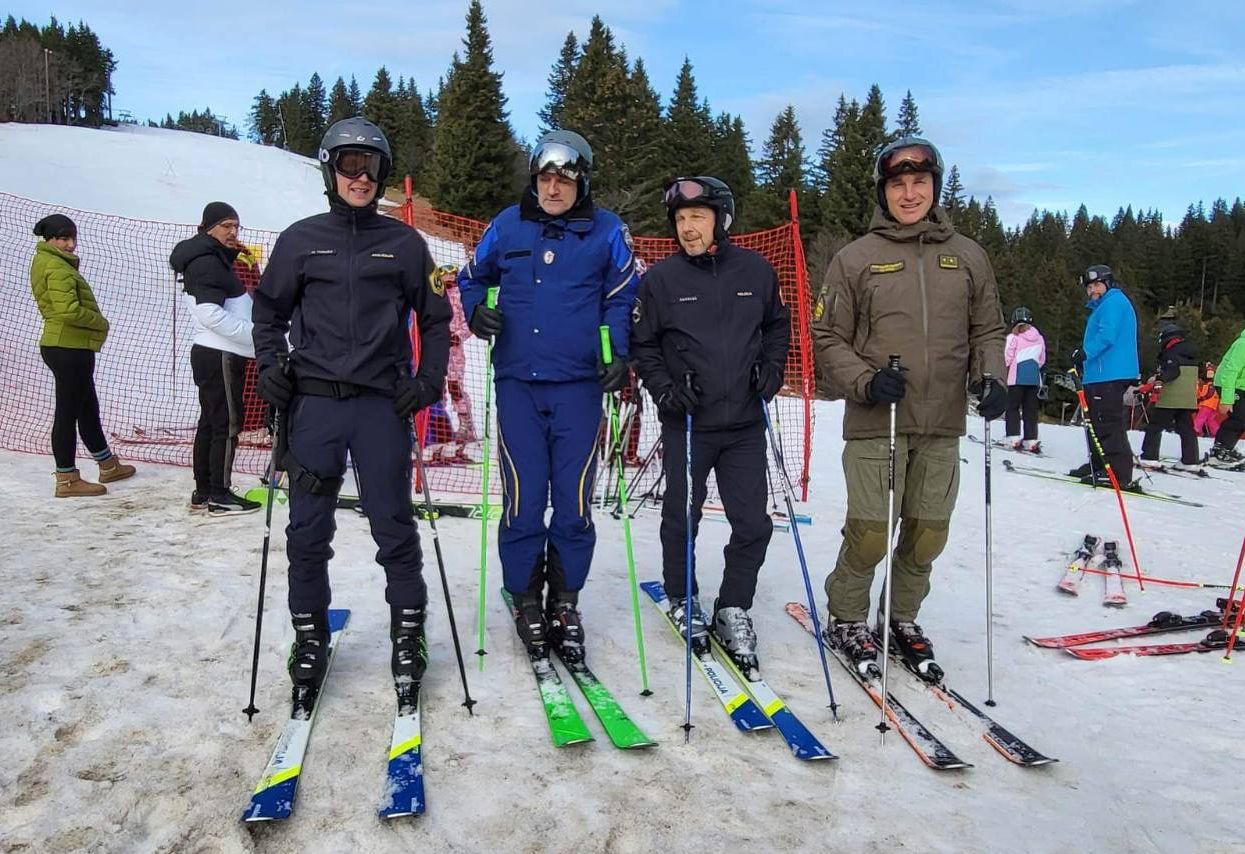 Croatian police officers Dražen Široki and Darko Lukinić will assist their Slovenian colleagues in communicating with Croatian citizens, advise them in case of any problems and help them to contact the Croatian Embassy in Slovenia. This kind of cooperation between the two police forces has been ongoing since 2013, with the exception of the "Covid" year 2021.
In today's press statement in the Kope ski area, Alojz Sladič from the General Police Division of the Uniformed Police Directorate, and Vlatka Vulić Petković, representative of the Croatian Police Headquarters, presented the cooperation between Slovenian and Croatian police officers in ski areas during the winter tourist season.
Police officers deal with around 100 accidents on the slopes each season, most of them involving children
Every year, police officers deal with quite a few accidents, many of them with serious injuries, which the police are obliged to investigate to find out the causes of the accident and also to find out who is responsible.
According to Alojz Sladič from the General Police Directorate, over the last five years Slovenian police have dealt with an average of around 100 accidents on the slopes per year, over a half of which resulted in serious injuries. "Around 70% of those involved in accidents are usually male, and the majority of those involved in accidents are children aged between 7 and 14. On average, more than two busloads of children are involved in accidents per season (including those resulting in minor injuries, which are dealt with by ski area patrollers)," Sladič said.
The most common causes of accidents on ski slopes
When it comes to the causes of accidents, police officers most often find that participants overestimate their abilities and knowledge, ski too fast or change direction carelessly. Police officers can also check whether skiers, especially those involved in accidents, are under the influence of alcohol, but this is rarely the case.
We will take part in the Schoolchildren on Skis project again
Children are our most important target group of ski area users, which is why this year the Slovenian Police will take part in the eighth Schoolchildren on Skis prevention project. Other partners in the project are the Planica Sports Institute, the Slovenian Ski Association and ski schools. The police will increase our presence in ski areas during the winter holidays, which take place slightly earlier this year.
Wear a helmet, respect FIS rules and ski in a way that is safe for everyone
To make skiing enjoyable and, above all, safe for everyone, we again urge all skiers to respect the international FIS rules.
Skiers should observe the orders and instructions of patrollers, police officers and ski area operators, as well as the signs on the slopes. They should use the ski area in such a way as to avoid endangering or hurting themselves and other skiers as well as the facilities and signs in ski areas.
Wearing a ski helmet is compulsory for children up to the age of 14 and recommended for all skiers.
Excellent cooperation with Croatian colleagues
Today, the Croatian police representative, Vlatka Vulić Petković, stressed the importance of the long-standing cooperation between Slovenian and Croatian police officers, both during the winter and summer tourist seasons. This cooperation is excellent, especially in terms of prevention and more effective communication, as Slovenian police officers assist their Croatian colleagues in their work at seaside resorts in the summer, and Croatian police officers come to the aid of Slovenian police officers in the winter to help ensure safety at ski resorts, by bridging language gaps and assisting with various safety-related events.
Related content