In recent years, the proportion of traffic accidents caused by intoxicated participants in traffic accidents has not changed significantly and remains at around 10 percent. It is but alarming that more than a third of drivers who cause a fatal traffic accident are driving under the influence of alcohol.
Advice for drivers
Drive only sober! If you are going to consume alcoholic beverages (regardless of the amount consumed), do not choose to drive in road traffic.
If you have consumed alcohol, have someone who has not consumed alcoholic beverages drive, or use public transportation.
Consistently observe other road traffic rules, especially rules on speed, right of way, overtaking, use of seat belts and mobile phones, and safety distance.
Advice to restaurant owners
We recommend all organizers of public events and owners of restaurants to be careful when serving alcoholic beverages and to respect the provisions of the Restrictions on the Use of Alcohol Act, as guests include drivers who will be involved in road traffic after leaving the restaurant.
Do not serve alcoholic beverages to those who are already under the influence of alcohol, to minors, and especially to those whom you know will get into vehicles afterwards!
Alcohol and driver
Alcohol first impairs the ability to make normal mental judgments. The driver is thus convinced that he is driving better than he actually is, and followed by poorer perception ability, misjudgements of distances, slow reactions, balance disturbances, narrowed visual angle, etc.
Consequences
In traffic, this actually means provoking danger: driving too slowly or too fast, having difficulty controlling or following the direction of travel, direction indicators not switched on, stopping at a green light, driving into a red light, etc.
Alcohol in the body
After drinking an alcoholic beverage, alcohol is distributed and broken down in all body fluids, while a smaller part is excreted through urine, sweat and exhaled air.
How do we determine the presence of alcohol in the body?
The presence of alcohol is determined with alcohol indicators and meters (ethylometers). Alcoholic indicators and meters used by the police show the value of alcohol in the body in milligrams of alcohol per liter of exhaled air.
Where are the limits to drinking?
How many grams of alcohol will be in your blood depends on body weight, gender, physical abilities, addiction to alcohol, type of alcoholic beverage; from what you ate before or during drinking and how you drank (so called downing does not have the same consequences as drinking slowly). The basis for the calculation is body weight and gender.
Example 1
An 80 kg man drinks a liter of beer, which contains 40 grams of pure alcohol. Approximately 70 percent of the body weight are fluids, to which the consumed alcohol is distributed. So it is divided into 56 kg of body weight. If 40 grams of consumed alcohol is divided by the weight of body fluids, we get a blood alcohol concentration level of 0.71 grams per kilogram of blood or 0.34 milligrams per liter of exhaled air.
Example 2
A woman weighing 60 kilograms also drinks a liter of beer. In a woman, fluids comprise only 60 percent of body weight, i.e. 36 kilograms. If 40 grams of alcohol are divided by weight, the estimated blood alcohol concentration is 1.1 grams per kilogram of blood or 0.52 milligrams per liter of exhaled air.
How much alcohol is in the drink?
| | | | |
| --- | --- | --- | --- |
| DRINK | QUANTITY | ALCOHOLIC STRENGTH OF THE DRINK | GRAMS OF ALCOHOL IN THE DRINK |
| beer | 0.50 l | 4% | 20 g |
| wine | 0.20 l | 11% | 17 g |
| liqueur | 0.05 l | 30% | 12 g |
| brandy | 0.05 l | 40% | 16 g |
From drinking to drunkenness
The rate at which alcohol passes into the blood depends mainly on the type of drink and food consumed. On average, it takes the body a good half an hour for about two-thirds of the alcohol consumed to enter the bloodstream, with the remainder entering the bloodstream within another 60 to 70 minutes.
How long does alcohol stay in the blood?
On average, 0.07 milligrams per litre of exhaled air (0. 15 grams of alcohol per kilogram of blood) takes an hour to break down. If you had 0.95 milligrams in a litre of breath at midnight (2 grams of alcohol per kilogram of blood), you will still have 0.48 milligrams in a litre of breath (1 gram of alcohol per kilogram of blood) on your way to work at 7 a.m. in the morning, and still be above 0.24 milligrams in a litre of breath (0.5 grams) by noon and you will still present a traffic hazard.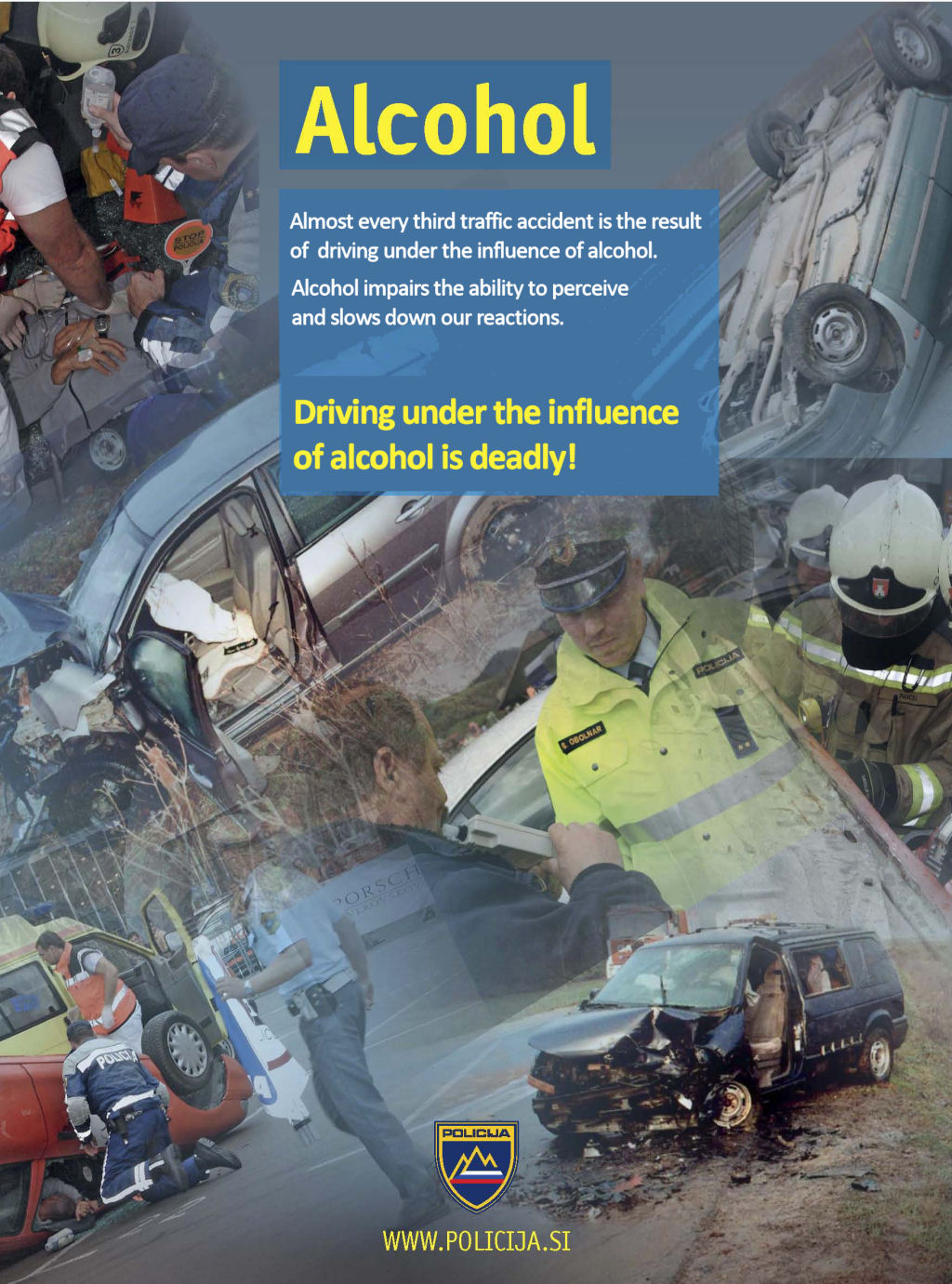 Facts about drinking and driving
0.2 grams of alcohol per kilogram of blood or 0.09 milligrams in a litre of exhaled air means:
The ability to see moving lights is impaired. This means, for example, that you are no longer able to correctly assess the distance to oncoming or overtaking vehicles at night.
0.3 grams of alcohol per kilogram of blood or 0.14 milligrams in a litre of exhaled air means:
The ability to observe in depth decreases. This means that you can no longer judge the distance correctly. The consequences are risky overtaking and too short a safety distance in heavier traffic. The chance of causing an accident increases fivefold.
0.5 grams of alcohol per kilogram of blood or 0.24 milligrams in a litre of exhaled air means:
Observed objects appear more distant than they really are. This means that you are arriving into a bend at too high a speed and are late in changing direction, which is why the vehicle can drift.
The so-called red blindness occurs. It is increasingly difficult for you to detect a red light at a traffic light, vehicle marking lights, brake lights, road obstacle markings, etc.
The ability to quickly shift the gaze from one object to another begins to decrease.
Adapting to sudden light changes is becoming more and more difficult. This means that the dimmed lights of an oncoming vehicle can temporarily blind you.
Attention and the ability to react in time are significantly reduced. This means that the stopping distance is longer. If you press the brake one second later at a speed of 50 km per hour, the stopping distance of the vehicle is extended by 14 meters.
Disturbances of balance occur, which is especially dangerous for those who ride two-wheeled vehicles.
1.0 grams of alcohol per kilogram of blood or 0.48 milligrams in a litre of exhaled air means:
The eye's response to light is significantly impaired. This means that you have a hard time adapting to rapid light changes.
The visual angle of the eyes is significantly narrowed. This means you can no longer perceive what is coming from your left and right in time, which can be fatal, especially at junctions.
Perception and estimation of depth of space and attention is reduced by half. This means that you generally drive with too little safety distance, that your reactions are too late and mostly wrong, and that you no longer react to certain dangers at all. The consequences are collisions.
The response time and with it the stopping distance increases.
The possibility of being involved in a traffic accident increases by 25 times compared to a sober driver.
Police activities to reduce the proportion of intoxicated participants in road traffic
Tighter controls by police officers on the psychophysical condition of drivers, especially in the vicinity of restaurants, discotheques, night clubs and other places where such issues are expected.
Tightened controls over compliance with the provisions of the Restrictions on the Use of Alcohol Act (ZOPA), i.e. control over serving of alcohol to minors and intoxicated individuals, especially in various bars.
To ensure a higher level of safety for all other road users, police officers exclude drivers who, despite legal provisions and warnings, drive under the influence of alcohol, drugs or psychoactive medication.
Road traffic participants who must not have alcohol in their system are:
drivers of motor vehicles or groups of vehicles of categories C1, C, D1, D, BE, C1E, CE, D1E, DE;
drivers of vehicles transporting dangerous goods;
drivers of vehicles with which they carry out public transport of passengers or goods or transport of persons for their own needs;
professional drivers of motor vehicles, when they practice this profession;
driving instructors during the training of driver candidates in driving a motor vehicle;
driver candidates during training in driving a motor vehicle;
companions;
novice drivers;
drivers of motor vehicles who do not have a driving licence or do not have the category of the motor vehicle they are driving entered on their licence;
drivers transporting groups of children.
Blood collection
If an examinee does not agree with the result of the alcohol breath test, or denies that he is under the influence of alcohol, the police officer orders a test with ethylometer or a professional examination with the collection of blood or blood and urine. If it is determined that he has more alcohol in his body than the law allows, the costs of a professional examination or test with a breath meter (breathalyzer) must be paid by the examinee.
Since alcohol affects people differently, a doctor who performs a professional examination can determine that the subject is not fit to drive in road traffic, even if they have a smaller amount of alcohol in his blood than is still permissible.
Useful information for easier travel on European roads
If you are travelling abroad by car, you should check the travel information for European countries: what are the identity documents and car documents needed to enter each country; what are the traffic regulations there (permissible level of alcohol in the blood, speed limits, mandatory use of lights, mandatory use of a reflective vest...); how about transporting children in the vehicle and winter equipment.
Related content