A pan-European meeting of experts on safety and security of major sporting events, in particular football matches, opens today, 8 November 2021, in Ljubljana. The two-day meeting is organised by the General Police Directorate, and its National Football Information Point, in the framework of the Slovenian Presidency of the Council of the European Union.
More than 30 football security experts from EU member states, the Schengen Area and third countries are attending the meeting.
The meeting entitled "European Think Tank", which is being held at the Grand Hotel Union in Ljubljana, was opened by Assistant Director General of the Police Jože Senica, who said in his address: "Major sporting events are also a major security challenge for any host country. That is why preparations for any such event must start well in advance. And obtaining good quality information and intelligence is of paramount importance, which, I am sure, will be the main topic of today's discussions."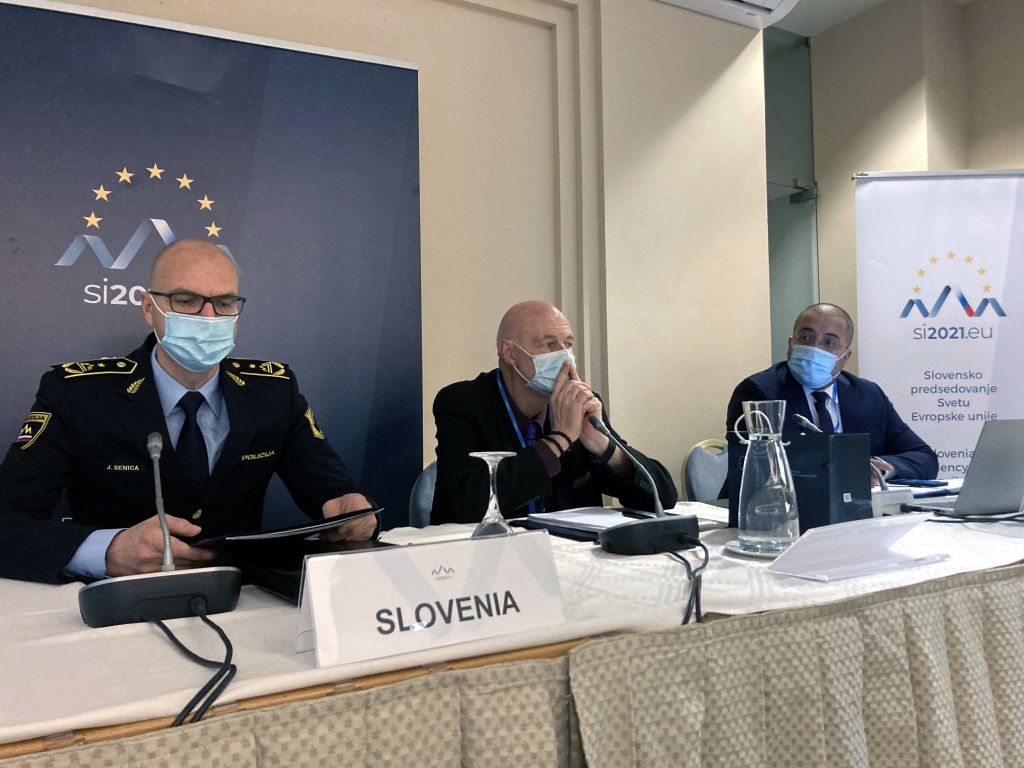 According to Senica, the 2013 EuroBasket, the 2018 Futsal Euro, the Alpine skiing and ski jumping World Cup as well as other major international competitions brought home to the Slovenian police just how important information exchange and international police cooperation were for policing major sporting events.
"As part of international law enforcement cooperation across Europe, we appreciate the opportunity to share experiences with other police forces in policing major sporting events. Our police also provide valuable support to other countries at major sporting events, through the exchange of information via National Football Information Points, Interpol, Frontex, liaison officers and spotters, who have played an increasingly important role in recent years, acting as a link between the police, supporters' groups, sports clubs and organisers," Senica said.
Today and tomorrow, in workshops and working groups, participants will address a range of topics aimed at more effective policing of major international sporting events with a high level of risk.
They will discuss the legal bases for their work (including the updating of the EU Football Handbook), cooperation on training in the framework of CEPOL, working with fans (who pose a particular challenge for European police forces due to their free movement within the Schengen area), preventing violence and new trends in inappropriate behaviour at matches, the importance of identifying potential terrorist threats at sporting events, the impact of the Covid-19 epidemic on this area of work, and other concrete topics, such as preparations for the upcoming 2022 FIFA World Cup and the 2024 European Football Championship.