Within the framework of this year's protection and rescue days conducted in Novo mesto, the police actively participated on 16 October 2009 in a central state drill in the area of protection against natural and other disasters Krka 2009.
The basic objective of the drill was to verify the readiness of various bodies and rescue services for protection, rescue and first aid in case of a big traffic accident. This year, attention was devoted to water rescue.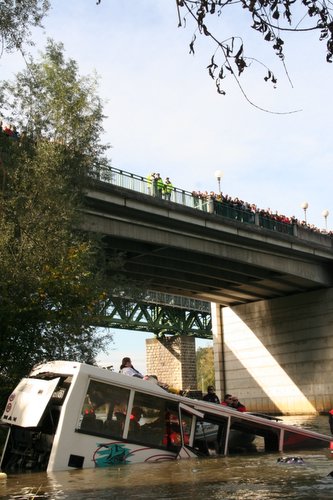 The idea of the drill was that due to the wet road surface and speeding of a local bus with thirteen passengers, the bus breaks through the protective fence of the bridge of Šmihel and slides into the river Krka. The front part of the bus sank into the water; two passengers fell into the water and drowned, while six passengers remained clamped between the sheet metal.
Besides professional and voluntary firemen, first aid team and medical centre team, divers, members of kennel groups and members of the Slovenian Armed Forces with a helicopter for the transport of the injured in the Clinical Centre, the police also participated in the rescue operation.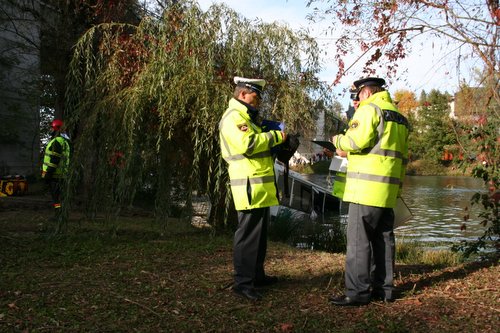 After the received call on the accident, the Police Operation and Communication Centre (OKC) gathered basic data and directed the nearest police patrols to scene of the accident, which had immediately reported on the scope and consequences of the accident.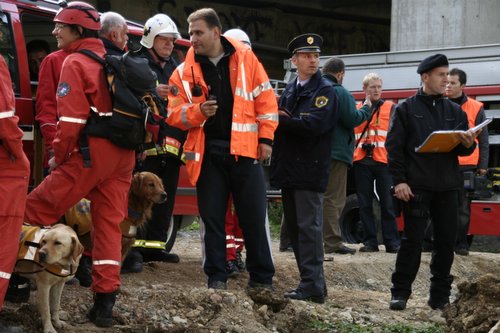 OKC immediately informed the regional centre of information as well as other police services about the accident.
Police officers protected the area of the damaged fence on the bridge of Šmihel, they protected access to the scene of accident, directed traffic and facilitated that the protection, rescue and first aid services were able to arrive to the scene of accident in the fastest possible time. Furthermore, they also cooperated with other rescue operators, including in the identification of victims, they prevented possible violations and criminal offences, and performed other tasks under police jurisdiction.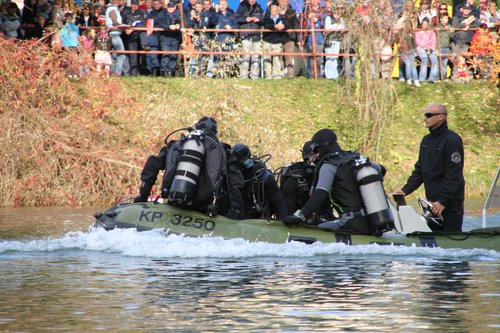 Meanwhile, Special Unit police divers investigated the river channel. Despite the highly turbid water, they were successful; furthermore, they also succeeded in transferring the underwater picture through the camera to a monitor in a van.
Throughout the event, the police presented its work and equipment.