Representatives of Slovenian police, Robi Ribič of the Organised crime division at the Criminal police directorate of the General police directorate, and Stojan Belšak, head of the Organised crime division at the Criminal police directorate of Ljubljana police directorate, have presented details of a case involving a Slovenian national, who was selling illegal weapons on the deep web darknet marketplace. The investigation, which had been underway since last June, was carried out in joint efforts of criminal investigators at Ljubljana Police directorate, Criminal police directorate of the General police directorate and foreign law enforcement authorities.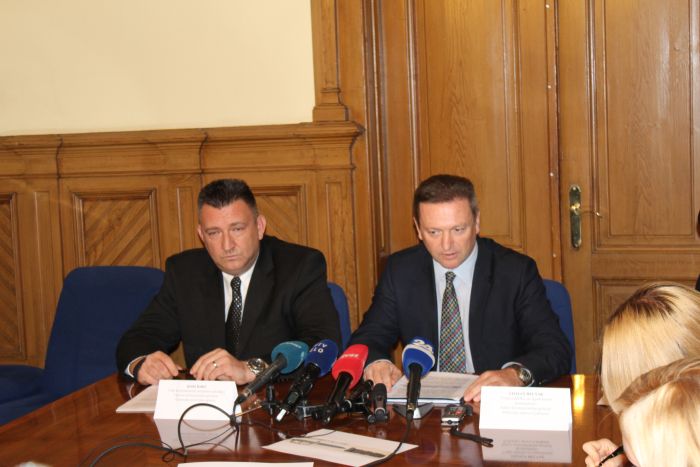 Classic and covert investigating measures helped establish that a 39 year old Slovenian national from the area of Ljubljana and a 33 year old Slovenian national from the wider Ljubljana region were perpetrating the offences of Illegal Manufacure and Trade in Weapons or Explosive Materials, pursuant to Article 307 of Slovenian Penal code, by advertising the sales of illegal weapons on the darknet black marketplace. The 39-year-old suspect was in charge of arranging illicit online transactions with buyers, while the 33-year-old suspect was supplying him with illicit weapons, which he delivered to the agreed location in the area of Ljubljana. Once online sale transactions were completed, the 39-year-old suspect concealed the weapons in stealth packaging to insure that items would remain undetected in potential checks, and shipped the items via package delivery services to buyers in EU (France, the Netherlands, Sweden, Great Britain, Italy) and non-EU countries (Norway)
Among other crimes, the suspects managed to complete the sale and shipping of two automatic rifles (an AP M70, i.e. Kalashnikov rifle with 30 bullets, and a semi-automatic Zagi rifle, model M91). They were carrying out criminal activity regardless of the consequences and without knowing the character of buyers, instead of taking into consideration that automatic weapons are predominantly used for perpetration of severest forms of crime against life, person and property.
In addition to illegal automatic rifles, the suspects also advertised and sold large quantities of ammunition for various calibres (at least 7 sales have so far been detected and potentially carried out by the suspects, i.e. at least 400 bullets), smoke hand grenades and firecrackers (simulation of cannon detonation), as well as a Walther P99 gas gun, which can be modified into a weapon, and 60 pieces of ammunition, all officially listed as illicit weapons, i.e. weapons of which trade is limited.
After the buyer successfully received items, the suspects received the payment for the sold goods in bitcoins. They withdrew the payment at bitcoin ATMs in the area of Ljubljana before exchanging them to Euros. They shared the profits according to input and effort invested (arrangements of weapon purchase, packaging and shipping via logistic centres).
The classic and covert investigative measures also helped establish that one of the suspects had acquired several counterfeit 20 Euro banknotes for further sales and circulation with the intention of gaining proceeds, thus perpetrating the offence Counterfeiting Money, pursuant to Article 243 of Slovenian penal code. The suspect handed a number of counterfeit banknotes to a female acquaintance from Nova Gorica, in order to pay off her brother, the 39-year-old suspect from Ljubljana was in debt with. It has been confirmed that the parties agreed that the debt could be repaid in counterfeit money.
The targeted and complex investigation was carried out over a course of several months and included a combination of classic and covert measures. The investigation was headed by the Specialised state prosecutor's office of the Republic of Slovenia. Criminal investigators of Ljubljana police directorate worked closely with foreign law enforcement authorities, in conclusion of investigation measures, which wrapped up on 13 December 2016 with the arrest and detention of both Slovenian nationals, on founded reasons for suspicion of perpetrating the offences Illegal Manufacture and Trade in Weapons or Explosive Materials, pursuant to Article 307 of Slovenian penal code.
The final operation involved house searches at several addresses in Ljubljana, in which the criminal investigators of the Criminal police division of the Ljubljana police directorate found and seized counterfeit money: 32 banknotes in 20 Euro denomination with identical serial numbers, one 50 Euro banknote, and several pieces of illicit weapons. Two handguns (9mm calibre), two hand grenades (an M75 and an M50), five smoke hand grenades, seven smoke hand grenade fillers, a flash hand grenade, four 'shock' hand grenades, practice coil, fuses, approx. 2500 pieces of ammunition for different calibres, including ballistic, incendiary and JHP bullets, telescopic batons, a variety of daggers, etc. were also seized.
Several computer devices, data storage units and receipts, containing evidence of the perpetrators' online sales activities of illicit weapons to buyers in European countries, were also seized in the house search, as well as cash money and gold in total value exceeding several thousand Euros. A smaller quantity of so far unidentified substance, suspected to contain illicit drug, has also been recovered.
Analysis of seized firearms have confirmed that the weapons were in working order and ready to use, and thus classified as prohibited weapons individuals are not allowed to keep in possession in line with Slovenian legislation (Firearms Act).
On 15. 12. 2016, both suspects were brought into hearing to the investigating judge of the district court of Ljubljana on duty, who ordered their detention on the grounds of gathered information and suspicion of having perpetrated offences of Illegal manufacture and trade in weapons or Explosive Materials, pursuant to Article 307 and the offence of Counterfeiting Money, pursuant to Article 243/I in II of Slovenian penal code.
It has so far helped establish that the suspects illegally acquired an estimated sum of 15 000 EUR in the course of a presumably yearlong criminal activity (i.e., since November 205).
The most striking fact revealed by the investigation is that both suspects worked as security guards in companies providing personal and property security services. Persons working is security-provision professions are generally expected to respect the rule of law and protect persons and property, something the suspects fully disregarded by their actions, i.e. crimes. The female suspect from Nova Gorica, who was involved with the suspects in further circulation of counterfeit money, also worked as a security guard.
Investigation of the case is to continue to pursue the findings that the suspects had been operating on the darnket marketplace for a longer period, giving reasons to suspect they were possibly selling weapons before the investigation had begun, as suggested in some of the feedback on the black marketplace listings. The lead is to be investigated by exchanging information with foreign law enforcement authorities in order to confirm or discard the suspicion and potentially detect earlier buyers of illicit weapons.
Criminal police division at the Ljubljana police directorate also thanked the Europol for carefully focusing activities and actively involving several EU and non EU countries in gathering of evidence, which contributed to successful conclusion of the investigation,
Growing number of deep web crimes pose a new challenge for police
Over the past few years, Europol and European police authorities have been noticing an increase of deep web, i.e. darknet crimes. Criminals are taking advantage of the deep web to distribute and offer illegal content and services online. The darknet serves as illegal market place for trade in illicit weapons, illicit drugs, money counterfeiting devices, bankcards, child-abuse related content, stolen goods, chemical substances, hacker tools and other illegal goods. Illegal services such as smuggling, money and document counterfeiting, provision of new identity, money laundering, mercenaries, etc., are also available.
This year Slovenian police concluded two notable international investigations, which involved illicit trade in drugs and arms and explosives on the darknet.
The concept of the deep web market is intentionally set to protect anonymity of all parties and secrecy of communications and transactions, posing new challenges to the police in the form of new investigation methods required to fight crimes on the deep web. Crimes on the darknet are also challenging when it comes to existing methods of legal crime detection, identification of means of communication, identification of perpetrators and protection of evidence. Slovenian police have called on the Ministry of Justice to seek appropriate legal solutions which would facilitate successful investigation of crimes on the darknet and proposed several measures, which have however not been included in the review of the Criminal Procedure Act (ZKP-N) currently being drafted.
Slovenia's geostrategic position on the Balkan route means that crimes involving classic smuggling methods are very commonly detected, as criminal organisations smuggle illegal items such as firearms, explosives, illicit drugs and people, from the Western Balkan countries to the European Union. Evidence, trends and operative findings from the past years show that former Yugoslav republics are among the primary countries of origin of weapons, explosives and improvised explosive bodies. The majority of ongoing smuggling cases show that Slovenia is a transit, rather than country of destination.
Slovenian police also actively cooperates with Europol and Interpol in fight against illegal arms trade.
Firearms statistics:
24 Bombs, i.e. mines, 528 g of explosives, 25.179 live cartridges, 42 automatic rifles, 41 handguns and 3 military-grade grenade dischargers were seized in 2015.
80 Bombs, i.e. mines, 35.427 g of explosives, 9280 live cartridges, 23 automatic rifles, 55 handguns and 1 military-grade grenade dischargers were seized in 2014.
In the past two years police have not dealt with any legal firearms trade violation crimes.
Slovenian police dealt with 2256 violations of the Firearms Act between 2010 and 2015 and 372 violations in 2016.