At the end of a panel discussion on psychological support to and protection of police officers, which was held between 5 and 7 October in the Police Training Centre Gotenica, the project of 24-hour psychological emergency assistance to police officers and the project of peer counsellors were presented in a press conference.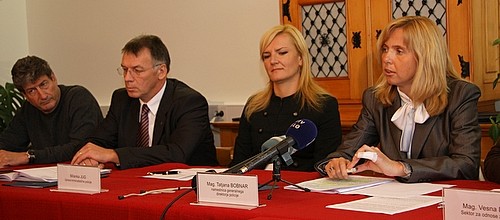 Beside Deputy Director General of the Police Tatjana Bobnar, M.A., the conference was attended by the head of Police Powers and Prevention Division Srečko Krope, M.A. and the coordinator of the project of 24-hour psychological emergency assistance Milanka Jug, who is a psychologist employed at the Criminal Police Directorate. The press conference was also attended by a world renowned police psychologist Roger Solomon, Ph.D., who gave a lecture at the panel discussion in Gotenica to peer counsellors and psychologists on stress management in crisis situations.
Police operational work ranks among the most stressful and psychologically demanding jobs. Often times, police work requires a certain degree of interference with basic human rights and freedoms. Despite the fact that such interference is justified and legitimate, the use of police powers and coercive measures and the facing of various crisis situations might result in severe physical, psychological and social consequences.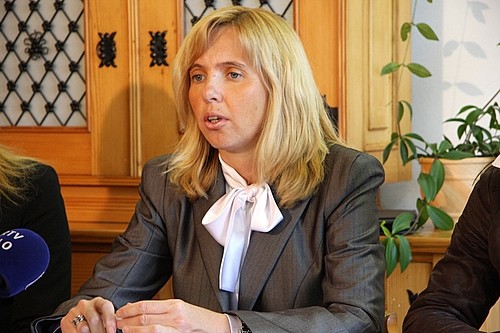 Tatjana Bobnar, M.A.
A lack of preventive psychological services may lead to decreased efficiency of the personnel and a desire for reassignment, as well as to stress-related medical difficulties, problems in the family etc. While the training of police candidates and police employees at the Police Academy does include training in personal and social skills (communication workshops, conflict-solving workshops, stress management, etc.), this is not sufficient to meet all the requirements. It is for this reason that the police management decided, on the proposal by psychologists employed with the police, to systemically regulate psychological support and counselling," said Deputy Director General of the Police Tatjana Bobnar, M.A., at today's press conference.
In addition to the project of 24-hour psychological emergency assistance and the project of peer counsellors, the police have also prepared instructions and guidance on how to deliver bad news. Informing the next-of-kin about the death or serious bodily injury of their loved one is namely one of the most difficult, stressful, and unfortunately frequent, duties of police and criminal investigation officers. The consequences of such incidents deeply affect everybody involved, citizens and police officers alike, although the latter are expected to react in the most optimal manner. It is important that police officers deliver the information in a considerate and appropriate manner and not cause unnecessary collateral damage. The above project, which has placed great attention on training police officers on the appropriate communication, is aimed at making the situation less stressful both for the relatives and police officers.
Project of 24-hour psychological emergency assistance for police officers
On 1 December 2009, 24-hour psychological emergency assistance for police officers was introduced for the first time in the history of the Slovenian police. The assistance is aimed at offering immediate psychological support and alleviating emotional distress of police officers who are experiencing a traumatic event and at facilitating normal processes of recovery after a stressful event.
PROJECT OF PEER COUNSELLORS
Project of peer counsellors is based on the well-known ''Peer Support'' assistance model and is introduced in the police as an upgrade of the project of 24-hour psychological assistance. In this manner, psychological assistance can be provided, beside experienced psychologists, also by peer counsellors.
Peer counsellors are police officers who are esteemed and respected in their environment and among their colleagues and have a great deal of operational experience. In addition, they need to fulfil the following conditions:
be at least 28 years old,
have at least 6 years of work experience,
be communicative,
be emphatic,
be committed and have self-initiative,
it is desirable that they have experience in crisis intervention and have knowledge in psychology.
An officer who has experienced a critical incident can be thus assisted by a person coming from "his own ranks". This model was successfully introduced in the Austrian police, while it is also used by the FBI.
61 police officers applied for the role of a peer counsellor. They applied on their own or were proposed by individual units. Out of the 61 applicants, only 18 were selected by a special commission, 13 male and 5 female officers.
The selected peer counsellors, who have in fact already been acting as peer counsellors unofficially, are currently undergoing training.
A working group of psychologists is preparing a programme of providing psychological support and participates in the setting up of a network of psycho-social support offered by future peer counsellors and psychologists both at the General Police Directorate and in regional police directorates. In this manner, peer counsellors will create a network of psycho-social support in the country and will be the first ones to be contacted by police officers experiencing problems.
Given the response by police officers and positive changes in their behaviour and state of mind, we estimate that the project has been well accepted among the police officers and their superiors. With the project, many years of requests by a number of employees and trade unions have come true, to the benefit of police officers and citizens alike.

"A police officer is not a robot. He or she is only a human being," said Srečko Krope, M.A. at the beginning of his address. "We do not need to particularly emphasise that a police officer's work is stressful. This is why officers need adequate support and assistance. Peer counsellors are their fellow officers who have already experienced a similar traumatic event and have successfully dealt with it," he added.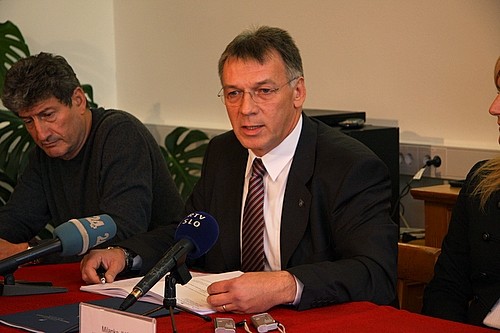 Srečko Krope, M.A.
"From among 61 candidates, only 18 have been selected as peer counsellors, as the criteria were very strict. Peer counsellors are present at nearly every police directorate, except the police directorates in Postojna, Novo mesto and Nova Gorica. But they will be provided in those areas as well," added Krope.
Peer counsellors and psychologists offering 24-hour emergency psychological assistance were given advice at the panel discussion in Gotenica by the internationally renowned police psychologist Roger Solomon, Ph.D. He gave a lecture on stress management inn crisis situations and presented the programme CISM (Critical Incident Stress Management), which he had developed together with the internationally renowned expert Jeffrey Mitchell. It is a psychological crisis intervention method involving therapeutic group and individual discussions.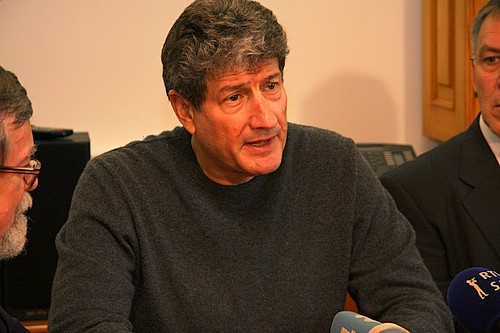 Roger Solomon, Ph.D.
Dr. Solomon said that he was very impressed by the psychologists and peer counsellors participating in the project. "I was very pleasantly surprised. I was impressed by their commitment and sincere motivation to perform this kind of work."
About his experience in a traumatic situation and the role of a peer counsellor talked Dejan Kink (PD Krško). Three years ago he used firearms in order to protect his own life and the lives of other people. The perpetrator who had threatened to use explosive died due to firearm injuries. "Trauma comes after you. It is not easy to confront the fact that you nearly died in the line of duty. It is even harder to accept the fact that you took someone's life. Today I am trying to give advice, using my experience, to colleagues who have found themselves in a similar situation on how to face the consequences of such incidents and how to get through the critical moments."