This year too, Slovenian police officers will be assisting their Croatian colleagues in police procedures involving Slovenian nationals. Slovenian officers will be deployed in Pula and the islands Krk and Pag during the peak tourist season from 17 July to 18 August 2022.
Pursuant to the agreement between Slovenian and Croatian governments on cross-border police cooperation, three Slovenian officers will be deployed in Croatia to perform duties with their Croatian colleagues on the territories of Police Administrations of Istarska County, Ličko-senjska County and Primorsko-goranska County, namely:
Darko Pavlič from the Airport police station Brnik, Police Directorate Kranj will be working at police station Pula
Drago Butara from police station Krško, Police Directorate Novo mesto will be working at the Krk police station and
Drago Buček from police station Gornji Petrovci at the Murska Sobota Police Directorate will be working at police station Novalja.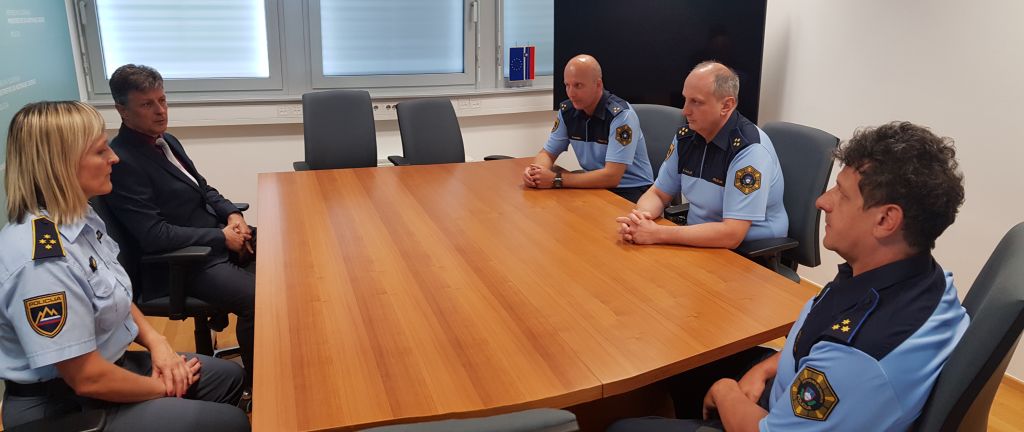 Before departing for duty, the officers were received by mag. Robert Ferenc, Deputy Director General of the Police.
The Slovenian officers deployed in Croatia will take part in activities involving Slovenian nationals to facilitate faster and clearer communication with Slovenian tourists and to provide clarifications in police procedures. Slovenian officers deployed in Croatia will be unarmed and wear Slovenian police uniforms and will not be carrying out police tasks and powers, which are under the exclusive jurisdiction of Croatian police officers.
In line with the experience from the previous years, Slovenian police officers will mostly be assisting in general police tasks and duties involving provision of public order, traffic control and crime, etc. Slovenian officers will also assist in procedures involving Slovenian nationals, which require acquisition of data by carrying out information searches for persons and vehicles in police databases and sending them to their Croatian counterparts. Slovenian officers will also be advising Slovenian tourists on how to protect their belongings during their stay abroad.
Slovenian nationals can contact Slovenian police officers via Slovenian Embassy in Zagreb or through the respective police stations hosting Slovenian officers, namely police stations Pula, Krk and Novalja.
Deployment of Slovenian police officers in police stations of major tourist towns in Croatia during the peak summer season is a standing international cooperation project, which has been a welcome form of assistance to Slovenian tourists in Croatia for over a decade. Slovenian police have been involved in the Safe Tourist Destination project since 2011. The project has proven to be highly successful, with over a million tourists from Slovenia spending their holidays in Croatia every year.
Similar form of cooperation takes place in the winter holiday period, when Croatian officers assist their Slovenian colleagues on Slovenian ski slopes. The cooperation between Slovenian and Croatian police in the summer and winter holiday seasons is regulated in and by the Protocol, which the polices of the countries signed in Valbaldon, Croatia.