In cooperation with the OSCE Spillover Monitor Mission to Skopje, the Slovene police organise trainings of the Macedonian border police officers. The training is an outcome of the agreement achieved by Mr Dragutin Mate, Slovene Minister of the Interior, at the occasion of his latest visit to the Republic of Macedonia in March 2006.
The training shall be implemented in three stages:
2 - weeks' training - from 21st January to 2nd February, 2007 - in the Republic of Slovenia;
theoretical training shall be followed by practical training for 10 Macedonian police officers at border police stations in the Republic of Slovenia (time reference not indicated yet);
6 - months' professional assistance provided by the Slovene police expert in direct work in Macedonian police units (assistance in implementing transferred knowledge and experience from Slovenia to the environment of the Macedonian border police).
On 21st of January 2007, 43 Macedonian police officers, participants of the first training stage, arrived to Slovenia. Their accommodation was provided at the Police Academy, where the training programme has also been conducted. The participants come from different regional centres of the Macedonian border police, they are engaged with various duties and tasks in specific working areas, connected to surveillance and protection of the state border.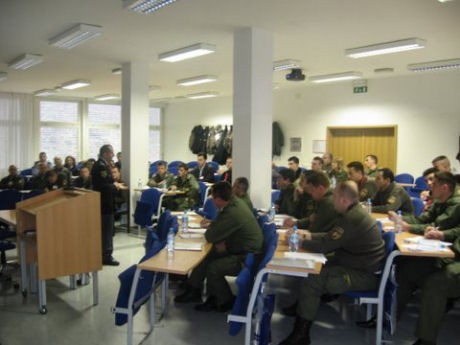 The training programme has been conducted in accordance with the methodological standards defined by the OSCE Spillover Monitor Mission to Skopje.
The trainers are employees of the Slovene police, experienced in the field of border issues and foreigners, as well as crime related to border problem issues. Most trainers have already participated in diverse international civil missions and international organisations (CSCE, EU, UN) and have a lot of experience in educating and training the target groups.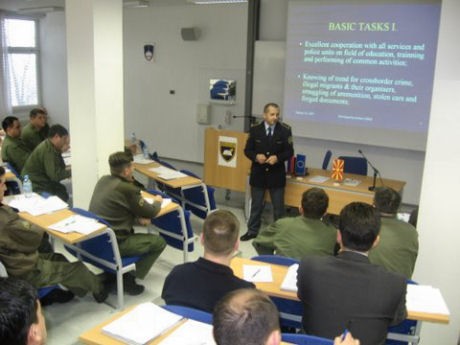 Photos: Boštjan Robic, Police Academy