From the beginning of the year 2008 and in 2009, the Slovenian police, in cooperation with Austrian security authorities, investigated an international criminal organisation involved in illegal drug dealing throughout Slovenia and Austria. At today's press conference, the representatives of the General Police Directorate and the Maribor Police Directorate presented detailed results of a successfully concluded criminal investigation. The police has filed criminal complaints against 14 persons and seized the largest quantity of synthetic illegal drugs so far.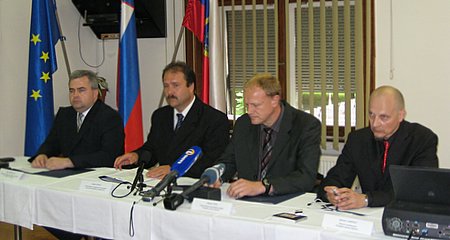 Participants in the today's press conference of the General Police Directorate and Maribor Police Directorate (from left to right): Police public relations officer for the area of crimes, Drago Menegalija, Head of Organised Crime Section at Criminal Police Directorate of the GPD, Slavko Koroš, Head of Criminal Police Section at the Maribor PD, Marjan Fank, and public relations officer at the Maribor PD, Bartolo Lampret.
As discovered by them, the criminal organisation was selling amphetamine tablets - on the illegal market better known as ecstasy. In Austria, they organised a drug dealing network that was selling the tablets at "rave" parties. The price of tablets in Austria was between 10 and 12 euro for one tablet, which is twice as much as in Slovenia. The criminal association also organised a dealing network in Slovenia, supplying ecstasy above all to the younger population of drug addicts at organised public events (the so-called rave parties).
On 7 and 8 May 2009, final operation was conducted, involving 14 house searches and 7 motor vehicle searches across Slovenia.The final operation was led by the Maribor criminal investigators; it involved also criminal investigators of the Ljubljana PD, Murska Sobota PD and Criminal Police Directorate, and Austrian Security Authorities. Totally, they seized from the criminal organisation 19,798 tablets of amphetamine, 287 g of amphetamine, 174 g of cannabis, and a smaller quantity of cocaine. Only in the final operation on 7 May, 10,000 tablets of ecstasy were seized. In the final operation, they also seized a larger quantity of money and vehicles of the suspects.
The seizure of 20,000 tablets of ecstasy is the largest case of seizure of this type of drug in one investigation operation during the whole period of independence of the Republic of Slovenia and is also very important on international scale.
Criminal investigators filed complaints against 14 persons, aged between 19 and 29 years, who were engaged in illicit drug dealing from 2007.
During the investigation, they discovered that, in addition to offering other types of illicit drugs, the criminal organisation was also involved in dealing larger quantities of tablets containing mCPP, a substance that is very dangerous to human health as already pointed out several times by the Ministry of Health in the past.
Western Europe (the Netherlands, Belgium), and more and more also Eastern Europe (Poland, Baltic states), is still one of the most important areas of the manufacture and use of amphetamines and ecstasy According to the data of the United Nations Office on Drugs and Crime, even 200 million people use illicit drugs; from this number, 35 million use amphetamines, methamphetamines and ecstasy.
The use of ecstasy and also of other synthetic drugs is often associated with various dance party events (techno, rave), and in recent years the data show that the use of this drug among the young is also moving to other social settings, such as are private parties at home, and closed groups in catering establishments. In the general public, among users and also among some experts there is a widely held belief that ecstasy is a relatively safe substance. This belief is based on several factors: firstly, the drug is in the form of tablets that, as such, appear to be safe and promise fun; secondly, the consumption is simple; and we should also not forget that among relatively numerous users of this drug, only rare seek medical help, and even they only in case of serious complications.
The outcomes of researches and clinical experience prove, however, that ecstasy can be harmful to health. It has adverse effects on mental and physical abilities that deteriorate even more when the drug is used combination with alcohol and other drugs. It can cause both physical and mental complications, especially in more sensitive persons, and in the most severe case, it can cause death. However, it is impossible to tell in advance what complications and consequences will occur.