Today, 20 January 2010, the Director General of the Police Janko Goršek and the Minister of the Interior Katarina Kresal threw a reception at the General Police Directorate for eleven police officers who have recently distinguished themselves through unselfish and extraordinary acts.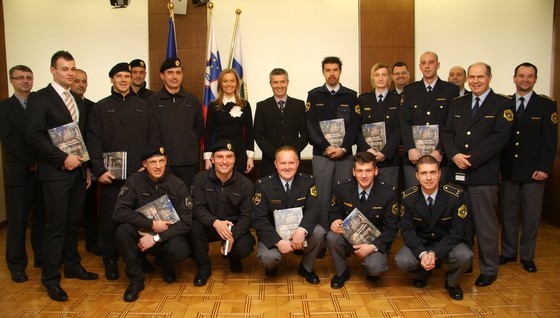 The police officers were presented a modest gift, a book entitled Museum of the Bodies of Internal Affairs, and thanked for their extraordinary contribution to the reputation of the Slovenian Police and its positive public image.
"Dear police officers, it is a great pleasure to meet you today. I would like to sincerely thank all of you who have saved lives, helped preserve lives and achieved extraordinary sport results. The biggest and actually the only prize for you, however, is the sincere inner satisfaction, a warm feeling inside that will follow you not only until the end of your career, but as long as you live", said Mr Janko Goršek to those who helped preserve lives with their experience, feeling for another human being and unselfishness as well as to those who excelled themselves through their work and sport activities by demonstrating outstanding persistence, will and ability to cooperate.
Minister Katarina Kresal expressed her extreme appreciation for their deeds: "This goes beyond the mere fulfilment of job responsibilities. You can perform a job in a more or less "standard" manner, or add a personal touch to it, an added value. Being a police officer enables you to add an extremely broad set of values to the basic requirements. We all know that police officers must do their job in a professional, legal and ethical manner. You can stop here or go even further. It depends on each and every individual to introduce cordiality and personal effort to their work, enriching it with a feeling for another human being, solidarity, thereby adding value to the profession."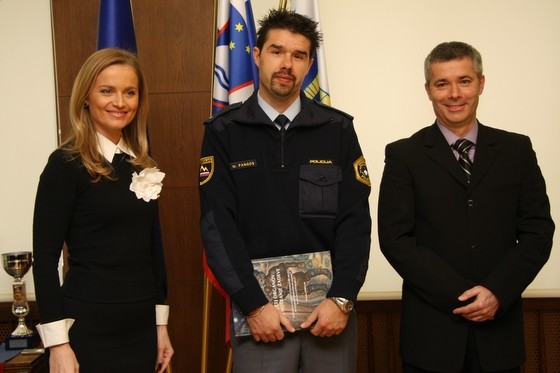 Police officer Marjan Pangos, head of patrol in a state border protection group at the Piran Police Station, unselfishly donated bone marrow and thus helped somebody survive.
Five years ago the now 39-year-old police officer decided to register in the Slovenian registry of voluntary, unrelated bone marrow donors and joined the group registration in the Izola hospital. Being proved suitable, he donated blood-forming cells on 15 December 2009. The entire week before marrow collection he had to inject a drug stimulating the generation of blood-forming cells. In that period, despite possible side effects, he normally performed his job and even after marrow collection he was fit enough to continue doing so. This police officer is characterized by tolerance and unselfishness; his human feeling and understanding for people in distress are reflected in his everyday work as well as in transferring experience to younger colleagues.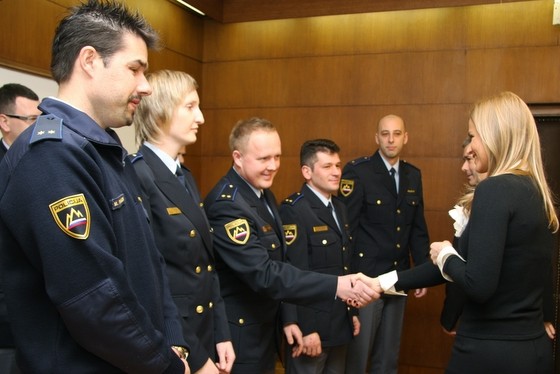 In the evening of 4 January 2010 four police officers from the Lendava Police Station Renata Senica, Damijan Dervarič, Robert Gabor and Tomaž Meleš saved life to their colleague by resuscitating him after he had fallen unconscious and had shown no signs of life.
There were five police officers in the room getting ready to leave the police station to perform their field work. They were sitting at the table when one of them started feeling sick, fell from the chair and remained lying on the floor unconscious. The four present police officers immediately turned him to the side, one of them checked his basic life functions and established that he was not breathing and his heart was not beating. The police officers started resuscitation thus helping him regain consciousness and restore pulse. In the meanwhile, the police officer on duty called ambulance. Acting swiftly and professionally in a critical situation, the police officers timely helped their colleague and saved his life.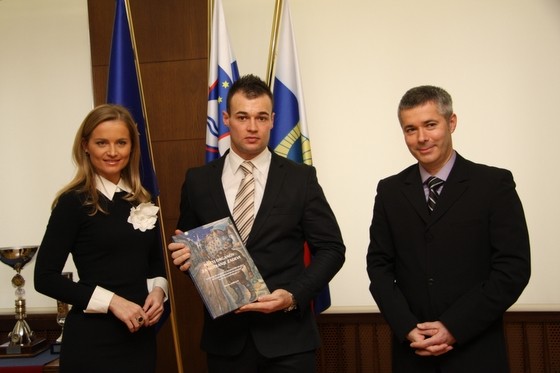 Police officer Mitja Potočnik from the Security and Protection Office distinguished himself with extraordinary sport achievements and excellent results in taekwondo.
The 26-year-old athlete has been employed with the Slovenian Police since 2005. Having completed his training he was even nominated the best candidate of the generation. In the spare time he practises martial arts, i. e. taekwondo, being very successful in his category. His sport career started in 1997 in a taekwondo club in Braslovče. In September last year, however, he started training with a new coach Tomaž Barada, a multiple European and world champion. Mr Potočnik has been a member of the national taekwondo team for the last nine years, achieving top results at the international level.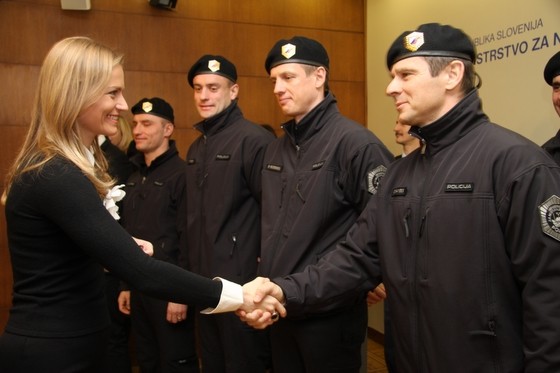 For the recent achievement at the already 39th cross-country skiing patrol competition organized by the Slovenian Armed Forces on the plateau of Pokljuka, the Minister of the Interior and the Director General of the Police also thanked the five-member team of the Special Unit: Dejan Lavrič, Franc Petrič, Pavel Vaukman, Janez Zupanič and their team leader Roman Hiti for having once again defeated the competition.
They have been competing at this patrol competition for several years, always scoring top results. Considered the elite unit of the Slovenian Police, the Special Unit includes athletes exhibiting exceptional psycho-physical fitness. They achieve top results at various, also international events and represent strong competition to the best special units in the world.