Since yesterday, 9 May 2011, the Minister of the Interior, Katarina Kresal, and the Director - General of the Police, Janko Goršek, have been on a two-day official visit to Kosovo where they have met Slovenian police officers participating in the EULEX mission.
Today, the Minister of the Interior, Katarina Kresal signed an agreement with the Minster of the Interior of the Republic of Kosovo, Bajram Rexhepi, regarding the repatriation of persons whose residence is illegal. The agreement stipulates the manner of, and the procedure for the repatriation of citizens who do not meet conditions for entry and for staying, as well as conditions for transit over the territory of the country. Both parties confirmed their interest in entering into an agreement between their Governments with regard to co-operation in the field of security. The Ministers also discussed the possibilities of obtaining European funds for the provision of the permanent repatriation of foreigners.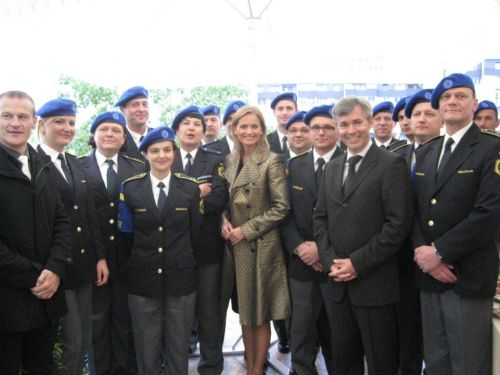 Police co-operation with the security authorities of Kosovo in the fight against organised crime and general crime takes place in a coordinated manner which was also discussed by the Director General of the Slovenian Police, Janko Goršek, and the Deputy of the Director General of the Kosovo Police, Shpend Maxuni. The Slovenian Police co-operates with the Kosovo Police through the Interpol Liaison Bureau of the UNMIK Mission and international prosecution operating in Kosovo. Co-operation in the fight against prohibited drugs is particularly good.
The Minister and the Director General of the Police also visited Slovenian police officers who participate in the European Union Rule of Law Mission in Kosovo (EULEX). The Slovenian Police has been in Kosovo since November 2000. The objective of the mission is to offer assistance and support to Kosovo institutions in the implementation of the rule of law, in specific terms in the fields of the Police, justice and customs. Currently there are 16 Slovenian police officers in Kosovo who work in a special unit, in the unit for the investigation of war crimes, the unit for the investigation of organised crime and in the operational and communication centre, and their work is extremely highly valued. Pursuant to the decision of the Council of the European Union the mandate of the mission has been extended until June 2012.
The Slovenian Minster was received by the newly appointed President of the Republic of Kosovo, Atifete Jahjaga; among other matters they agreed about the support of Slovenia with regard to the process of visa liberalisation. Both the President as well as other Kosovo interlocutors emphasized that Slovenian police officers are extremely well-respected in Kosovo due to their knowledge and wide-ranging experience.