The 65-strong Slovenia Olympic team also includes eight top athletes employed in the police service. On 14 August the Director General of the Police, Janko Goršek, and the Minister of the Interior, Vinko Gorenak, and their staff congratulated them for their achievements.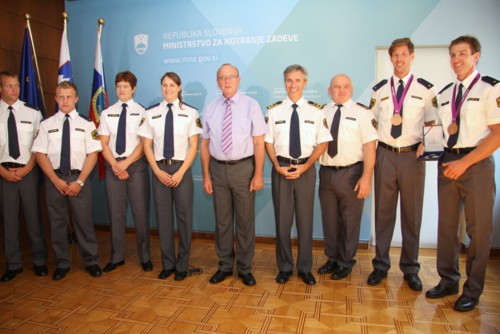 The athletes who competed at the 2012 Summer Olympic Games in London between 27 July and 12 August are:
Sara Isaković - 14th place in women's 200m Freestyle competition, 31st place in women's 100m Butterfly, 14th place 4x200m Freestyle;
Iztok Čop and Luka Špik - 3rd place (bronze medal) in Men's Double Sculls;
Rok Drakšič - Judo (Men's -66kg); elimination round of 16 (R16) - won the first round and lost the second);
Benjamin Savšek - 8th place in men's canoe slalom, C-1,
Aljaž Sedej - Judo (-81kg); not qualified (disqualified in the pre-qualifications round)
Peter Mankoč - 19th place in 100m Butterfly;
Martina Ratej - 7th place in Javelin, and
Marjan Fabjan, trainer of judokas (and police employees) Rok Drakšič, and Petra Nareks who did not participate in the London Games, as well as the Olympic gold medallist Urška Žolnir who works for the Slovenian Army.
On the occasion Director Goršek and Minister Gorenak both addressed the invited guests and thanked Iztok Čop, one of Slovenia's most successful Olympic participants ever, at the end of his career for his contribution to the reputation of the Slovenian police, and for being an excellent role model for the youth. Iztok Čop commented: By providing us an opportunity to serve the police force you have also provided us with a social safety net. May I thank you on behalf of all athletes employed with the police. It is important to be aware that many of us who have won Olympic gold would not have been able to persevere with our efforts in sport unless the authorities provided a certain system of support. I wish to thank the police for their fair treatment. They always have been able to understand that our careers are a priority and managed to schedule our police-related activities outside competition and training time. I hope the support will be provided despite the crisis, and that the future generations will reach our level, or perhaps, become a class of their own. Thank you again for your support.