The Slovenian Police deployed six members to serve in Macedonia between 5 January and 5 February and to conduct border patrolling together with Macedonian police patrols. Their deployment is part of a joint operation for the management of increased migrant influx.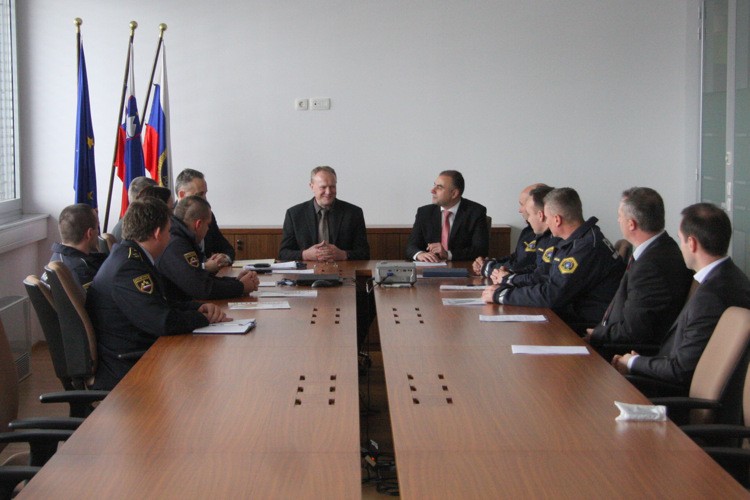 The officers Katja Kocijančič, Marko Černel, Andrej Čuk and Primož Herlak are employees of the Specialized Unit for State Border Control, which operates under the Border Police Division at the national level (Uniformed Police Directorate of the General Police Directorate). Officers Sašo Kuhar and Stanislav Tekavčič come from regional departments, Murska Sobota Police Department and Novo mesto Police Department, respectively.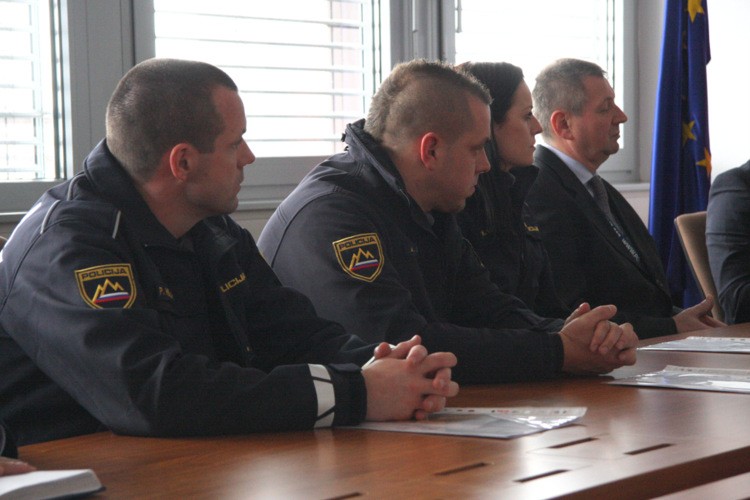 A working meeting was held before their departure and it was also attended by Vladimir Pocek, Head of International Police Operations Division of the Service of the Director General of the Police, Roman Čoh from the same Division, Albin Slabe, a representative of the General Police Directorate, Aljaž Rojs from the Border Police Division of the Uniformed Police Directorate, and a representative of the Macedonian embassy.
Police officers will perform their tasks in the area of the Bogorodica Police Station for Border Control and Border Surveillance and on the green border outside the Bogorodica border crossing point. Occasionally they will also help out at the Temporary Transition Centre - Gevgelija, where migrants are registered.
In Macedonia the Slovenian officers will wear their working police uniforms and use service vehicles and equipment for state border control. They have taken two service dogs with them, a Belgian shepherd Pan and a German shepherd Bojko.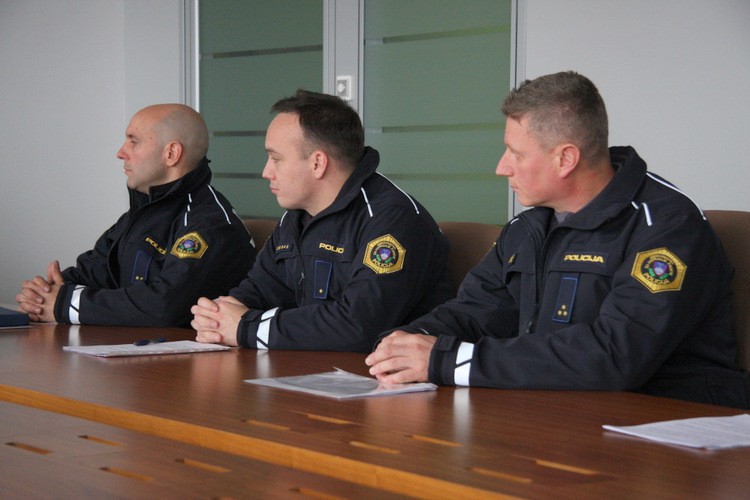 The tasks, rights and duties of the Slovenian police officers in the first such deployment of the Republic of Slovenia are detailed in the Protocol between the Ministry of the Interior of the Republic of Slovenia, Police, and the Ministry of Interior of the Republic of Macedonia, Public Security Bureau, on joint patrols on the territory of the Republic of Macedonia in the framework of joint operation.
A day before departure, the officers were received by Director General Marjan Fank, who had no doubt that the police officers would excel in their work as they are all very experienced and knowledgeable in this area of work. Together with Tomi Dimitrovski, Ambassador of the Republic of Macedonia, they reiterated that the cooperation between the countries was exemplary. Mr Dimitrovski presented the most recent statistical data on the migrant flow in Macedonia, while Mr Fank wished the team a safe journey and successful mission.

Police Activities in Connection with Current Migration Flows