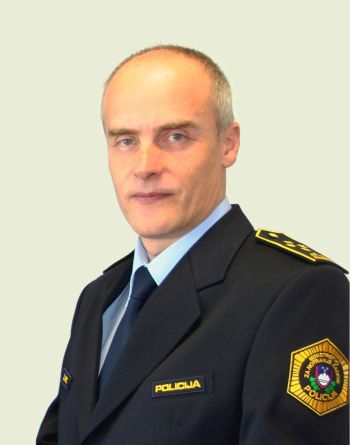 Srečko Jarc was born in 1965. After finishing his studies at the Secondary School for Police Officers in 1984 he started working at Ljubljana Center Police Station, where he worked until 1991. Between 1993 and 2003 his tasks included those of a commander of Medvode Police Section, assistant police commander at Ljubljana Vič Police Station and commander of Ljubljana Moste Police Station. In the meantime, he completed his studies at the College of Internal Affairs and graduated from Ljubljana's Faculty of Law in 1997. He is a veteran of the independence war.
In 2003 he assumed the position of Undersecretary in the Police and Security Directorate, and was promoted to Director General of the same two years later. He acquired a master's degree in law from the Faculty of Law in Ljubljana In 2006.
He became Assistant Head of the Service of Director General of the Police in 2010. One of his roles in this capacity was to act as the representative of the Minister of the Interior and Director General of the Police in charge of communication with the trade unions.
Srečko Jarc became Director of Uniformed Police Directorate of General police Directorate on 1 February 2013. Between 18 August 2017 and 14 December 2018, he joined the Eulex peace-keeping mission in Kosovo where he served as advisor to Deputy Head of Director General of Kosovo Police on operational matters. After returning from Kosovo, he reassumed the position of Director of Uniformed Police Directorate.