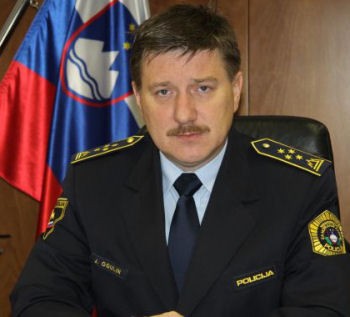 Janez OGULIN, born in 1966, completed the Police Secondary School in 1985, after which he took up employment as a police officer at the Novo mesto Police Station. At this station, he later became Community Policing Officer and Deputy Commander. He was also Deputy Commander at the Metlika Police Station.
Later he continued work at the Operation and Communication Centre of the Novo mesto Police Directorate and at the Police Inspectorate, where he was inspector for general police duties.
In 2000 he continued his career at the Uniformed Police Directorate of the General Police Directorate, where in 2006 he assumed leadership of the General Police Division.
Meanwhile, he completed his studies at the Faculty of Criminal Justice and Security and became bachelor of criminal justice and security. He continued postgraduate studies at the same faculty and was awarded the degree of specialist in police management.
As a police officer, he took part in the war for Slovenia's independence in the Novo mesto area.
For his work in internal affairs authorities he was awarded a gold police shield for his long serving contribution to the police in terms of development and research.
He was appointed Director of the Novo mesto Police Directorate on 31 May 2013.