In Ljubljana, a formal meeting of the SIS-Tech Working Party chaired by Andrej Bračko, Head of the Information and Telecommunication Office of the General Police Directorate of the Republic of Slovenia, was held from 19 to 21 May 2008.
The meeting was attended by approximately 70 delegates and experts from the EU Member States, Iceland, Norway and Switzerland, the General Secretariat of the EU Council, the European Commission and representatives of the Centre of the Schengen Information System (C.SIS) in Strasbourg. The working party deals mainly with operational and technical issues associated with the functioning of SIS. It meets once a month in Brussels and each country holding the EU Council Presidency organises one meeting on its territory during its six-month term of office.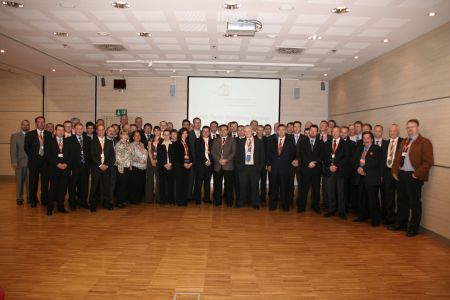 At this meeting, participants discussed the project for the development of the new second-generation SIS (SIS II) and the performance of global testing. They also talked about the migration of the existing SIS 1+ communication network to a new network. The main task of the technical working party is to monitor the functioning of SIS and provide a timely response to any events which might jeopardise the normal functioning of the system. This means prompt elimination of any potential problems as well as timely planning and implementation of SIS upgrades.
SIS is used by 24 countries - 22 EU Member States plus Iceland and Norway. Europol and Eurojust are also allowed to consult SIS. As the system is mainly intended to be used in border control, standards for availability, reliability and responsiveness are set extremely high. SIS is based on a central database and on national data bases, which are identical copies of the central database. For communication purposes, a special communication network (SISNET) is used. Data are continually synchronised between the central and the national databases. One of the tasks of the SIS-Tech Working Party is also periodical examination of the data content.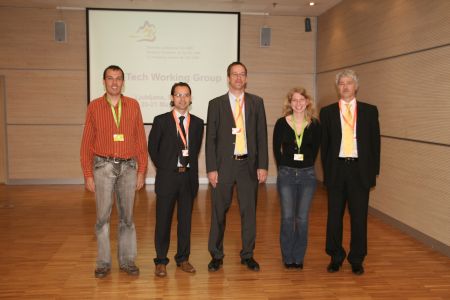 One special challenge for the Working Party is the successful implementation of the SIS II Project under the auspices of the European Commission. This is a new generation of SIS, which is expected to provide several new functional features. The Working Party is primarily occupied with the issues of testing and migration. By means of testing, the Party wishes to ensure the required reliability and responsiveness of SIS II. As regards migration, the greatest challenge is how to ensure the transition from the existing to the new system with as few problems as possible for its users.

Réunion du groupe de travail technique SIS - Tech
Du 19 au 21 mai 2008, a eu lieu a Ljubljana une réunion du groupe de travail technique SIS -Tech sous la présidence de M. Andrej Bračko, directeur de l'Office national de l'informatique et des télécommunications aupres de la Direction générale de la Police nationale.
La réunion a rassemblé environ 70 délégués et spécialistes des États membres de l'UE, de l'Islande, de la Norvege, de la Confédération Suisse, les représentants du Secrétariat général du Conseil de l'UE, de la Commission européenne et du systeme central d'information Schengen de Strasbourg (C.SIS). Le groupe de travail est chargé des questions a caractere opérationnel et technique liées au fonctionnement du SIS. Il se réunit une fois par mois a Bruxelles, chaque Etat membre en exercice de la présidence organisant également une réunion sur son propre territoire.
Durant la réunion de Ljubljana, les participants ont examiné le projet de développement du systeme SIS de deuxieme génération (SIS II) et la mise en place de tests complets. Outre cela, le débat a porté sur la transition de l'actuel réseau de télécommunication de systeme SIS 1+ vers le nouveau réseau.
La mission principale du groupe de travail technique est d'effectuer le suivi du fonctionnement du SIS ainsi que de sa capacité a répondre immédiatement a tout incident qui pourrait menacer son bon fonctionnement. Cela implique une élimination immédiate de toute anomalie pouvant y etre observée et la planification et la mise en ouvre consécutives d'adaptations au systeme SIS.
Le SIS est opérationnel dans 24 pays, dont 22 Etats membres de l'UE, les deux autres pays utilisateurs étant la Norvege et l'Islande. En outre, l'Europol et l'Eurojust ont également acces aux informations contenues dans le SIS. Le SIS étant avant tout appliqué a des fins de contrôle frontalier, les normes et les criteres relatifs a la disponibilité, la fiabilité et la capacité de réponse dudit systeme sont tres élevés. Le SIS est une interconnexion de fichiers nationaux rassemblant des données communes, alimentée par les autorités des différents États membres. L'outil de télécommunication utilisé est le réseau spécifique SISNET. La synchronisation des données entre la base de données centrale et les bases nationales se fait de maniere réguliere et continue. Une des autres missions du groupe de travail SIS -Tech est de vérifier périodiquement le contenu des données disponibles.
Le groupe de travail est également chargé de mettre en place la nouvelle génération de systeme SIS, le projet SIS II. Ce projet est conduit par la Commission européenne et devrait apporter de nombreuses nouvelles fonctionnalités. Les activités du groupe de travail portent avant tout sur la mise en ouvre des tests du systeme et les questions de migration. L'objectif de ces tests est de s'assurer de la fiabilité et de la réactivité suffisantes du SIS II. Pour ce qui est des questions de migration, le plus grand défi demeure de pouvoir réaliser une transition du systeme existant vers le nouveau systeme, en prévenant au maximum les difficultés auxquelles pourraient etre confrontés ses utilisateurs.